"Being a Successful Woman Shouldn't Come at the Expense of Love," says Moore.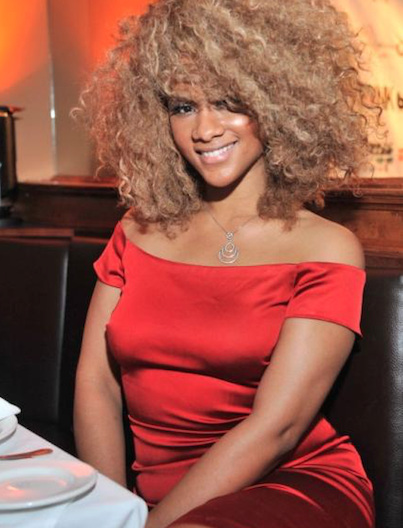 The holidays are always a season when love is magnified and emotions are more transparent than ever sometimes its even sweeter when you are finally connected to your soulmate. For Media Maven & New York trendsetter and socialite Mecca Moore this season couldn't be sweeter or hotter no matter how low those temperatures drop in New York. Cuffing season is an all year thing for Moore. The curly haired no nonsense blond bombshell is preoccupied with not just building her media and event empire but with love actually. Like truly. Moore who has risen to the top of the media game by building with the bricks that were thrown at her by New York's often pretentious upper-echelon media and high society czars is having the last laugh but is quick to say, "the best revenge is being happy beloved." Nevertheless, Moore turned all her no's into her own yeses by recognizing that there was a void for that fashionable, fun, intelligent and at times quirky woman of color who wasn't truly represented in media. The ones who inspired or wanted to be inspired by women who resembled them. The ones who were entrepreneurs, artists or executives who wanted advice about, fashion, sex, being the only Black girl at their firm or how to handle battles with depression or relationships. Moore opened the doors and housed an imprint for the woman of colour next door who other publishers were reluctant to cater to. With this thinking she gave birth to Pynk Magazine and the powerful Pynk girl who is a kaleidoscope of each of our souls once under-represented and invisible. Over the years Pynk has become a brand that girls and women lean on and Moore has given us more than her own share of advice, inspiration and mottos to live by but for the woman who turned her no's to yes'es sacrificing love for work was never an option. "You can have it all with balance. You can have that dope career and be at the top of your game while having a soul mate to hold you down and love you in every possible being known to earth. This is all possible and attainable and I want my fiancee and I to be an example of this," said Moore. So it is we became entranced with the idea of the infinite possibilities of being successful and having a successful relationship and marriage via what we now know as the journey entitled, "Meet the Hensons." This is the love story of Mecca Moore and her husband Antoine Henson. Check out my Q and A.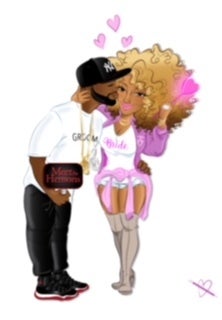 Occupation (a liitle info about yourself)
I'm the founder and owner of a women's lifestyle brand based in NYC named PYNK. 
Love is difficult to define but I define love ​as an​ action. My husband and I have always shown and proved to each other how we feel about on​e​ another based on our actions. Actions always speak volumes far beyond words.
Have you seen the OWN docu- series Black Love?  Yes, I have. It's always inspiring to see other black couple and hear their stories. 
How did you meet your husband?  What point did you know he was the one? Randomly, Antoine and I met through a mutual friend at a lounge one night. At that time neither of us were looking to be in a relationship so it took a while before we even had our first date.   I knew he was the one when we started spending a lot of our free time together, he became my best friend. We had so much fun every time we hung out​. The feeling was ​ different ​from any other that​  I had ever experienced with someone. We partied together, we prayed together, everything felt right. It still feels right! : )  
How long have you been together? We've been together for 3 years.  
Did your mate change your concept of love and any prejudices you had about it before?  Definitely.  I've always believed in love but Antoine made me look at love differently. He gave me the confidence needed​ to be​ able to continue to grow my business, grow as a woman and be a wife all at the same time. In the past I was under the impression that I wouldn't be able to do everything I needed​ to do in addition to the things that I WANTED to do for myself.​  So often we hear people say that you need to choose your marriage or your career. I never had to make that choice. His encouragement and support means everything to me and I feel its made me a better mate because I'm always 100% with myself. I'm able to live out my dreams with the man of my dreams. 
What makes your bond so strong? We're friends. Of course we're in love but he's really my friend. We support each other, we have patience with each other, we compromise, we pray.  We've also grown with one another and experienced new things together. Making memories with each other daily. 
What should couples know about keeping love strong no matter what? Love, relationships, marriage are all very complex and can be difficult. However, communication is key! Listening to each other, really listening is a major key. Difficult times will come but being able to communicate with your mate will allow you both to heal and grow together. With that open line of communication comes honesty! I'm not sure how any relationship can survive without it. 
What are your thoughts on cuffing season? Ha! I think when two single adults approach "cuffing season" they know what they're getting into. As long as when April/May hits and "Cuffing season" ​is over, ​ and nobody is hurt ... I think its cool! I'm just thankful it's cuffing season year round in my house. lol!  
What is your advice?    The only advice I would give new couples is to never let a fight or argument go on  for too long. Talk it out, pray about it, do whatever is needed for you two to come to a happy place. Antoine and I pray together every night before we go to sleep, it's one of our daily rituals that I feel has helped our relationship. 
Your husband's advice? Antoine: Always put your wife first. Surprise each other and keep the relationship fresh.
Finish the sentence.. Love is important because .... it facilities so many things.. Trust, respect, friendship, partnership. Both self love and receiving love from others is an irreplaceable feeling. 
REAL LIFE. REAL NEWS. REAL VOICES.
Help us tell more of the stories that matter from voices that too often remain unheard.
This post was published on the now-closed HuffPost Contributor platform. Contributors control their own work and posted freely to our site. If you need to flag this entry as abusive,
send us an email
.