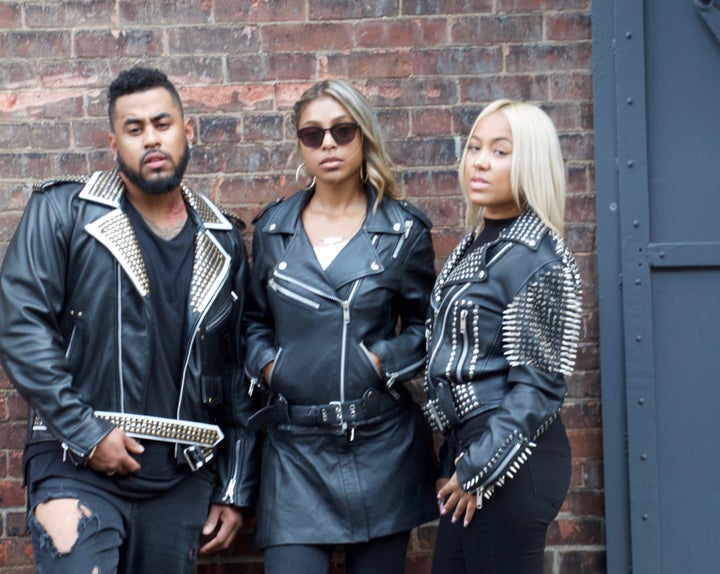 "The details are not the details. They make the design" – Charles Eames
Details are synonymous with Designer Michael Lombard who takes an unusual approach to the usual leather jacket.
Michael Lombard is deemed as the quintessential New Yorker who grew up in New York and studied at the University of Maryland. After University, he dedicated 30 years to working in the Music Industry and building a rapport and roster of the movers and shakers in the Music Industry. Being satisfied with his accomplishments in the Music Industry, he then decided to try his hand at Fashion Design. One would think Music and Fashion are two different worlds however, Michael says: "It was pretty simple actually, as I owned a label through a major record label and would put artistes outfits together—Music and Fashion have always been synonymous".
As fate would have it , the Michael Lombard label was born – however, this time it was less about music and more about Fashion. This label could be found in the backs of expertly designed premium leather pieces that soon caught the eyes of Fashion Enthusiasts and notable names in the Fashion Industry. Flash forward to a few months ago where he made his debut at New York Fashion Week 2017 where he presented his collection. This collection featured Leather Jackets in beautiful eye-catching colors, spikes and a silhouette that looked as if it would fit like a glove. On the heels of his NYFW debut he introduced another collection at the Georgetown Fashion show. Here, all the attention was on the aesthetics of the brand with its stunning and modern jackets.
I caught up with the King of Leather Jackets just to learn a bit more about him as a Designer and the plans he has for the Michael Lombard Brand.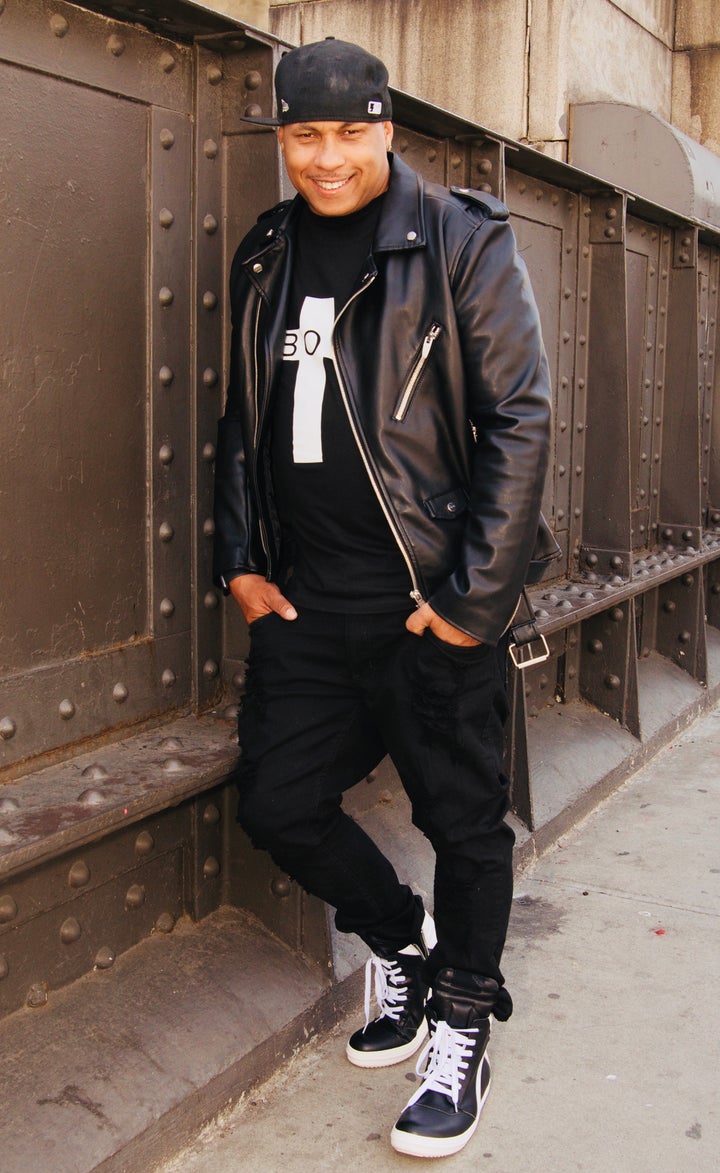 L.R. Where did you get training to become a Fashion Designer?
M.L: No training actually. I just always had a knack for drawing, an eye for fashion and a willingness to put it all together.
L.R: Tell us how the Michael Lombard Brand came about?
M.L: Well after buying 100s of leather jackets and always complained that I could make them better, I decided to go ahead and start drawing and designing my own collections and here I am.
L.R: Where do you get inspiration when designing new pieces?
M.L: I'm a pretty modern guy so sometimes I will see contemporary modern art and get a creative idea or will wake up in the middle of the night with a creative idea and start designing.
L.R: Of all the material to work with, why leather?
M.L: Well I feel that leather, the texture, how smooth it is, was an untapped design. Yes jackets, but I love to see a piece of leather come together in shirts, skirts, pants, sneakers, purses and backpacks as well.
L.R: Do you remember the first Jacket you ever designed … tell us all about that.
ML: Yes, I wanted to do my first jacket as a Calfskin classic leather biker with gold metal hardware. It came out really good.
L.R: You presented your collection at NYFW, what was that like?
M.L: It was amazing! My collection walked at NYFW17 on Sept 9th at the ASC Fashion Show and the response was amazing; so much so that I am the talk of the town for leather. I'm already scheduled for NYFW18 in February.
L.R: What are some challenges you face as a Designer?
M.L: Well, just getting the visibility of my high end collection out there. It's doing pretty good but the space for designers is very crowded right now. The good news for me is that I'm different from most because my collections are all leather so it's different than suits and dresses etc.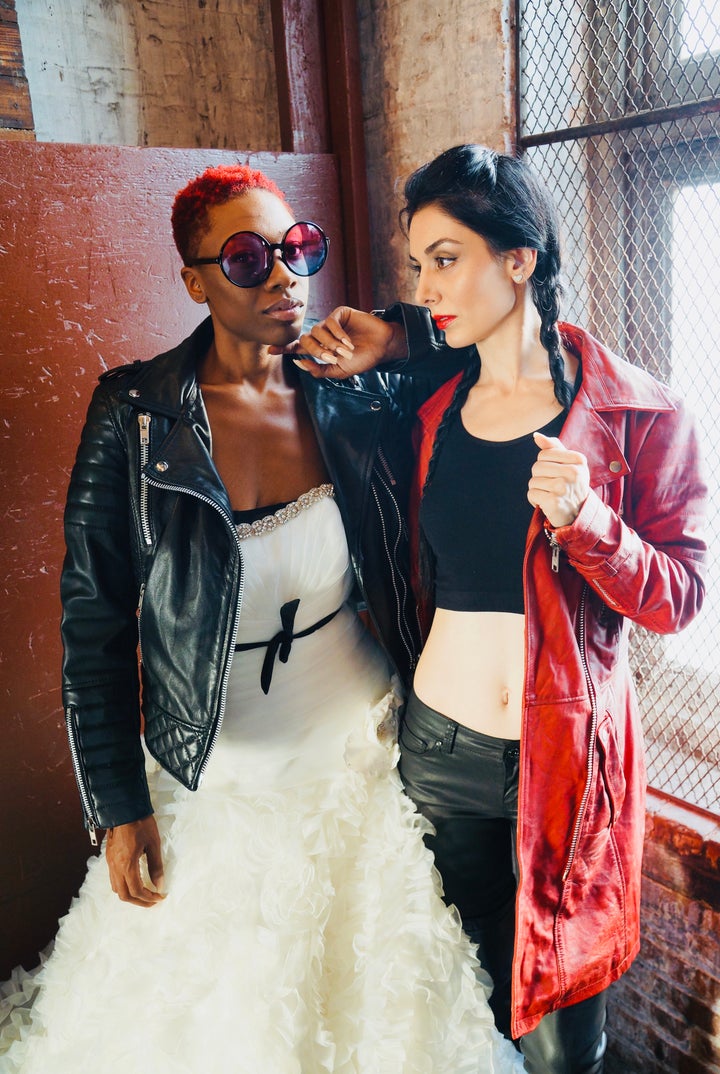 L.R: How do you want people to feel when wearing your clothing?
M.L: I want them to feel on top of the world. That they are wearing the best piece of leather they ever had. By the way I only use the highest grades of leather.
L.R: What role do you think Social Media plays in Fashion today?
M.L: Well everything is social media nowadays. You have to have a strong foothold in social media. All platforms! That's how many designers get to showcase to people directly.
L.R: If you could go back in time and give yourself career advice, what would it be?
M.L: Start designing earlier. I had this dream for 20 years. If I started then I can just imagine where all this would be now. But good news is I'm here to stay now.
L.R: What can we expect from you in coming months?
ML: New futuristic leather styles for spring and fall. Watch for it!
Barry Freeman, Mítenka Monterroso, Rick Stockwell
Destiny Elleinad, Farzaneh Seifi, Carlos Slusher Jr. , Karin Cruz, Alyssa Rivera
Get Social with Michael to see all of his latest designs!
Related
Popular in the Community