Celebrity hairstylist Chaz Dean has a roster of glamorous clients, including Gwyneth Paltrow, Alyssa Milano, and Juliana Margulies. He's also the founder of Wen, a revolutionary line of haircare products meant to combat the long term damaging effects of shampoos. If you've never spotted him hawking his wares on QVC, where he appears regularly, then perhaps you've seen him on "Flipping Out," Bravo's hit reality show starring Jeff Lewis, the infamously obsessive-compulsive and anal-retentive house-flipper and designer, who is renovating the Chaz Dean Studio.
Ket Lamb, a regular contributor to The Inside Source, eBay's digital style magazine, caught up with Dean at his beautifully redone salon to talk reality show drama, Vidal Sassoon and his dream customer. For more interviews with fashion insiders, visit The Inside Source and follow us on Twitter and Facebook.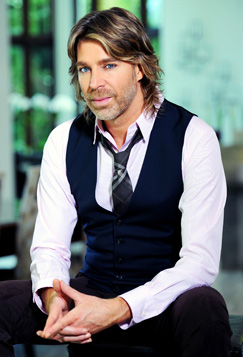 Celebrity Hairstylist Chaz Dean
The Inside Source: You're back on "Flipping Out"?
Chaz Dean: Yes! Jeff is harassing me because we're at the end of our renovation. It's been three years, and we're almost done. It's very emotional. There's a lot of drama.
The Inside Source: During Season 3, Jeff hired a cute assistant named Sean. When Sean gave you his business card, Jeff fired him. Did anything happen afterwards with Sean?
Chaz Dean: Jeff still brings Sean up. When we started working with Jeff and Jenni, I invited all of them to do yoga with us. Sean came once, on a weekend. On Monday, Jeff was like, "Oh really? Sean came and did yoga?" Then he told me Sean had been fired on Friday! He never did come back. He's straight. There was nothing there. He just said he wanted to do yoga. That was it. There's no Sean.

The Inside Source: Who are your hair icons?
Chaz Dean: Growing up, [Vidal] Sassoon for sure. And Oribe. It was all about the shapes!
The Inside Source: Who cuts your hair?
Chaz Dean: Mostly, I do. Someone gives it a good cut twice a year, but I like doing the maintenance.

The Inside Source: Who is your dream customer?

Chaz Dean: One who trusts you and says, "Do what you think is best for me."
The Inside Source: How did you come up with the name Wen for your product line?
Chaz Dean: I used to literally mix concoctions for my clients. I told them they are never going to use lather shampoo again; they are going to cleanse their hair with conditioner. They thought, that doesn't make sense -- conditioner weighs my hair down. I explained it's a whole new way of looking at it. I wanted something that was a three-letter word, something you couldn't look up in the dictionary. "New" spelled backwards is Wen!
The Inside Source: What do you have to have when you're working?
Chaz Dean: Wen and peace of mind. I have to be grounded and centered to focus on what I'm doing. I don't like chaos, or drama.

The Inside Source: Yet, you're working with Jeff Lewis?

Chaz Dean: Yes, but, I'm the one who tries to calm him down, reminding him to just breathe. He's helped me to be on time. Even as a kid, I was always late. My Mama joked, "You're going to be late for your own funeral." I thought, "Why would I want to be early?"
The Inside Source: You're also a photographer. What do you shoot?

Chaz Dean: All of our labels, all of our models, everything on our website. I love shooting abstract photos, especially when people ask, "What's that?" It makes them think.
The Inside Source: You travel half the year to QVC and New York. What do you have to have on the road?
Chaz Dean: The puppies -- Hunter, Spencer, and Ella -- but I can't always take them ... My shears. They're Hikari, the only shears I've used for over 20 years. I stick with my Super Solano blow dryer. I'm open to changes in other things, but those are my staples ... My yoga mat ... I can't go anywhere without Wen, and my phone. I always bring my feather pillow, too. It's the one thing that makes me feel at home.
Photos courtesy of Chaz Dean.