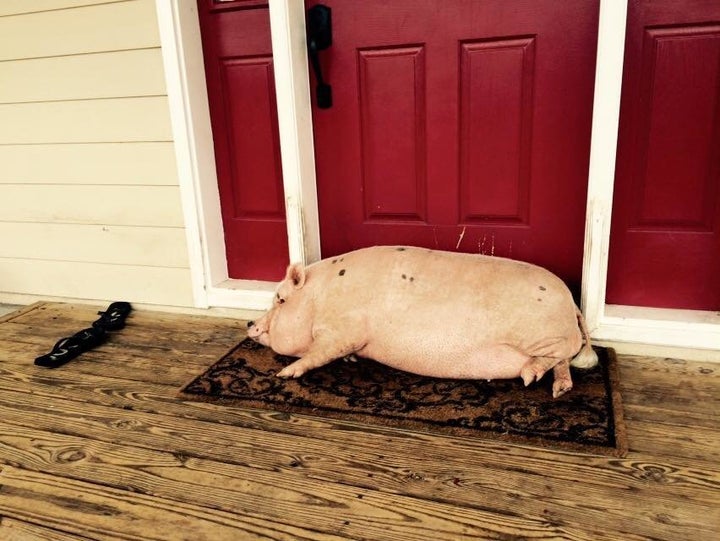 Andy Gregory didn't set out to live with 26 rescue pigs. They just sort of found him, one by one.
Sherry, for example, was discovered wandering around a retirement home before a friend of a friend brought her to Gregory's 11.5-acre home in southwest Florida.
Sheldon had been owned by a teacher, who realized she couldn't take care of her big, smart porcine pet. (The teacher now comes by for regular visits.)
Barbecue -- yes, that's the pig's name; no, he's not headed toward that fate -- is a wild pig who'd been chasing tennis players around a local court, before his dispatch to this new, comfortable, albeit tennis player-free life.
It's a comfortable life for Gregory, too. 
 "I'm happy," he says. "They don't mind if I'm an insurance agent."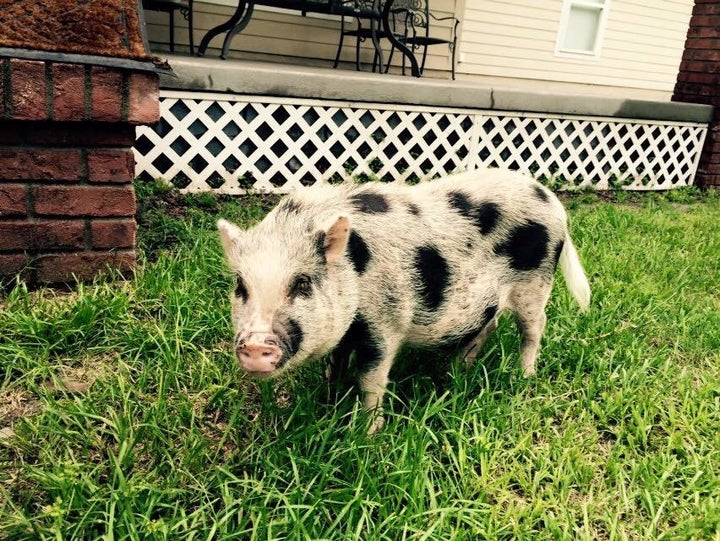 That's right: Gregory is not an animal welfare professional. He does not keep any kind of official sanctuary; he's not running a nonprofit.
Gregory doesn't even have a Facebook page, where admirers could ogle his oinking brood. (Note to Gregory: please set up a Facebook page!)
And then for relief, he comes home to his animals.
"They're my sanity. Lots of unconditional love," Gregory says.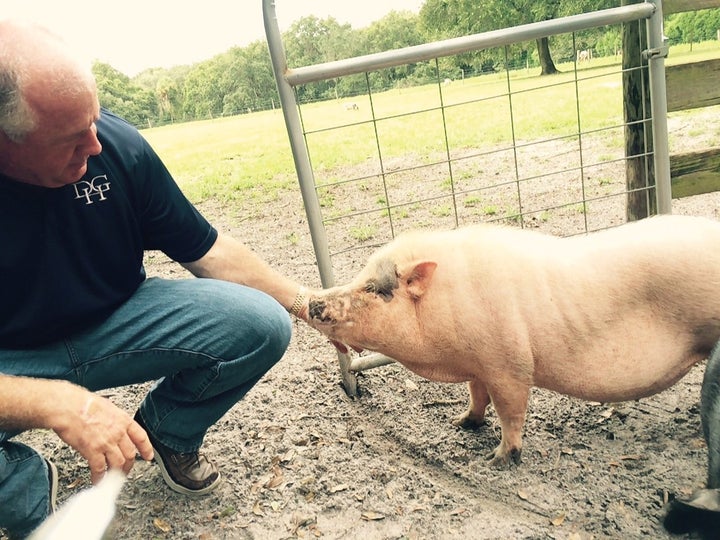 Gregory got his first pet pig as a teenager. Once Hoover grew to be 1,000 pounds, he went to live out his days at a farm in Georgia. (Really, this wasn't some parental fiction. Gregory got to see Hoover in his pastoral glory. His then-girlfriend, now-wife, Debbie, made the trip, too.) 
The pig acquisition began anew about 11 years ago, when Gregory and Debbie moved to their new, expansive property.
And one after another, this couple dozen-plus pigs -- some pets, some wild, all now well-loved -- took root.
"Many of the pigs he has rescued would be killed if it wasn't for him," says Hurd. "Andy is an amazing guy that doesn't have to do this. He could be your typical upper-middle class, clean-cut insurance company co-owner. But he's not, he chooses to do good and save these pigs' lives with his money and time, and I am grateful for that."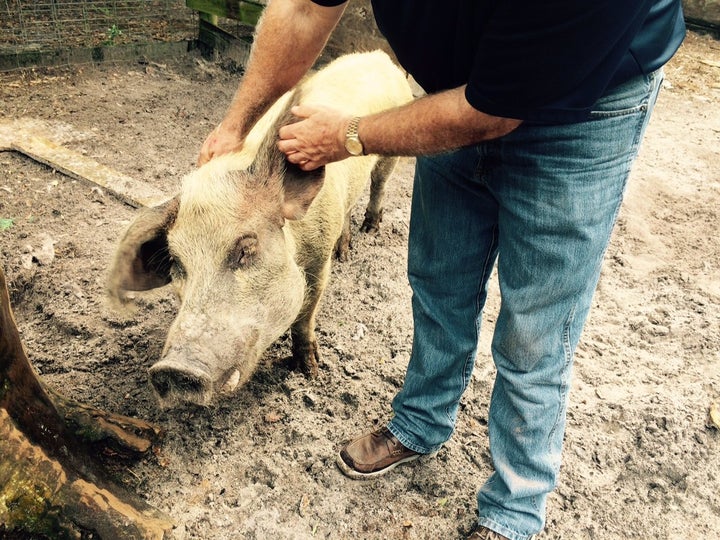 On top of his pigs, Gregory has 15 goats, three horses, one rabbit, one sheep, six dogs, and four cats, all but six of which are rescues -- meaning they'd been living in unsustainable situations, when Gregory got them; he did not buy them from breeders.
Apart from the dogs and cats, most of the animals live outside in big pens. A handful of housebroken pigs are invited into the house.
Gregory estimates it costs a bit under $20,000 per year to take care of the lot of the lot, between food and vet bills and the other expenses which come as a result of being the owner of nearly 60 animals, including some who are blind, others with skin conditions and a goat with a neurological condition.
He reckons it's worth it.
 "The best part is their company as well as watching their behavior change and adjust. Many didn't get a lot of attention before coming to me," he says.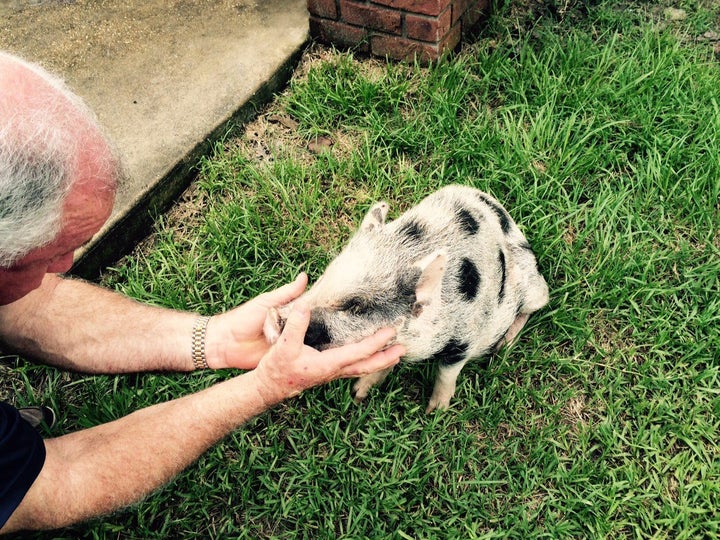 And though Gregory says he's not really in the market for accepting new pigs just at the moment, it should not be a big surprise that between last week, when The Huffington Post visited this menagerie, and now, another pig has been added to the mix.
If you're counting, that brings the total up to 27 pigs.
This one is is a young potbelly named Peppermint Patty, who was at a local animal shelter until someone he knows suggested perhaps she'd be better off with Gregory. He couldn't help but agree.
Over the weekend, he brought Patty home. She's housetrained, and is inside, acclimating quite well to her new environment.
 "She's sweet," Gregory says. "She's just been a delight."
 Gregory says his wife's attitude toward the animals vacillates between "Oh no, not another one" and "Yay, look what we've got!" -- but he feels quite confident that, at the very least, she is not going to divorce him over his expanding critter collection.
"I always wanted a home with room to do just this. Having a wife that loves me and stands by me is makes this all the better," he says. "I told Debbie I'm going to get me a camel. I think it's legal, too."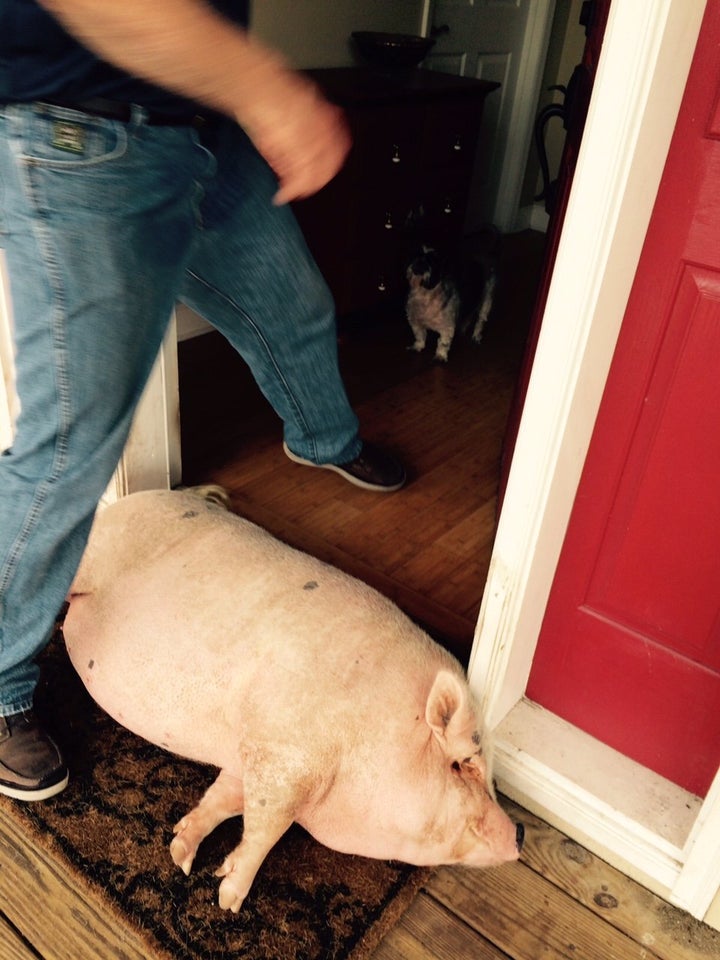 Get in touch at arin.greenwood@huffingtonpost.com if you have an animal story to share!
PHOTO GALLERY
Pretty Pigs
Calling all HuffPost superfans!
Sign up for membership to become a founding member and help shape HuffPost's next chapter