Each year a six-car Chicago Transit Authority train car is given over, for free, to a different local artist for a total makeover. For one night only the train loops around the elevated track, giving the public a chance to see artwork in motion. This year, the world's largest mobile art gallery is celebrating its fifth birthday on Saturday, September 22nd.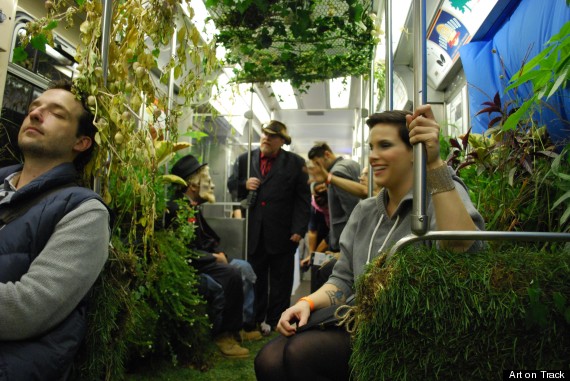 HP: What are the limitations or constraints when you show art in a public train?

TH: The first hurdle for our artists is the large amount of exposure their work will receive. Artists are aware that not just the people riding the train will see the work but also those commuting home. Around 250,000 people commute via train in Chicago so a large spectrum of people (with varying degrees of sensitivities and opinions) will be exposed to the work. Artwork has to be appropriate for anyone aged 6-60, so the challenge here is to show exciting work, engaging work, that won't piss anyone off. We want to push the envelope creatively but will avoid works like "Piss Christ."
Then when work is chosen actually hanging it is near impossible. We aren't allowed to drill into the train, duct tape leaves a nasty residue that's near impossible to remove, suction cups have a tendency to fall every hour or so -- it's a real challenge. Still, a lot of artists manage to show heavy work safely and find creative ways around these issues. Finally, we don't give them any time to install the work; all the artwork has to be installed just a few hours before the train runs around the tracks. At the end of the exhibition, the artists have just 45 minutes to uninstall their work, while the train is moving back to the depot -- and I mean moving -- no stops along the way, full speed ahead. It is the kind of express train commuters dream about but when you're trying to take artwork off the walls it becomes an athletic endeavor.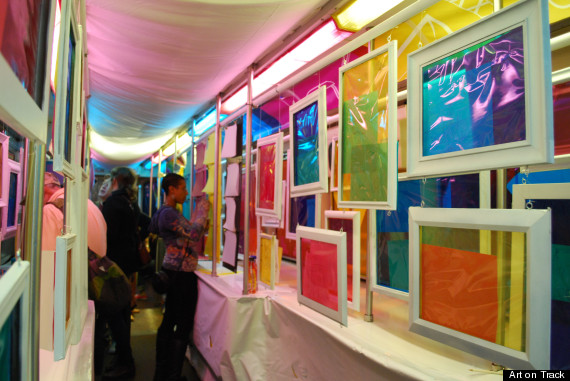 HP: How has the project evolved?

TH: As art school students, my friends and I had trouble finding venues which would show our work. My feelings at the time were that the galleries that show emerging artwork ... make their money off the artists and don't have a need to actually sell the work, and [that] any proper gallery has a complicated series of channels to navigate in order to exhibit (aka nepotism). Those were my feelings at the time (I'm more fair now in my opinion), so I imagined a show that could get artists some serious exposure, for free, in a significant way, and 'Art on Track' was born. It's not so much a sales floor as a platform to show off.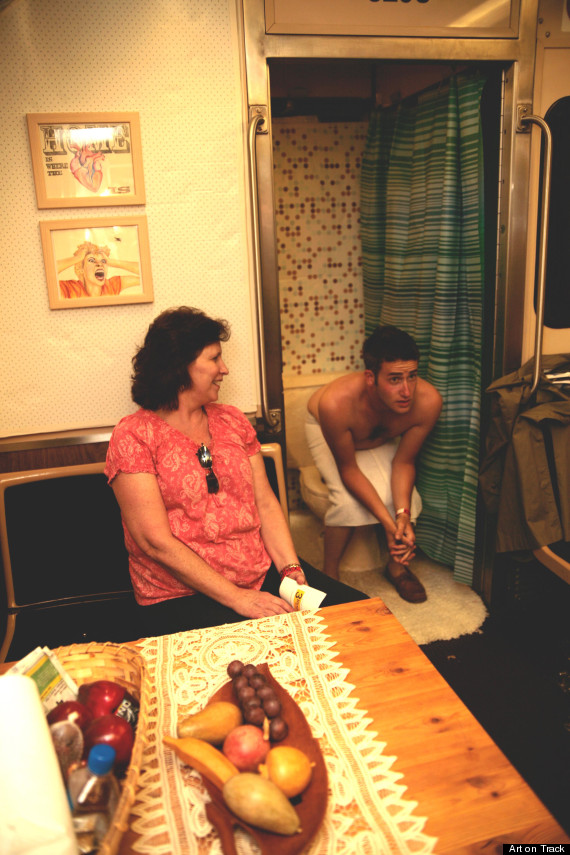 HP: Do mobility and transportation play any thematic role in the curation of the exhibition?
TH: Increasingly, artists have been addressing the space and using it's natural systems to play into their train car. For example, this year one of the train cars is going to be a mini film festival. The train car has two doors which open to let people onboard the art exhibition. If you enter through one you enter the film festival screening area which has been decked out to look like a movie theater. You can sit down and watch a four-minute film. If you enter through the other train door you enter an area that is partitioned off form the screening area. In this part of the train we are rotating in and out young directors who will be making four-minute films using our audience as actors.
Four minutes is the exact amount of time it takes the train to travel between a station. Our audience suddenly finds themselves acting in a movie, which is filmed, cut, and put on reel between stations. When we reach the station they can leave the "acting area" of the train and enter the other side where they and other attendees get to watch the movie they just made. The process then repeats for the length of the show. So the film festival actually revolves around the natural rhythm of the train.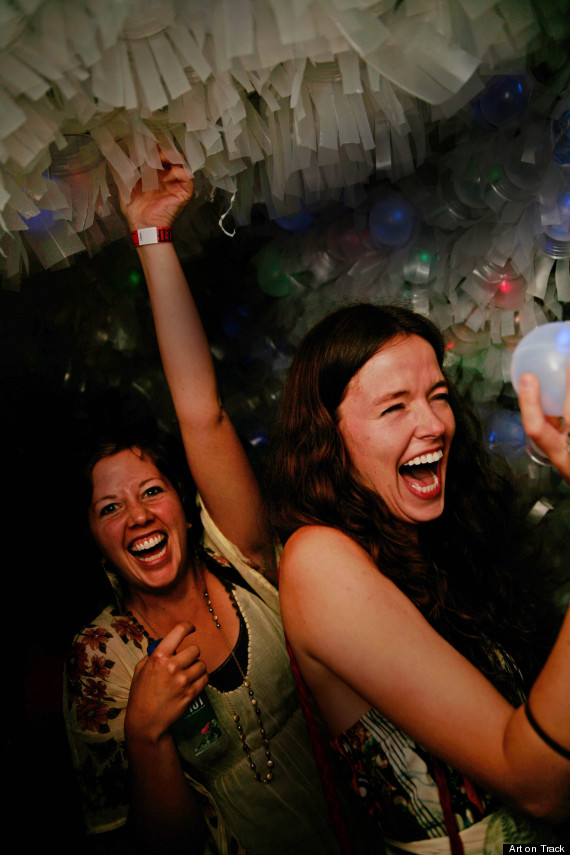 HP: What would you say is specific to the Chicago art scene as opposed to other creative hubs?
TH: Chicago is one of the alternative space champions of the world. People here are showing work on the backs of bicycles, on boats, in apartments, empty store fronts, alleys, waterways, hotels, etc. [It works] without a formalized blue chip arts district like Chelsea, but with a significant base of art enthusiasts and buyers. There is a real attitude of do it yourself here. 'Art on Track' is just that, given a blank canvas (a train car) artists are challenged to create their own exhibition inside the overall exhibition.
Check out Art on Track's Kickstarter page for more information.
Popular in the Community