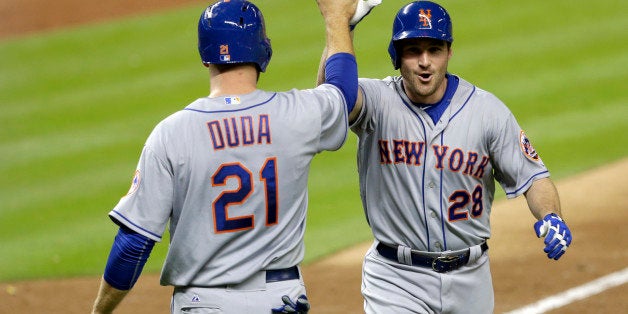 It may just be a game. It might just be an illusion of hope. It might be too early in the season to order playoff tickets.
But it's starting to feel a lot like 1969. Or 1986. Or even 2000, for many New York Mets fans. (Those were the glory championship years for New York's junior baseball team).
Boy, was April a lot of fun -- the first time in more than a decade for long-suffering New York Mets fans. It appears that the long, methodical rebuilding plan of the last five years is about to bear some sweet fruit. The emergence of Matt Harvey as the most dominant pitcher in baseball -- much like Tom Seaver in the late 1960s and 70s and Dwight Gooden in the mid-1980s -- has given the Mets a true superstar to build a team around.
Harvey is one of those matinee idol-like professional stars -- good looks, rugged personality, macho charisma -- who can light up a team, and a whole city. He had a big setback two years ago after a meteoric start to his career -- a crippling elbow injury that required radical surgery and a 16-month rehab. His lightning fastball and amazing control would surely be affected, many fans feared. But so far, the undefeated pitcher has been almost flawless, even pitching in his third start despite waking up feeling sick and toughing out a win after six harrowing innings.
I have been a Mets fan now for more than four decades and it has not always been easy to root for a team that has had so many long periods of drought between a few fertile years. The Mets were born the same year I was, 1962, and their early years were marked by ineptitude so bad that the legendary Manager Casey Stengel once said: "Can't anybody here play this game?"
Until 1968, Stengel was absolutely right. There were few players on that new team who really could play well. But then a wise, patient manager named Gil Hodges, a former Brooklyn Dodger great, assembled a workmanlike team around a scintillating pitching staff led by another charismatic ace: Tom "Terrific" Seaver, the transplanted USC grad lifted a team of former misfits on his broad shoulders and led them to the promised land in 1969 with an improbable world series victory over the heavily favored Baltimore Orioles.
The team from Flushing was dubbed the "Amazin' Mets" for their odds-defying championship. Their eccentric relief pitcher Tug McGraw coined a phrased for the ages: "Ya Gotta Believe." Role players who were not superstars but great team builders like Tommie Agee and Cleon Jones and Buddy Harrelson all did their jobs well enough to allow the young and talented pitching staff of Seaver, Jerry Koosman, Nolan Ryan and Roger Gentry and others to keep the team in every game with great pitching, solid defense and timely hitting. By October 1969, a team no one thought had a chance, had 100 victories in the regular season and then went on to mow down the Atlanta Braves and Orioles on its way to a ticker-tape parade through downtown Manhattan.
There were a few other notable years in between, particularly 1973, but the Mets did not win a World Series again until 1986, 17 years after its first season of glory. Then, a collection of veteran stars like Gary Carter and Keith Hernandez led a team of virtual no-names, who were catapulted by a young, flame-throwing pitching staff led by Dwight Gooden and Ron Darling, two aces who could not have come from more different backgrounds. But that whole team came together that year to produce another Amazin' season in Flushing and victory in one of the most memorable World Series battles ever against the heavily favored, but snakebit, Boston Red Sox. A slow bouncing ball that went through the legs of first baseman Bill Buckner seemed like a gift from the baseball deities that allowed the Amazin's to finally deliver some joy again in Metsville.
In 2000, there was a disappointing loss to the Yankees in the World Series and since then it's been a long journey in the losing wilderness among baseball's bottom-dwelling teams. The team got a new stadium in 2009, Citifield, and assembled an impressive General Manager-Coach team of Sandy Alderson and Terry Collins. Their patient and methodical moves (helped somewhat by the previous General Manager Omar Minaya) has now put the Mets in contention for another playoff run in 2015.
This team, like the glory teams of the past, has an outstanding starting pitching lineup of Harvey, Jacob deGrom, Bartolo Colon and Jonathan Niese. There are rising stars in center field like Juan Lagares and at catcher with Travis D'Arnaud, a slugger in the making at first in Lucas Duda and a steady superstar at third base in David Wright. The team is so deep that even when Wright, D'Arnaud, starting pitcher Zach Wheeler and hot reliever Jeremy Blevin went down with injuries, the team still managed to skyrocket out of the gate by winning 14 of its first 18 games.
It's amazing how a successful sports team can lift our collective spirits in this city. How the Boys of Summer in Queens can make this overgrown fan obsessively check ESPN each day for the latest box score and standings.
Finally, we'll get 'em next year, is here this year.
Tom Allon, the president of City & State, NY, has been a lifelong Mets fan, but also kind of likes the Yankees, too. Comments: tallon@cityandstateny.com.
REAL LIFE. REAL NEWS. REAL VOICES.
Help us tell more of the stories that matter from voices that too often remain unheard.