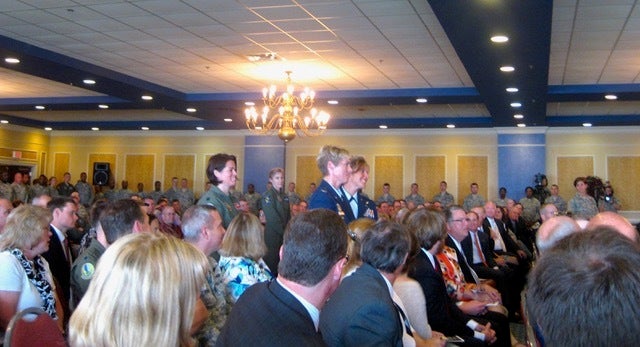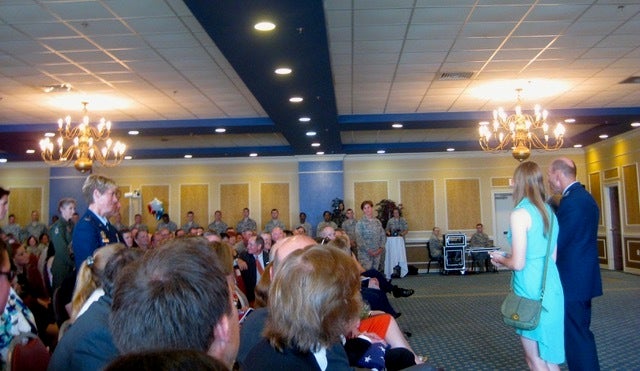 I had the privilege of meeting Brigadier General(S) Kristin Fisher-Goodwin several years ago at my cousin, USAF Lt.Gen. Bill Rew's, retirement ceremony at Langley AFB. Of the many Generals and other officers I met that day, she was one of the most impressive. My cousin, a father to three wonderful daughters, has always been a great supporter of the advancement of women in the Air Force. During his retirement ceremony speech, he asked five women officers to stand and be recognized. He thanked them for their service to our country. In addition to then Colonel Kristin Fisher-Goodwin, were Lt.Gen. Lori Robinson, now General Robinson the first female 4-star commander of PACAF and first female commander of NORTHCOM, Col. Jeannie Leavitt, now Brig. Gen. Leavitt - one of the first female fighter pilots (F-15E) and now the first female commander of the 57th Wing at Nellis AFB, NV (home of the USAF Weapons School, Red Flag, Aggressors, and Thunderbirds), Lt. Col. Nicole Malachowski, now Col. Malachowski the first female Thunderbird, now working in the White House on the Executive Support team and Lt. Col. Shannon Juby, now Col. Juby, one of the first female F-16 pilots and presently heading up the Strategy Division for EUCOM. After the ceremony, because he felt we had so much in common, Bill introduced me to Kristin. We were both Academy graduates, pilots, military leaders, married and just happen to be gay. He told me she was the future of the Air Force.
The selection of Brig. Gen.(S) Fisher-Goodwin as the next Commandant of the U.S. Air Force Academy, as well as the advancement of the four other women who were recognised that day, demonstrate there are many enlightened and thoughtful senior leaders in this service. I would submit Kristin's promotion and nomination. like the other four women, was based solely on merit and had nothing to do with either their gender, or in Kristin's case, her sexual orientation. Simply put, she is the best person for this very important leadership position at the Academy.
I posted several articles on my Facebook page about Kristin's promotion and new assignment. The Air Force Times piece talked about her superb military career and in the last paragraph mentioned, in passing, she had a wife and two children. Several other articles said little about her excellent record, but were critical of the nomination simply because of her sexual orientation. One blog post, written by an actively serving Air Force officer, went so far as to raise the question of whether she might have lied about her sexuality when she was first sworn in as a cadet. He went on to ask how she could lead the Academy when, as a Cadet, she might have violated the Honor Code. Thankfully, none of the critical writers expressed concern about her gender.
Having seen many hateful comments on articles dealing with issues of gender and sexual orientation in the military, I wondered what the response to these posts would be. I feared the worse. Amazingly, in all the many comments to these posts there was not a single one that was negative. My cousin's opinion of Brig. Gen.(S) Fischer-Goodwin's superb record as an Air Force leader was supported by the comments to my Facebook posts. So was my impression of her. Here is a small sample:
" I'm a retired USAF First Sergeant and I know Col. Kristin Fisher-Goodwin personally. She is an outstanding officer and individual, and will make an exceptional Commandant. She also is a loving mother of two daughters and has a very supporting spouse...she is the family-oriented type leader the Air Force so covets. The only--the ONLY--difference between her and any other previous Commandant is that her spouse just happens to be the same gender as her."
"I have known Kristin for 19 years. She's a top-notch pilot & officer and deserves none of this hate." (Referring to some of the negative articles not the comments of others to my Facebook post)
"You will not find a more competent or highly moral person in this world. Glad to have her as an example for our cadets."
"I have no words for this....except...Kristin is a remarkable PERSON, WARRIOR, LEADER, OFFICER, MENTOR. Her sexual orientation does not define her nor does it affect her ability to perform this job just as being straight does not affect past individuals in this position from doing theirs."
"You couldn't find a better person for the job, or as a friend."
"Who cares? Kristin Fisher-Goodwin is an outstanding person. I had the pleasure of working with her for many years. They hired the best person for the job."
"We need more outstanding people like Kristin to lead our country and our military. I am thrilled that she has earned this new position and honor. She makes me proud to be an American and I sleep better knowing she is on watch"
"Way to go Kristin!! You are an amazing leader and a phenomenal human being. The AF Academy is lucky to have you as their fearless leader."
As these comments show, Brig. Gen.(S) Fisher-Goodwin is first, and foremost, an outstanding leader. She is respected by all who have served and flown with her. Based on her superb record, the Air Force has made an excellent choice for the next Commandant of its Academy. She is an example of how any talented person, regardless of gender, race, sexual orientation, religion(or no religion), or national origin, with hard work and perseverance, can achieve success in the military. Well done.