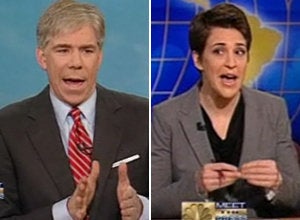 "Meet the Press" has benefitted from another Maddow Bump.
The NBC Sunday morning program moderated by David Gregory averaged 4.162 million total viewers for first place. That's the show's highest total viewer delivery since March 22, 2009.
Gregory interviewed Vice President Joe Biden and the roundtable included David Brooks, Rep. Aaron Schock, Harold Ford, and Rachel Maddow.
"Meet the Press" beat CBS' "Face the Nation" (3.025 million) by the widest margin since May 17, 2009, and it beat ABC's "This Week" (2.508 million) by the widest margin since December 7, 2008. The 2.508 million total viewers represent ABC's lowest total viewer delivery since August 23, 2009.
"FOX News Sunday" averaged 1.208 million total viewers in its FOX broadcast.

Popular in the Community