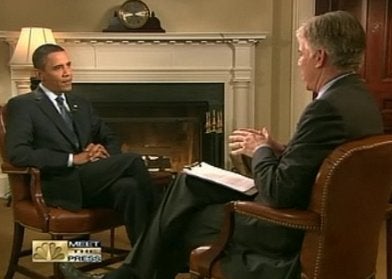 NBC's "Meet the Press" has won President Obama's Sunday talk show blitz.
Obama appeared on five shows Sunday — NBC's "Meet the Press," ABC's "This Week," CBS' "Face the Nation," CNN's "State of the Union," and Univision's "Al Punto" — and "Meet the Press" drew the most viewers.
David Gregory's interview with the President attracted an average of 3.290 million total viewers, 7% more than George Stephanopoulos' 3.081 million, and 20% more than Bob Schieffer's 2.740 million.
Fox News Sunday, which did not receive an interview with the President, averaged 1.239 million total viewers.
On cable, Jorge Ramos' interview averaged 954,000 total viewers for Univision, more than John King's 602,000* on CNN.
*"State of the Union" airs from 9AM-1PM on CNN. The 9-10 AM hour averaged 602,000 total viewers.
Popular in the Community