Some new superheroes are hitting the scene, and they're bringing some body positivity along with them.
Known collectively as The Succulent Six, these six "superSHEroes" are on a mission to fight back against weight discrimination and celebrate people of all sizes. The six women have adopted kickass personas related to food like Cookie Cutta and Dirty Dottie Donuts, and in April, the group posed for a photoshoot to encourage others to "stop the food fight." Based on the colorful costumes and messy food involved, it looks like the women are having a lot of fun spreading their message.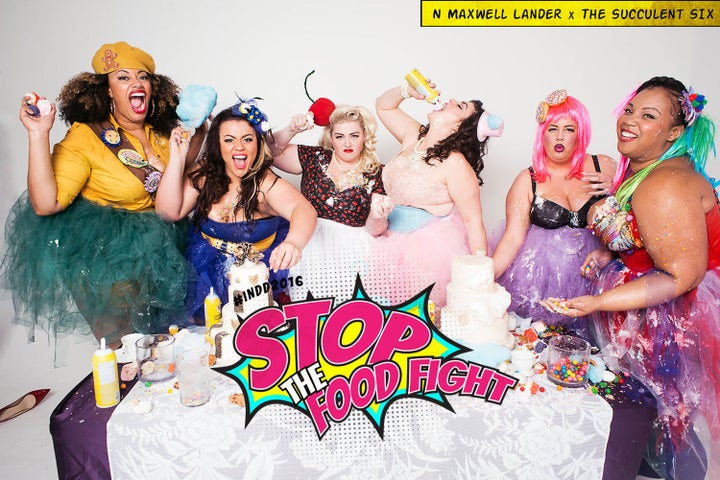 Steff "Ivory" Conover, also known as Cupcake Charlie, told The Huffington Post that the group is dedicated to promoting body positivity and challenging unrealistic beauty standards.
"We want to question the idea of one 'right' body shape and celebrate beauty at any size," Conover said. "We aim to help end weight discrimination, size bias and fat phobia."
For the shoot, the group teamed up with photographer N. Maxwell Lander, whom Conover described as "the most insane, body-positive, no-nonsense, witty, goofy, curmudgeonly artistic genius you could ever dream of." Together, they released the "Stop the Food Fight" photos on May 6 for International No Diet Day, a day devoted to questioning the so-called "ideal" body and embracing diversity. Conover said part of The Succulent Six's mission is to spread that sort of attitude into the rest of the year.
"Most of all we want to celebrate a day free from diets and obsessions about body weight," she said. "We truly believe that if we can start with one day free from body policing maybe, just maybe, we can secure the other 364."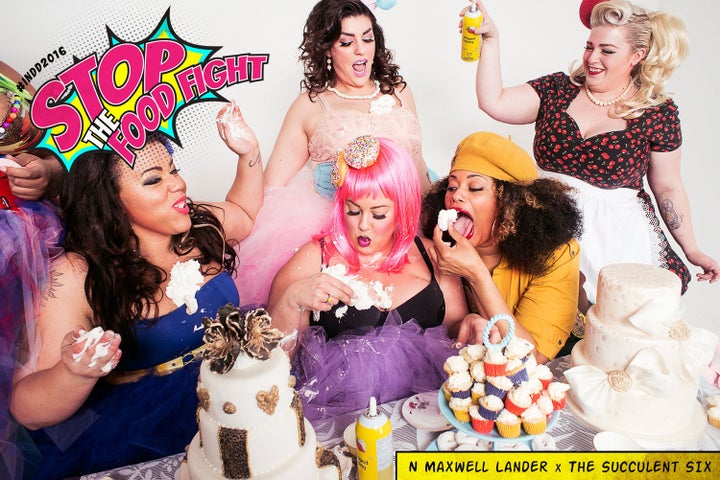 The group has no plans of slowing down when it comes to promoting body acceptance. The future of The Succulent Six includes more photo shoots, as well as public speaking engagements and a body-positive pool party in Toronto in July. Through these events, the body-positive heroes aim to encourage others to join the movement and love their bodies. 
"We are big. We are strong. We are beautiful. And we have grown to be proud of who we are," Conover said. "We invite you to feel the same."
Meet The Succulent Six and check out more photos from their shoot below.
Calling all HuffPost superfans!
Sign up for membership to become a founding member and help shape HuffPost's next chapter
BEFORE YOU GO
PHOTO GALLERY
#DropTheTowel Body Positive Campaign