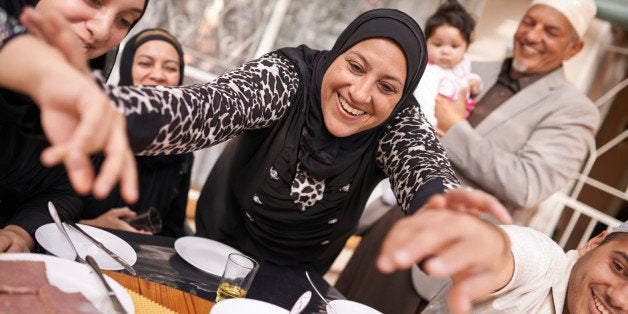 An olive-skinned woman in a black headscarf leaned over her herb garden and started to cry. She was trying to cut parsley but tears were keeping her from the task. She slumped over and buried her face in her dirty gardening gloves and sat there for a few minutes, weeping next to a bush of basil.
This woman had gone through so many terrors to come to America: she was outcast from Iraq because of her family's political activity under Saddam. After the war, they knew it was time to go, and being a refugee in America had not been easy. A tall white man walked from the back porch next door and came up to comfort her.
"Are you all right, Mariam?"
Mariam sniffed. "Yes, I'm ok."
"What happened?" the young man asked.
"Michael, my cat died." She started to bawl again.
"Oh, honey. Don't cry in the garden. Come over to my place! Roger and I are baking chocolate chip cookies."
She sniffed, "Ugh, I hope I say this right, but I love you gays."
She started laughing through the tears, "I did not say that right! I meant guh-eyes!"
Michael laughed, "Oh, sweetheart, it's fine either way. Let's get you some cookies."
Welcome to Dearborn, Mich. I bet, if you're not from here, you weren't expecting that. These are real stories about Muslims. They're the threads in a rich Midwestern tapestry with personalities that leap and bound above the two-dimensional figures featured on Fox News.
A few weeks ago, a young Muslim man named Sam was walking the streets of Dearborn, knocking on doors for a local political campaign. He was from another suburb of Detroit and had parents that were fairly devout in their adherence to Sunni Islam. As he walked by a house, he saw a young woman with a hijab leaving the front door.
As she walked down the steps, she hurled her headscarf off and leaped into the passenger seat of a red, Ford F-150. Sam paused, shocked by how quickly the scene changed.
Her boyfriend, Hassan, had the car racing down the street before her parents could even look out the window.
As Sam recalled, "That is so Dearborn! People are so comfortable being who they are here, but they're always moving between East and West without even realizing the difference. There's not any place like it in America, or even Michigan."
On another night at a local Mosque a young teacher from one of Dearborn's high schools was talking to teenage girls in a circle of chairs. She was smiling, there was tea nearby and Lebanese sweets, and each of them seemed dripping with excitement at every word she had to say.
"You're more than your bodies. You know that, right?"
One of the girls, Zaina, rubbed her hands pensively. She had just told a story about a difficult rejection. Her boyfriend wanted to have sex with her but she wasn't ready, so he dumped her.
"This hijab, it's not about covering you up. It's about saying, 'Look me in the eyes.' It's about telling people that you are a Muslim woman, and telling the rest of society they have to respect you for more than your body."
The teacher began telling them stories about Khadija, the first wife of the prophet Mohammed.
"She was a successful businesswoman. She was older than the prophet, peace be upon him, and she was the breadwinner. She believed in him and helped fund what he did, but he could not have done it without her. And yet, even with all of his work to preach the faith of Islam, she never quit her job, because she did what she loved. Being a Muslim woman means living a life of real respect and self-worth, without compromising who you are on the inside."
A few of the girls nodded in approval. Zaina seemed more relaxed, but like any teenager, her courage in telling her story was matched by her embarrassment. Somewhere else in America, a so-called feminist was talking about how Zaina is oppressed.
These are imperfect stories. They're stories that tell just one part of a much greater whole. They are stories surrounding women when there are so many men who also break the right-wing stereotypes.
Yet, as Islamophobia and its harmful after-effects continue to ripple throughout this election season, it's important to remind ourselves of the shared humanity of everyday people in America.
Muslims are not people that live over there. Here in Dearborn, they're our neighbors, our friends and yes, often our mentors and family members. As Donald Trump seems sure to take the Republican nomination, it's more important than ever for Americans to know the real Muslims of Dearborn.
I hope by telling a few stories that someone, somewhere, will think twice before they make a sweeping generalization about "those people." My hope is that after the summer storms of the election season settle, people will begin to really search themselves to find out who we, as Americans, really are.
I don't have all the answers. However, I do know that if we want to keep calling ourselves the greatest nation on earth, we need to prove it. We need to prove it by opening our minds to the idea that Muslim and American are not contradictory terms. We need to realize that Muslims are here, they're adding to the great American story and that they're just as fun, friendly and flawed as the rest of us.
Calling all HuffPost superfans!
Sign up for membership to become a founding member and help shape HuffPost's next chapter