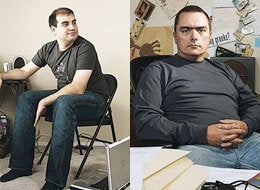 In June 2005, a balding, slightly overweight, perpetually T-shirt-clad 26-year-old computer consultant named Dan Kaminsky decided to get in shape. He began by scanning the Internet for workout tips and read that five minutes of sprinting was the equivalent of a half-hour jog. This seemed like a great shortcut--an elegant exercise hack--so he bought some running shoes at the nearest Niketown. That same afternoon, he laced up his new kicks and burst out the front door of his Seattle apartment building for his first five-minute workout. He took a few strides, slipped on a concrete ramp and crashed to the sidewalk, shattering his left elbow.
He spent the next few weeks stuck at home in a Percocet-tinged haze. Before the injury, he'd spent his days testing the inner workings of software programs. Tech companies hired him to root out security holes before hackers could find them. Kaminsky did it well. He had a knack for breaking things--bones and software alike.
Calling all HuffPost superfans!
Sign up for membership to become a founding member and help shape HuffPost's next chapter