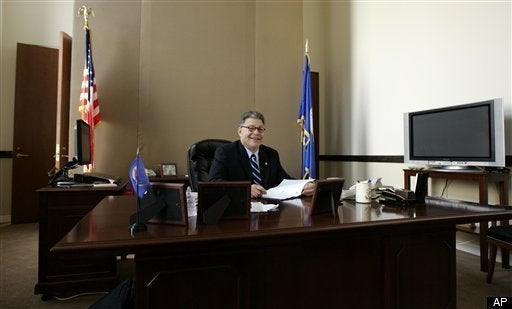 I think that all homo sapiens can understand how the mere thought of an organization that receives government money through contract mechanisms being tangentially involved in setting up a fake tax shelter for a fake pimp and his fake prostitution ring of fake prostitutes can justifiably lead to lawmakers going absolutely cross-eyed with white-hot, impotent rage. But what happens when a similarly taxpayer-endowed contractor attempts to cover up employee-on-employee gang rape by locking up the victim in a shipping container without food and water and threatening her with reprisals if she report the incident? Somehow, it doesn't engender the same level of anger!
Credit new Senator Al Franken however, for introducing an amendment to the Defense Appropriations bill that would punish contractors if they "restrict their employees from taking workplace sexual assault, battery and discrimination cases to court." You'd think that this would be a no-brainer, actually, but that didn't stop Jeff Sessions from labeling Franken's effort a "political attack directed at Halliburton." Franken, of course, pointed out that his amendment would apply broadly, to all contractors, because otherwise, 'twould be a bill of attainder, right? Right?
Franken's amendment ended up passing, 68-30. Here's a list of the Senators who showed broad support for Roman Polanski by voting against it:
Alexander (R-TN)
Barrasso (R-WY)
Bond (R-MO)
Brownback (R-KS)
Bunning (R-KY)
Burr (R-NC)
Chambliss (R-GA)
Coburn (R-OK)
Cochran (R-MS)
Corker (R-TN)
Cornyn (R-TX)
Crapo (R-ID)
DeMint (R-SC)
Ensign (R-NV)
Enzi (R-WY)
Graham (R-SC)
Gregg (R-NH)
Inhofe (R-OK)
Isakson (R-GA)
Johanns (R-NE)
Kyl (R-AZ)
McCain (R-AZ)
McConnell (R-KY)
Risch (R-ID)
Roberts (R-KS)
Sessions (R-AL)
Shelby (R-AL)
Thune (R-SD)
Vitter (R-LA)
Wicker (R-MS)
Republicans point out that the amendment was opposed by a host of business interests, including the U.S. Chamber of Commerce, and applies to a wide range of companies, including IBM and Boeing.
I guess we must cover up crimes like rape in order to save capitalism.