If you don't know who Yagazie Emezi is, it's time to catch up -- she's on the verge of blowing up.
The social media star is making it her personal mission to change the way people think about modern Africa. But perhaps what's so interesting about Emezi is that her ability to tell compelling, engaging stories is just the tip of the iceberg.
When I first met Yagazie Emezi a few years ago, the most striking thing about her wasn't her big, glorious afro, or her effortless style -- it was her voice. Deep, melodic, a pleasing blend of Nigeria (where she was born) with hints of the Southwest (she spent her adolescence in New Mexico). But it wasn't just the sound of her voice, but the way she uses it to tell stories. Her tone is playful and earnest, intimate -- she's a pro at the dramatic pause.
It's not surprising. When you ask Emezi what most inspires her, the answer is quick and definitive: "Stories, stories, stories... No filters, no staging, just the raw truth."
You can witness Emezi's uncanny knack for telling raw, unfiltered stories in her many vlogs on YouTube, where she has open and honest confessionals about everything from grappling with bulimia, to being an introvert, to the fetishization of interracial couples.
No topic is off limits, even uncomfortable ones. In the video below, Emezi candidly discusses her struggles with social anxiety in the very social world of Lagos.
Over the last five years, the 26-year-old Nigerian has carved out a fascinating space for herself in the social media landscape. With over 14,000 followers on Youtube, over 68,000 followers on Instagram and thousands of more followers on Tumblr, Facebook and Twitter -- Emezi has built a loyal and deeply engaged following through her visual storytelling.
Emezi was born and raised in Aba, Nigeria, and left for the United States at the age of 16. A student of Cultural Anthropology and African Studies the University of New Mexico, she first began to explore the world of blogging and vlogging in 2011. Through her blogging came a deep love of photography, and in 2014, she left the United States to return to Lagos with one goal in mind: To document life in Nigeria as it truly is.
"I have always had a passion for the preservation of the African aesthetic. I [found] young photographers throughout the continent who were documenting their own worlds," Emezi tells The Huffington Post. She uses her social media platforms and website to not only share stunning personal shots of life in Lagos, but she showcases the work of other young African photographers and artists, as well. She describes it as "visual curating."
"I've created a digital platform of the photographers and their work, using my social media numbers to push their visibility. [Social media] has helped my photography and videos in really unexpected ways," Emezi says.
"A platform like Instagram works a bit like an online portfolio for all my works; from my cartoons to my photographs, to my videos. Completely indispensable!"
A perusal of Emezi's work reveals a vibrant world, far removed from the images of war, hunger and poverty often so synonymous with African life. It's the "Africa they don't show you," and it's power isn't lost on Emezi. People are gaining a glimpse into what's it's like to be a young creative in Nigeria, in real time.
"I started off by simply sharing details of my life and I was taken aback by the number of 'I didn't know that was there,' and 'I had no idea' comments. Where I live and the places I go to are truly amazing even in their simplest forms. There is beauty in the everyday existence of peoples' lives and I want people to know and see that always," says Emezi.
Emezi has been in Lagos for two years, and her work is already starting to gain more traction. Her website has featured collaborations with Lagos Fashion Week and the annual music celebration in honor of Fela Anikulakpo Kuti, "Felebration." Soon, Emezi will be embarking on a cross-country road trip through Nigeria in partnership Invisible Borders, alongside a wide array of writers, filmmakers and photographers, documenting life across the Nigeria.
It's almost impossible not to get lost into the captivating world Emezi builds through her platforms, a world full of vibrancy and nuance that suggests that Africa -- and Africans -- are full of complexities.
In many ways, Emezi is representing the modern African woman by being uniquely and distinctly herself. "I shudder to think about the limiting views people could have of who and what an 'African woman' is in today's day and age," Emezi says.
"She is you and I, she is everything and anyone. Her possibilities and versatilities are limitless and I can't imagine anyone having just one view of who she is or can be."
Before You Go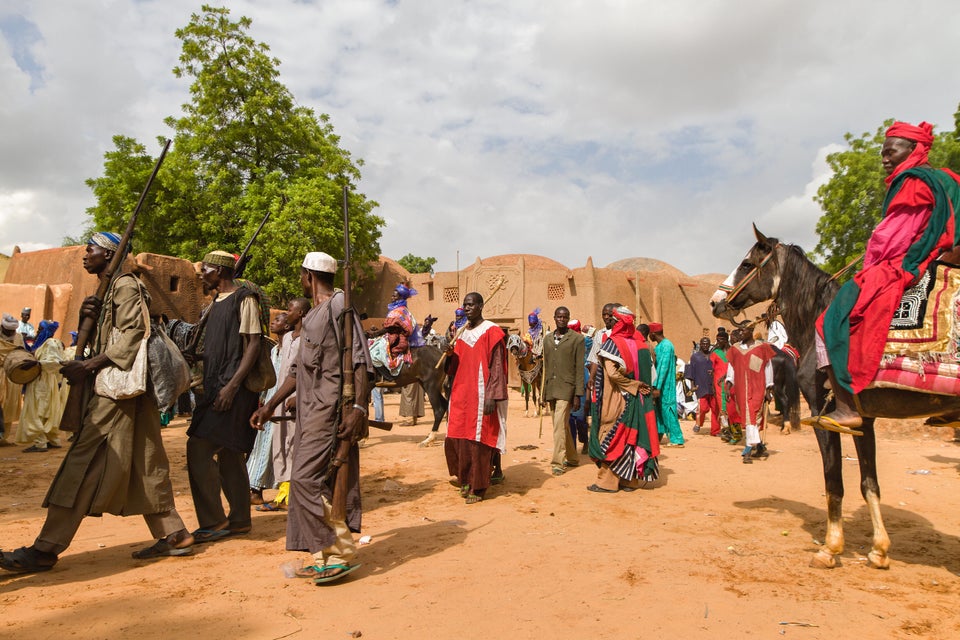 Stunning Photos Of Life In Nigeria
Popular in the Community