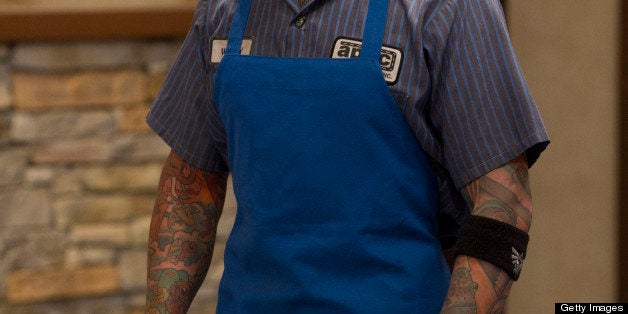 Meet Richard Farina, Chef de Cuisine at moto. His culinary skills landed him a spot on Season 8 of Bravo's Top Chef and his work has reached hundreds of national television and print outlets, including The Travel Channel's No Reservations, The Today Show, CNN's Next List, The New York Times and many others.
Learn more about what makes Chef Farina tick and how he turned his passion into a successful career:
1. How do you keep your dishes creative and unexpected? What inspires you?
I keep my dishes creative and unexpected by always challenging myself. I try to use "plates" that aren't plates (i.e. vases or rocks), and I also make my own plates out of natural items like logs to make birch syrup dispensers.
2. What is your favorite dish to prepare?
My favorite dish to prepare right now is the Surf & Turf course. It is based off of the umami flavors or mushrooms and seaweed. It looks like sand mushrooms and seaweed. The proteins are duck tongue and halibut cheeks.
3. Was there a moment (or perhaps a meal) that motivated you to become a chef?
My first job making pizza inspired me to become a chef.
4. How do you stay energized and engaged during such long shifts?
I stay energized and engaged during my long shifts by having fun, such as by listening to music or watching YouTube videos. I like to create a fun atmosphere at work because if you are having fun and love what you do, you don't feel like you are working.
5. Has post-modern cuisine always appealed to you?
I've always kind of been interested in post-modern cuisine. However, it was the time I dined at WD-50 that really solidified this interest. When I ate there it was the most mind-blowing food I had ever seen and it made me want to make food in that style. It's fun to be creative and post-modern cuisine always drives me to be creative as I can be.
6. Who is your chef inspiration or mentor?
As far as a chef that inspires me I would say Heston Blumenthal. He is self-taught and has a unique way of looking at food. As far as a mentor, I have two: Lenny DeGeorge (who was the first chef I worked for) and Chris Jones (the last CDC at moto). Chris molded me from a creative cook into a chef.
7. What is one thing that guests should keep in mind when dining at moto in order to make the most of their experience?
When guests eat at Moto, they should remember to have fun to get the most out of their meal.
8. What would be your last meal and who would prepare it?
My last meal would be my grandma's eggplant Parmesan and salad... made by her, of course.
9. What made you decide to collect vinyl toys and do you think you will ever put your ice carving skills to use at moto?
I decided to collect vinyl toys because the art of them is great and they are sold in blind boxes so you never know what you're going to get. And I put my ice carving skills to the test at Moto every winter. I do at least one holiday themed multi-block piece. Last year I made a 10-block scene of Santa's sleigh, a reindeer and a Christmas tree.
10. What is your biggest pet peeve when dining out?
My biggest pet peeve when eating out is under-seasoned food.
11. What is your must-have kitchen tool or gadget?
A good metal saucing spoon.
12. What is the funniest/most embarrassing mistake you ever made as a chef?
Probably being the second person eliminated from Top Chef Season 9. I finally made the show after trying out three times and I messed it up by not making good chili. I put a lot of pressure on myself to do well and I feel like I failed on national television.
13. What is next for postmodern cuisine? What do you see in the culinary future?
I believe many great techniques have been discovered, so in the future, the focus will be on the guest experience from the time they enter until they leave. The presentation of the food will also get more creative and out-of-the-box, and the crazier way to present food will prevail.