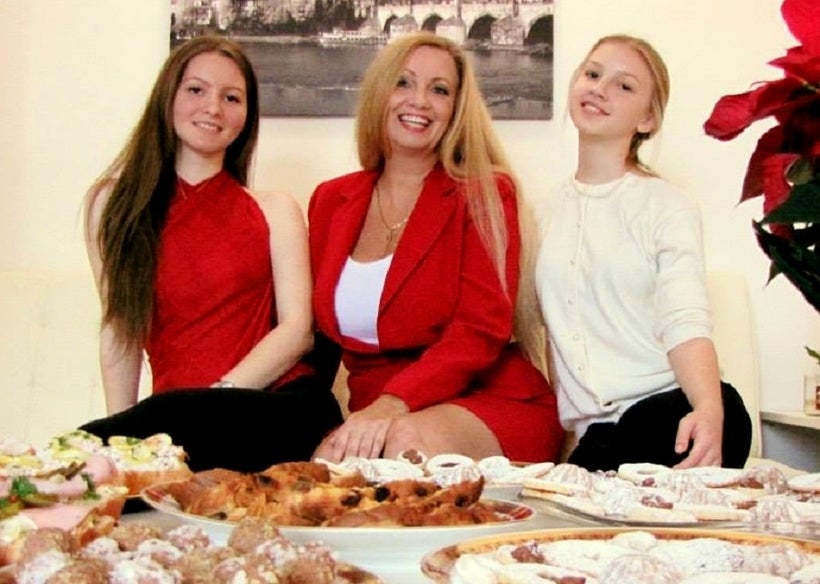 Zanna, Kytka and Zynnia are the founders of TresBohemes, an organization & community that is committed to the exchange of Czech nationality and life. Their digital platform features culture, art, photography, events, traditions, inspiring stories, history, recipes, videos, that highlight Czech and Slovak culture and heritage, all while adding a touch of Bohemian style and glamor. Read the full interview to find out more.
Tell us about yourselves and TresBohemes:
Kytka: TresBohemes was founded by three Czech-American women (us, a mother/daughters team!) on our exploration of our culture and heritage. We were searching for a community of like-minded individuals that shared an interest in all things Czech, food, books, arts, travel tips, history, even the strange and undiscovered, but in a comfortable yet sophisticated and stylish setting. When we couldn't find such a place on line, we decided to create it. Our goal is to not only be a resource for everyone who is interested in the culture, history, people, arts and places within the Czech Republic but to also to promote Czech culture by covering various meetings, events, exhibits, news and other cultural activities.
Zanna: We want to encourage and facilitate the exchange of ideas and knowledge by acting as liaison between institutions in the Czech Republic and their counterparts in the United States and by striving to provide information for educational exchange between the countries.
Zynnia: We're also planning to organize and facilitate travel groups to visit the Czech Republic.
Kytka: Because most people are completely unfamiliar with it and because we're Czech. It's where I was born. My parents emigrated to the United States in 1968 when I was only four and being a Czech has always been a large part of who I am even though I live in America. I raised my daughters speaking Czech and we visit there often.
Zynnia: There are over two million people abroad who are of Czech origin, that's one-fifth of the current Czech population living outside of the Czech Republic.
Zanna: Many of those don't speak Czech, but they still feel a deep connection to their Czech roots and the culture of their ancestors. Our site is a bridge for them to have a greater understanding of their heritage.
What made you realize that there was a need for site like TresBohemes?
Zanna: So many incredible things have come from the Czech Republic, but because it was behind the iron curtain for so long, there are still many people who know nothing about it.
Zynnia: We also want to introduce Americans to Prague, a city we believe is even more magical and beautiful than Paris.
Kytka: We also want all Czechs living aboad to feel a sense of pride about their origins and to have a deeper unserstanding of their people. When you search "bohemian" or "boho" you see images that have nothing to do with what real Czechs are about, so we want to clarify and make the distinction.
How do you decide what to write about and share?
Zynnia: It usually begins with a photograph. One of us will find an interesting image and then the research begins.
Kytka: It's almost like a contest, who can find out the most about a specific artist, writer, event or place.
Zanna: Or we look to the older Czech people we know. They have so many wonderful stories and when they mention a memory or a place, we try to find out more; how has it changed, what is happening there today and things like that.
You seem to have a little bit of everything on the site. Did it start out this way?
Kytka: We didn't have a plan at the beginning. We just had a desire to share the interesting things we found and people seemed to like it. Today it's an eclectic curio cabinet of everything interesting.
Zanna: We began to get followers who would write and request information about specific things and we look for those things as well. We're also learning as we write and research!
Kytka: Reading, writing and speaking in Czech make a huge difference in being able to search and locate materials and then curate content.
Zynnia: And there's the food. Czech love their food so we've been sharing recipes, where to buy Czech foods in the US and Czech cookbooks. My mom and sister are awesome cooks and they fix Czech food all the time so the recipe section is growing at the site and is a popular section.
Zanna: Recently we've also accommodated guest posts so it's really becoming more of a community.
Do TresBohemes offer any services?
Kytka: Not through the site directly, but it has opened the doors to meeting many Czech and Slovak people who have interesting stories to tell, so we are working to publish some of those through our primary business, Distinct Press.
Zanna: Distinct Press is our day job and TresBohemes is our passion. We're excited that the two seem to be merging.
Zynnia: We've helped to introduce the work of Czech people by publishing it on the site. This has given them access to an audience they did not have before. We've also researched specific things for people who don't speak Czech and created custom reports—almost like genealogy but on subjects or places and not just family history.
Kytka: Those things have not been published, so I guess a service we offer is custom research in the Czech Republic.
What's in the future for TresBohemes?
Kytka: As Zynnia mentioned, we have a lot of people asking "when are you planning a tour" because they like the quality of what we share and they feel if we accompanied them to the Czech Republic we would know the places to stay, see, eat and so on, so a tour is in the planning stages.
Zanna: We're also considering having a St. Nicholas Celebration for the children of Czechs in our area next year. All proceeds from the event will go to a Czech non-profit in the United States.
Zynnia: We've recently become members of the Czechoslovak Society of Arts & Sciences (SVU) and the Czech North American Chamber of Commerce and Culture, so we want to support their initiatives as well.
Kytka: And we're wrapping up the book, Beautiful Mount Airy Lodge, the most popular honeymoon resort in the Poconos. Most people are unaware of the rich Czech history of the place and how the owner single-handedly helped so many Czechs and Slovaks in 1968. So much that he was awarded the Ellis Island Medal of Honor for his social, public and business life and involvement in ethnic activities.
How important is it for people to connect to their culture?
Kytka: Belonging within a group and allows us to better understand previous generations and the history of where we come from. It provides a sense of unity and connection.
Zynnia: Understanding your culture helps to establish an identity. We're Czech, or Bohemian. It's what makes us who we are and it's where we come from.
Zanna: It's also gives an individual a great sense of pride. Czechs have made incredibly valuable contributions to society through architecture, film, literary works, medicine, physics... Perhaps the greatest contribution is in the form of great moral leaders like Tomáš Masaryk and Václav Havel.
How can people interested in learning more reach you?
Visit us on our website TresBohemes.com. We're on the major social media channels too, Facebook, Instagram, Twitter and Pinterest.
We'd love to hear from you and be your guides and your travel through and learn about the Czech Republic.
Instagram.com/TresBohemes
Pinterest.com/TresBohemes
Calling all HuffPost superfans!
Sign up for membership to become a founding member and help shape HuffPost's next chapter
This post was published on the now-closed HuffPost Contributor platform. Contributors control their own work and posted freely to our site. If you need to flag this entry as abusive,
send us an email
.