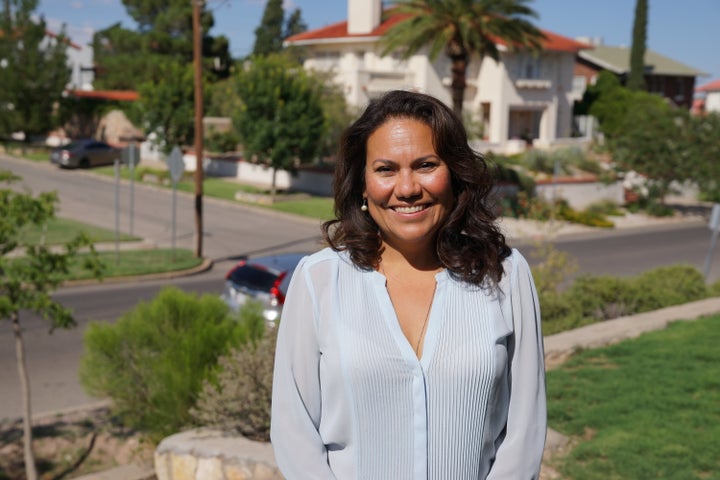 EL PASO ― Ask a Texan about El Paso, the colorful desert town on the southwest tip of the state that shares a border with Juárez, Mexico, and you might hear one of several unearned nicknames: "El Pass-through." "El Pisshole." "The anus of Texas."
People who live in El Paso cannot fathom why the rest of Texas so loathes their friendly city, which regularly tops lists of the safest in America, despite feeling like the last true vestige of the "Wild West." Locals speculate that it's because the city has a Hispanic name, but so does San Antonio. El Paso is also a blue island in a blood red state ― nearly 70 percent of the city voted for Hillary Clinton ― but the same is true for Austin, the beloved state capitol.
It seems more likely that El Paso's public image problem has to do with its role as a junction, one that joins the U.S. to Mexico. At a time when President Donald Trump is campaigning to build a wall between the two nations, El Paso is a bridge.
Veronica Escobar wants to be the woman to change people's perceptions of El Paso, and the border more broadly. The gregarious, irreverent 47-year-old Mexican-American announced in late August that she is running in the Democratic primary to replace U.S. Rep. Beto O'Rourke's (D-Texas) as he vacates the seat to challenge Republican Ted Cruz for Senate. If successful, she would be the first Latina Texas has ever elected to Congress ― a surprising milestone, given that the state is 40 percent Latino.
"El Paso is in my blood. It's in my DNA .. I love that we've always been the underdog."
But Escobar is more interested in being a voice for El Paso and immigrant rights than breaking a glass ceiling.
"El Paso is in my blood; it's in my DNA," she told HuffPost. "I love our geography in the middle of the desert, that we're isolated from other areas and having to make do. I love our position on the U.S.-Mexico border. I love that we've always been the underdog. I just love this community so much that even without Donald Trump, I'm inspired by El Paso."
The Friday night before announcing her run for Congress, Escobar gathered with a half-dozen of her campaign volunteers in the empty lobby of an artful terra-cotta low-rise building in downtown El Paso, Texas. She'd brought together a diverse cadre of supporters, including a young gay couple whose wedding she officiated and the 27-year-old high school civics teacher who taught her her son and daughter.
Escobar's campaign manager was trying to give the team a rehearsal for the event the next day, but the candidate was too excited to take the moment seriously. She joked that the plan was to slowly lower her into the crowd from the building's skylight atrium in a puff of confetti, and then dramatically unfurl a banner from the second-story balcony with her name on it. "The technical term is big ass banner," she said. "We'll all do some tequila shots before."
Escobar wanted to announce her campaign in a central building downtown because she has worked hard to revitalize the neighborhood since being elected El Paso county judge in 2010 ― an administrative leadership position that oversees that county's budget. The once-bustling border town was largely deserted in the mid-1990s as unemployment soared after the enactment of the North American Free Trade Agreement. But the town has since witnessed a rebirth as officials trained workers to take advantage of their location as a trade hub and move into higher-wage jobs, where they have been adapting and transforming the city's economy.
Under Escobar's leadership for the past eight years, downtown El Paso has flourished and now boasts green parks with fountains and sculptures, bustling bars, theaters, hipster music venues and a famous pawn shop that claims to have Mexican revolutionary Pancho Villa's trigger finger on sale for $9,500.
"It was really important to me that we launch downtown," she told her volunteers the night before the launch. "We've seen such an evolution downtown ― a decline, and a renaissance now, and this is the center of it."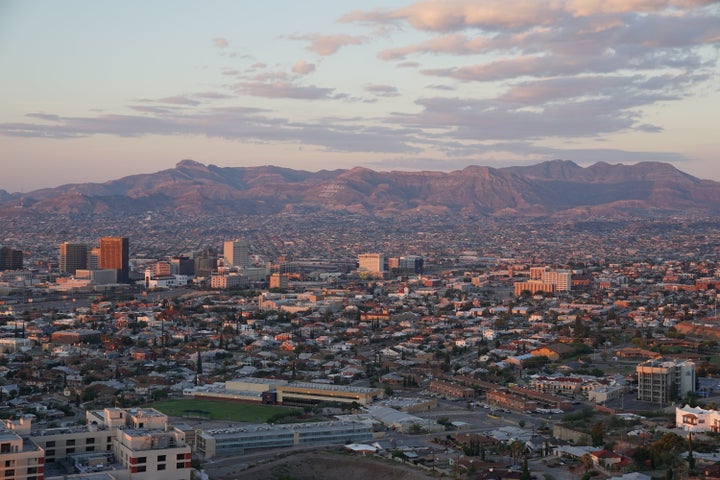 After meeting with her team, Escobar brought them to the patio of her favorite bar downtown, overlooking the Franklin mountains, for cocktails and nachos. Her whole family joined, including her 20-year-old son, a sophomore at Harvard; her 18-year-old daughter, a rising freshman at Simmons College; her husband, a federal immigration judge (confirmed, ironically, by Trump); and her brother, a foreign service officer who flew into town from Washington, D.C., for her announcement the next day. Nearly everyone who walked into or out of the bar squealed and waved when they spotted her at a table. "Tomorrow!" Escobar shouted back to each one. "Be there or be square!"
Escobar is blissfully happy in El Paso. Having inherited a passion for Mexican cooking from her mother, her favorite thing to do after coming home from work is to pick apples from the tree in her front yard and make calabacitas, enchiladas, and apple pies for her daughter and son, whom she addresses as "mi amor." "If my kids were smaller, I wouldn't have even considered this," she says.
The idea of commuting to Washington, D.C., every week from her remote town does not appeal to Escobar at all. But Donald Trump and his rhetoric about immigrants and the border have terrified her and inspired her to run.
"He really frightens me and in a way that I haven't been frightened before," she says. "I worry about the planet. I worry about immigrants. I worry about women. I worry about the LGBT community. I worry about the El Paso and the border. And I feel this very intense sense of dread."
Across the table, a campaign volunteer interrupts Escobar to read her a news alert from his smartphone: Trump has just pardoned ex-sheriff Joe Arpaio, who was convicted in July of violating a federal court order to stop racially profiling Latinos in Arizona.
"Un-fucking-believable," Escobar seethes, before remembering that she is sitting next to a reporter. "I'm sorry, but do you know what message that sends to Hispanics? 'You don't belong here.'"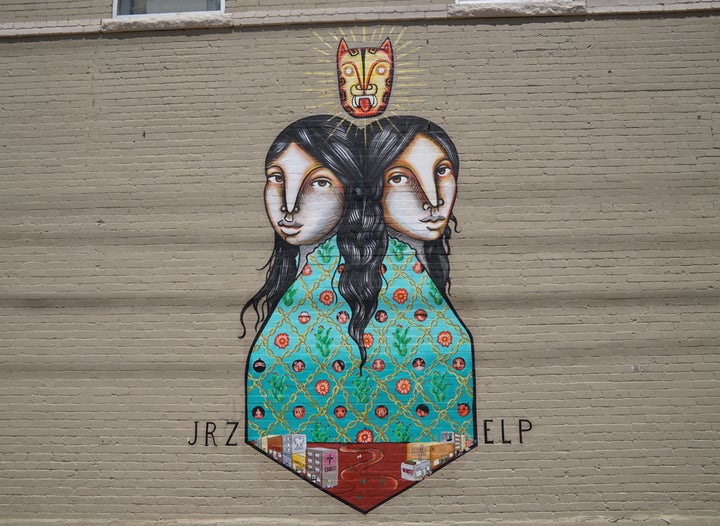 Despite being a public servant for more than a decade, Escobar said she never pictured herself running for Congress before Trump became president. Her friends describe her as the "salt-of-the-earth." She grew up working on a dairy farm in El Paso, washing milk and manure out of her four brothers' jeans. She left to obtain a Master's Degree in English Literature at New York University, and then returned in 1993 to teach Chicano literature at the University of Texas at El Paso.
Upon returning home, she noticed some "disturbing" xenophobia and anti-immigrant sentiment in her largely Mexican-American community that has close ties to Juárez ― there was talk, for the first time, of a wall being built on the border. She decided to join advocacy efforts for the Border Rights Coalition (now the Border Network for Human Rights) in addition to her job at the school. "I just remember thinking, 'I have to get involved, this not who we are. We're this great bi-national community. What happened?'"
Escobar eventually became co-chair of the coalition, and her passion for public service grew from there. During her time as county judge, she and the four other members of the commissioners court fought to build El Paso's first children's hospital, extended health care benefits to the domestic partners of LGBT city and county employees, and passed a resolution denouncing Texas' "bathroom bill," which would prevent transgender students from using the bathroom of their choice. One year short of her full term, Escobar resigned from her position in August to run for Congress.
She is far from an elite politician. The night before her campaign event, one of her volunteers asked her what took her so long to jump into the Democratic primary race, since her opponent, Republican-turned-Democrat Dori Fenenbock, has been fundraising for months. Escobar replied that she and her husband, federal immigration judge Michael Pleters, needed to get their finances in order before she went jobless for a year. "I had to buy a lot of tortillas and beans and freeze them," she said.
Because El Paso is a solidly blue district, Escobar won't face any significant challenge from a Republican. Her main challenge is that she is behind on fundraising in the primary ― Fenenbock, former president of the El Paso Independent School District board, had already raised hundreds of thousands of dollars before Escobar entered the race. But nearly half of that money came from Republicans, which might not play well in the progressive district. And El Paso's popular former congressman, O'Rourke, is publicly backing Escobar, which gives her a major advantage in the race.
Escobar's candidacy has been highly anticipated by the Latino community. A long list of Latino celebrities and politicians, including U.S. Rep. Joaquin Castro (D-Tx.) and actresses Eva Longoria and Grace Parra, have been urging Escobar to run through the Latino Victory Fund's "Run Veronica Run" campaign. Escobar is "floored" by the attention, but mostly thrilled that the race is putting El Paso on the map.
"The fact that there's so much interest in our community and so many eyes on us right now, it is incredible," she said. "For me, it was an opportunity for El Paso to be in the limelight."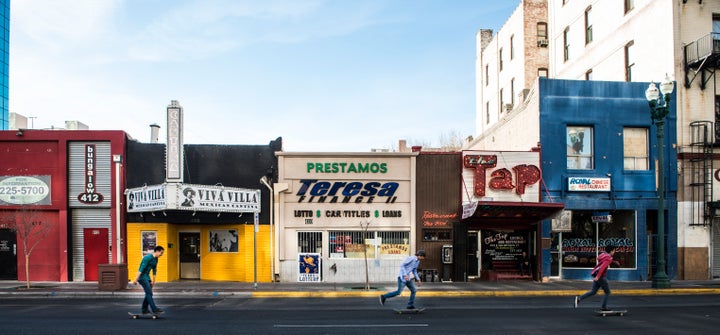 Escobar could have a bright future in the Democratic party. Beyond border issues, she considers herself a Bernie Sanders-style progressive, favoring single-payer health care and free college tuition for those who want a degree. She strongly supports abortion rights, despite the issue's controversy in the deeply Catholic Latino community. And she believes that Trump was elected in part because the Democratic Party focused too much on identity politics and not enough on the fact that the American middle class is "shrinking and calling out for help."
"It's really not necessarily just about minorities being left out, it's more about an entire class of Americans being left out, many of whom are white and who feel like they don't have access to great jobs and great education, and the jobs they could do and were comfortable doing are gone," she said. "Many of them feel like Democrats are only about pushing minority rights. Here I am, the person who could break a barrier for Texas ― and I believe diversity is critical, and I am very proud that I have the opportunity to blaze that trail for other Latinas behind me ― but as a party, we have to recognize that there are white Americans in the middle class that have been left out. And I think Bernie did that."
Escobar channeled Sanders' spirit and brio as she announced her candidacy on a sunny Saturday afternoon in downtown El Paso. Roughly 300 El Pasoans packed into the lobby of the 7-story, mixed-use building to see her speak. Noting the presence of her 72-year-old immigrant mother in the crowd, Escobar delivered a passionate 20-minute speech about her pride for El Paso, her support for universal health care and education, her plans to be a voice for the U.S.-Mexico border, and yes, that glass ceiling.
But her biggest cheers came when she condemned Trump's treatment of Hispanics.
"When you have a president who pardons someone who believes racial profiling should be the M.O. in an entire state, it's time to stand up," she said. "Trump is sending Latino communities a very clear message with that pardon, and that message is that we don't matter and that our civil rights and our constitutional rights don't matter. You know what? They matter to us.
Some Latinos in the crowd were visibly emotional as Escobar spoke. Christina Sanchez, 38, burst into tears when asked whether it was important to her that Escobar break that barrier for Hispanic women.
"It means a lot, especially now with what you near from the national level," she said. "To really be that first Latina from Texas… it's important for me, it's important for my family, and it's important for my daughter to see a person who's like her in that role."
Escobar ended her speech to the Beatles' song "Revolution."
"It's just a fantastic song, and we need a revolution," she said after the event. "I want people to feel like they have a stake in creating change, and we're arming ourselves with good vibes and a lot of love to head into battle."
CORRECTION: An earlier version of this article stated that President Trump appointed
Before You Go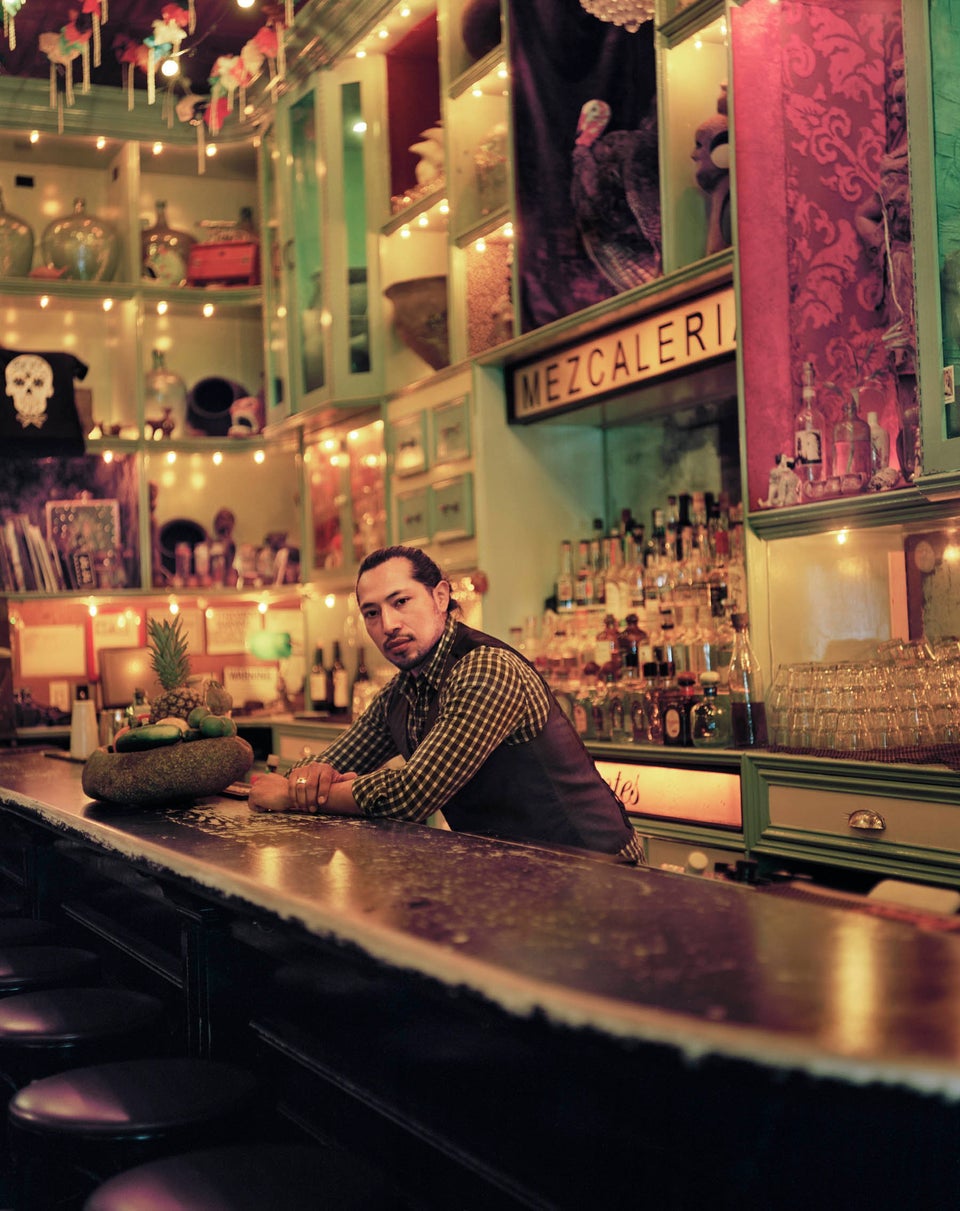 6 Mexicans Defy Hateful Stereotypes In Powerful Photo Series
Popular in the Community