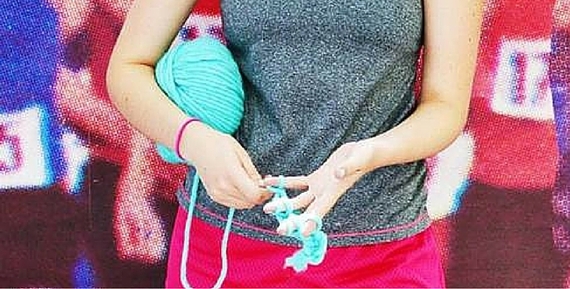 The idea of running the New York City Marathon started as a joke for Meredith Parmalee. The 22-year-old was interning at a startup called We Are Knitters, which sells DIY knitting supplies and kits, and found out that there was a woman running in this year's race doing, you guessed it, knitting. Her joke soon became reality, as she tried taking her wool yarn ball on morning runs, finger knitting while putting one foot in front of the other, and planning out a 16-week marathon training schedule. Picture it: a 22-year-old girl knitting, while running, in what was 75-degree whether.
"Since I have started training for the NYC Marathon I've taken the yarn with me on all of my long runs, and it has really helped me set a steady pace when I am running," says the Northeastern University student. "It is easy to start out too fast and then realize you won't be able to keep up the pace you started at, but with the knitting I can gauge my speed and energy a bit better and settle into a comfortable rhythm. Then at the end of my run I have a finished (sweaty) project!"
Committed to this year's race, not only will Parmalee be knitting the entire time she runs on November 1, but she'll also be raising money for the Leukemia and Lymphoma Society through Team in Training. (Check out Parmalee's donation page.)
"I had completed a couple of half marathons, and I figured if I was going to train for a full, I should aim big and go for one of the biggest in the country," said Parmalee. "I found out I could run/knit the race all the while fundraising for a great cause by joining Team in Training."
We know what you're thinking: Running a marathon as it is is hard enough. From pre-race jitters to a the actual day-of stresses, it can be completely overwhelming. For Parmalee, though, she says that the added challenge of knitting in the process actually helps her keep her cool.
"Knitting and running is the ultimate relaxation," she says. "Knitting helps me take my mind off the actual distance I am running, and helps me just zone out completely. Before I started running and knitting, I would think about every step I was taking, every mile ran, but with the yarn in hand before I know it I've been running for an hour. It gives your mind something else to focus on."