Yes, the news is awful-to-ghastly almost everywhere you look AND there are people doing great things, sticking their necks out to make things better. Consider three newly commended Giraffe Heroes:


You're a high school senior in Appleton, Wisconsin and you decide to do your senior thesis on global poverty. You can read some websites, maybe a couple of books, write it up and you're done, right? Not if you're Oliver Zornow. He decided to go see what was behind the stats, in one of the poorest places on earth, Haiti. Encountering there the realities of disease, illiteracy, hunger, kidnappers and bandits, Zornow could have written up his notes back in safe, clean Appleton and moved on. Instead, he started a school in Caneille, north of Port au Prince. Working three jobs and running endless fundraisers all through high school and college, he created and has sustained the school and a meal service for the students. When he graduated from Laurence University last week, he knew that 150 Haitian kids were getting an education too, thanks to a senior thesis that he decided to take live.


Still in Haiti, we find Californian Margaret Trost, who first went there ten years ago to volunteer briefly in an orphanage. She's gone back dozens of times since, mutating from short-time volunteer to devoted founder and driving force of What If?, a foundation that began funding Sunday meals for 200 Haitian children and has gone on to provide 10,000 meals a week, all staffed and run by Haitians. There are also hundreds of What If? scholarships (Haitian schools aren't free) and plans for a new school, a community center and a vegetable garden. Read all about it at the What If? website.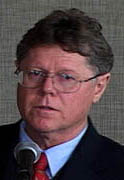 On the beleaguered US Gulf Coast, we commended Ivor van Heerden, deputy director of the Hurricane Center at LSU, who just lost that job allegedly (and rather obviously) in punishment for his public criticism of the Army Corps of Engineers, which provides funding for the Hurricane Center. Knowing from his study of geology and from his work on other levee systems that the levees the Corps had built in New Orleans were too low and dangerously unstable, van Heerden warned early on that the city would be flooded in a major hurricane. Before and after the disaster of Katrina, van Heerden spoke truth to power ~ and to all of us. There's detailed information at levees.org.
There are hundreds of real heroes at the nonprofit giraffe.org, the place to go when it looks like there's nothing but wrong-doing everywhere else you look. Call it a drop-in clinic for the glooms. As long as there are Giraffes, there's hope.

Calling all HuffPost superfans!
Sign up for membership to become a founding member and help shape HuffPost's next chapter