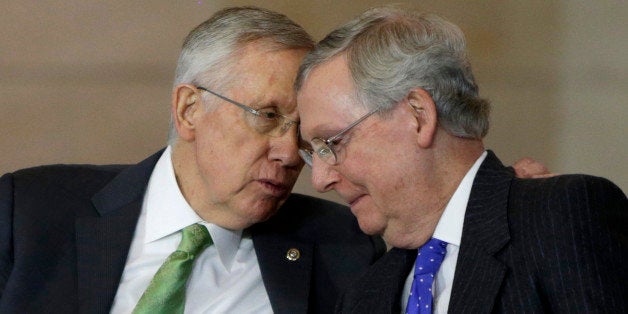 Most Americans have not heard of Senate Majority PAC or Senate Leadership Fund, yet while little known, these are two of the most dangerous super PACs in the country.
That's because the super PACs are closely tied to the two most powerful people in the Senate, the Senate Republican majority leader and the Senate Democratic leader, who have the ability to exercise powerful influence over most issues and actions in Congress.
If you have major issues pending in Congress and lots of money at your disposal, these two super PACs are the place to make your huge, unlimited contributions and to seek influence over congressional decisions and actions. (Not to be left out, House leaders of both parties also have super PACs tied to them.)
Senate Majority PAC is devoted to electing Democratic senators and is headed by two political strategists closely associated with Senate Democratic Leader Harry Reid.
In the 2014 election cycle, Senate Majority PAC spent $67 million to support Democratic Senate candidates, according to the Center for Responsive Politics.
The PAC's funding included three mega-contributions of $5,000,000 each from two billionaires and a multi-millionaire and a $2,500,000 contribution from a multi-billionaire. Additionally, there were 41 contributions ranging from $250,000 to $1,650,000 each. The donors included hedge fund managers, media and movie moguls, Silicon Valley investors, Internet entrepreneurs and technology company executives, among others.
In this election cycle, Senate Majority PAC raised $12 million as of March 31. With control of the Senate up for grabs, the super PAC is expected to reach or exceed its 2014 expenditures in the 2016 Senate races.
Patriot Majority USA is a 501(c)(4) "social welfare" organization allied with the Senate Majority PAC, according to Factcheck.org. This "dark money" group raises secret contributions and is headed by a long time Democratic strategist. Almost ninety percent of its more than $10 million in expenditures in the 2014 election cycle were made to support Democratic Senate candidates.
The Senate Leadership Fund is devoted to electing Republican senators and is headed by Steven Law, a former chief of staff to now Senate Majority Leader Mitch McConnell. The Senate Leadership Fund, created in 2015, represents an effort by Senate Republican leaders to play catch up with the Senate Majority PAC.
As of the end of March, the Senate Leadership Fund had raised $16.7 million. This included seven contributions of $1 million each and 17 contributions ranging from $100,000 to $750,000 each. The donors included business executives, oil and energy companies, hedge fund managers, and investment bankers and managers, among others.
Like Senate Majority PAC, the Leadership Fund is expected to raise and spend tens of millions of dollars on the 2016 Senate races.
One Nation, a 501(C)(4) "social welfare" group, is associated with the Senate Leadership Fund. This dark money group is also headed by Steven Law and is operating under this name for the first time in this election.
Steven Law also heads both American Crossroads and Crossroads GPS, the super PAC and the "dark money" nonprofit group founded by Karl Rove.
Democrats and Republicans each see enormous stakes in the 2016 elections.
With 24 Republican and 10 Democratic Senate seats up for election and an all-out fight for control of the Senate ahead, the Senate races are expected to include huge amounts of "independent" expenditures by these four groups.
The six and seven-figure contributions raised by these super PACs and nonprofit groups are dangerous to the integrity of our political system. They create opportunities for buying influence over government decisions and the appearance of influence-buying.
The 2016 presidential campaign has shown that the American people are strongly opposed to the corrupt campaign finance system in Washington.
A top priority in the reform battles that lie ahead will be an effort to shut down the individual-candidate super PACs that have played a central role in the presidential primaries and strengthen the rules prohibiting coordination between other outside spending groups and candidates and parties.
Legislation introduced by Reps. David Price and Chris Van Hollen (H.R. 425) and Senator Pat Leahy (S. 1838) would accomplish these goals. (In order to get rid of all super PACs, federal court decisions will need to be overturned.)
Reforming the campaign finance system is essential to restoring the health of our democracy. It cannot happen soon enough.
Calling all HuffPost superfans!
Sign up for membership to become a founding member and help shape HuffPost's next chapter