"Uman is like a genie that emerged suddenly for us to marvel," psychiatrist Annatina Miescher of 137AC told The Huffington Post.
After all I'd heard of the New York-based self-taught artist, this statement seemed to fit the mythical understanding of Uman I'd been busy piecing together.
Uman's multidisciplinary artwork -- paintings and masks and collages and blankets and more -- will be exhibited by both Louis B James gallery and Galerie Anne de Villepoix at this year's upcoming Outsider Art Fair. When I reached out to the galleries, they described Uman in similarly beguiling terms -- words like "mysterious," "black sheep," "outsider," "sensitive," said almost in a whisper.
Even their reactions to her work evoked a sense of emotional enchantment that defied logical explanation. While often a professional description of an up-and-coming artist includes sharply listed techniques, influences, movements and other artsy jargon, when I spoke to both David Fierman and Anne de Villepoix, they spoke of the work in a tone reminiscent of recounting seeing a ghost.
"It's kind of a memory and not a memory at the same time," Fierman said of the work. "The colors -- they're like birds," de Villepoix mused.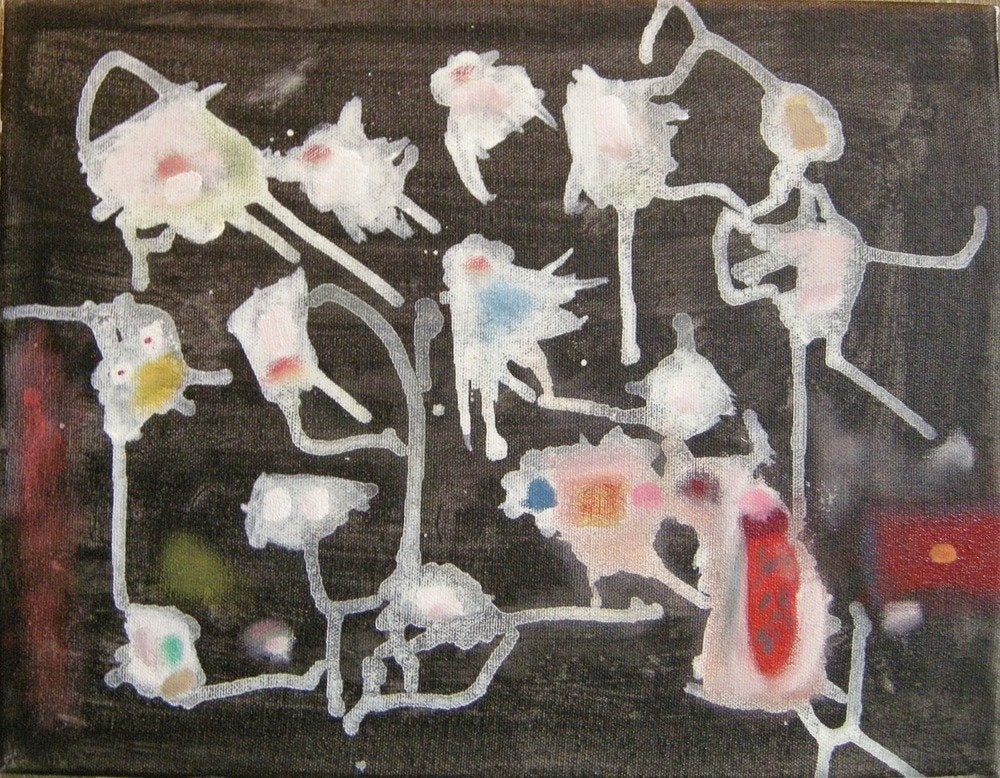 And then there was the fact that Fierman referenced Uman with female pronouns, de Villepoix male. "Have you met Uman in person?" I asked de Villepoix at one point, wondering if perhaps this Uman didn't actually exist.
She does. He does. Either pronoun will do. The gender fluid artist was born in Somalia, raised in Kenya, and now lives and works in the Catskills, four hours outside New York City. I spoke with her on the telephone about her life and work, so I know she's real.
"I started drawing in elementary school," Uman began. "I went to school in Kenya, and I would draw things on desks and bathroom walls -- vandalism, basically. My parents had to pay the school back for damages."
Uman grew up in a strict Muslim household where art held little value. Uman doodled when she could -- drawing human bodies and figures mostly, also making clothes and bags. The single sanctioned creative activity was going to Madrasa, or reading the Quran, every day before school.
"We used these long boards and dark ink and the teacher would dictate and you'd draw the Arabic Quran in dictation. It was fun, creative." Uman now sometimes incorporates elements of this practice into her work. "I wouldn't say it's real Arabic; it's a mix of different things, the calligraphy I do now, an Arabesque design."
Uman didn't encounter a museum until she was 17, visiting her aunt in Vienna. She loved it, and yet, looking at the gilded halls of classically trained artists, felt she'd never fit the mold.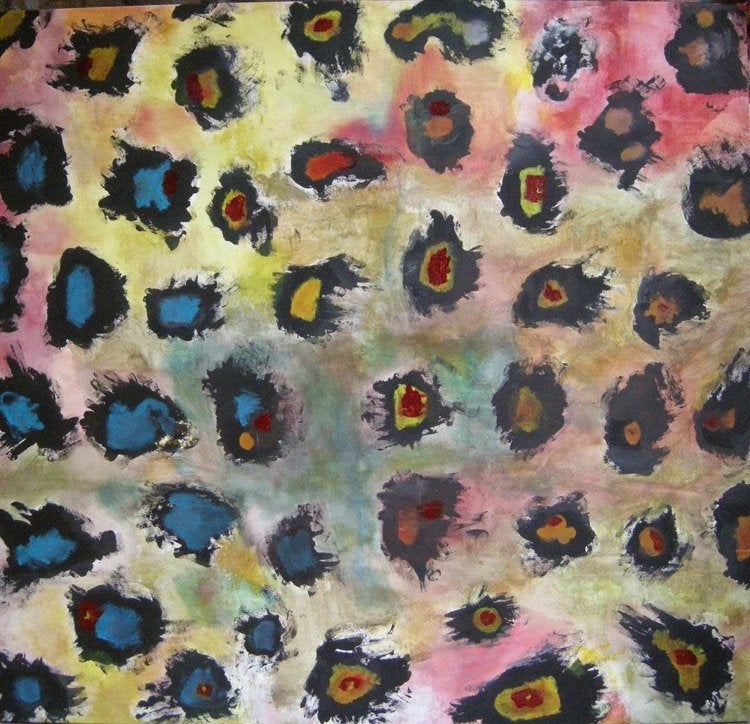 "I moved, regular immigrant story, to a better life," Uman continued. "I went to Europe first and then came to New York. I love New York. I would sell paintings on the street in Union Square to survive. I was still trying to figure out if I was an artist. I wasn't sure if I would ever be anything. I just wanted to do something creative."
Uman got her break after meeting Annatina Miescher, a gallerist who also worked as a psychiatrist at Bellevue Hospital. Uman was volunteering in the garden when the two connected; they soon began to collaborate on mosaics and other garden crafts. And then, Miescher invited Uman to move in and make work at her New York studio.
"Annatina encourages me, it's nice," Uman said. "It makes me want to do more and more work everyday. Growing up I didn't get encouraged, so now I feel like I can do this." Uman has since received positive encouragement from a slew of dealers, collectors and fans.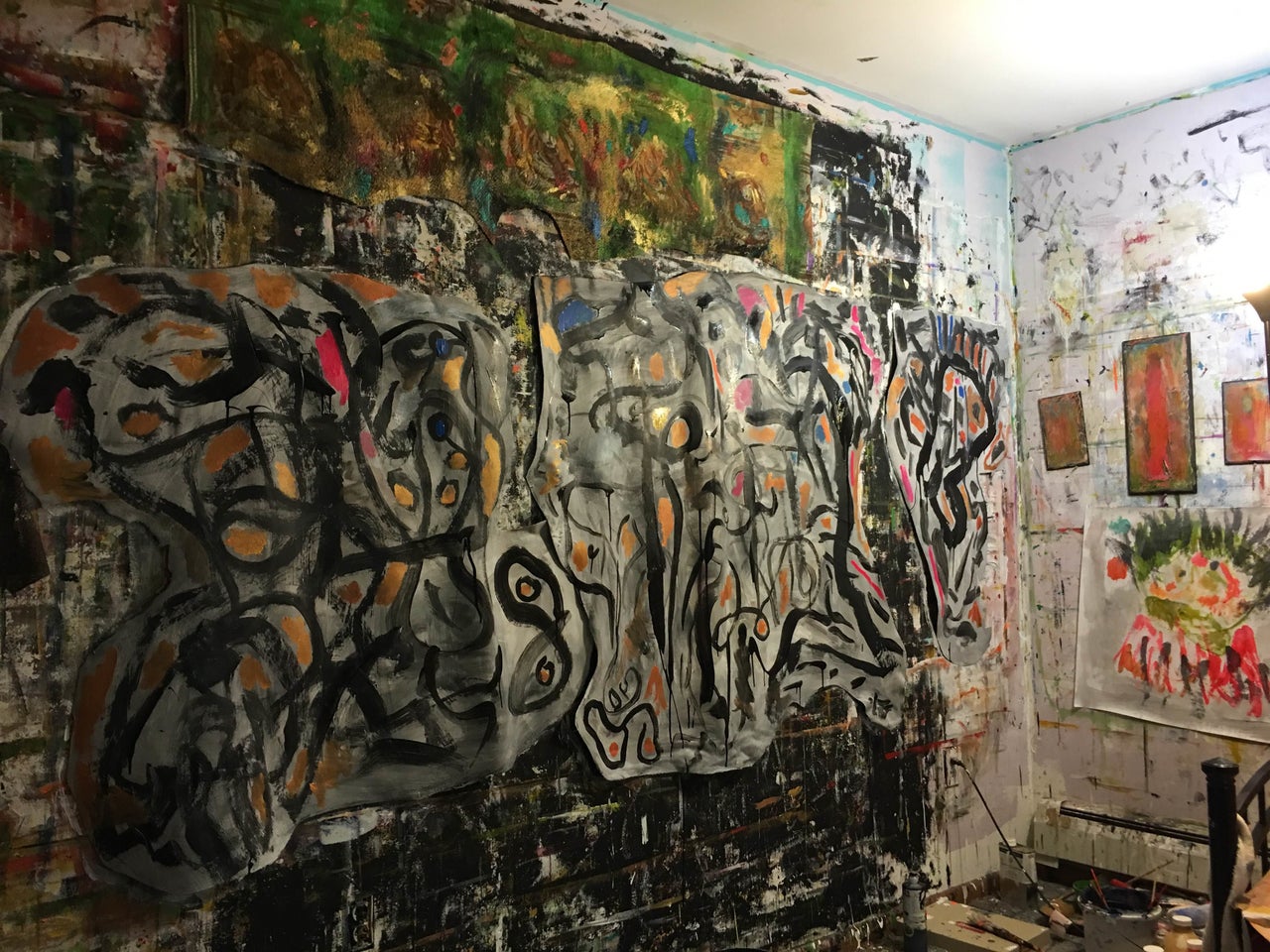 Uman is incredibly prolific and wide-ranging in her work. Anne de Villepoix compares her collage work to artists like Wangechi Mutu, Romare Bearden and Derrick Adams. After picking up oil painting at the age of 30, Uman has been acclaimed for her intuitive and sophisticated use of color, something not often found in a self-taught artist. While most outsider art tends to lean towards the figurative, Uman's work occupies a more abstract realm, though one that's not academic or conceptual. Instead, it's fiercely emotional.
"I always go back to the same colors I remember growing up," she explained. "Most of the women in Kenya have colorful dresses, very earth-toned. I usually go super bright and then just darken it. Something just drives me back to those colors. Also, the colors of Upstate New York. I love to watch the sunset when the sky turns pink."
As for her penchant for abstract forms, Uman says it just kind of happened. "I started doing figurative work but it didn't work. Everything starts from something figurative and I just change it to a non-image. I can't really explain it. You have to dig so deep inside of you, whether it's splashing the paint or using the brush and going into a trance, adding and subtracting until you feel like this is something."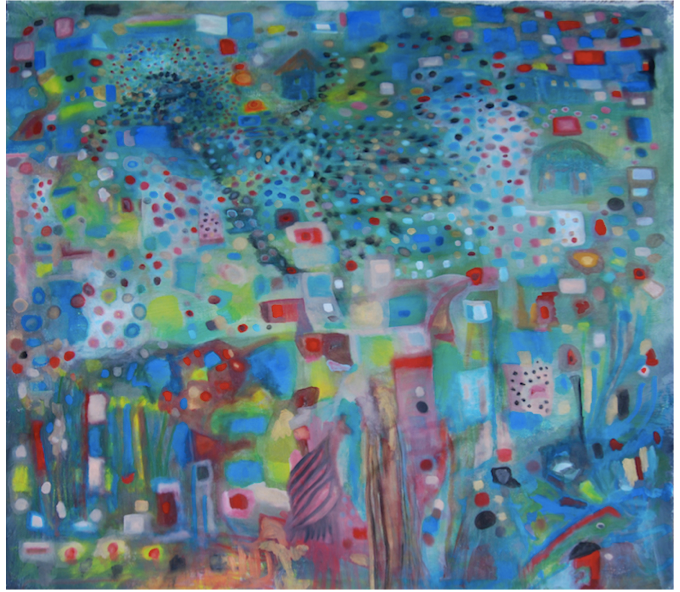 Uman has yet to return to Kenya since moving away. "It's the past, it's a place that haunts me sometimes," she said. This sentiment manifests itself in shapes and colors that find their way to her canvases. "It's home but I feel home is here too. I don't think I can plan anything. Time goes and we change our minds, we end up where we want to be."
Today, she is far from the person who was reprimanded for doodling on school desks. No longer religious, Uman identifies as an atheist and describes her gender identity as fluid. "I think I'm female and male. At one point I was considering fully transitioning... and somehow, I stopped and realized I'm perfect the way I am. I was born a certain way. Accept this body. Accept this person."
This joyful multiplicity translates to Uman's artistic impulses as well. "I have masculine energy sometimes and I have feminine energy. When I do collages it's very feminine, some of the colors. I don't think they're pretty pretty, it's in between. Sometimes the work looks very brutish. Other times it looks very soft."
In the same vein, Uman doesn't fully identify as either an insider or outsider when it comes to the art world. "I don't see any difference," she said. "There are possibilities for many things as long as your work is good, it doesn't matter where you end up. The art world is very separating. I think art is art."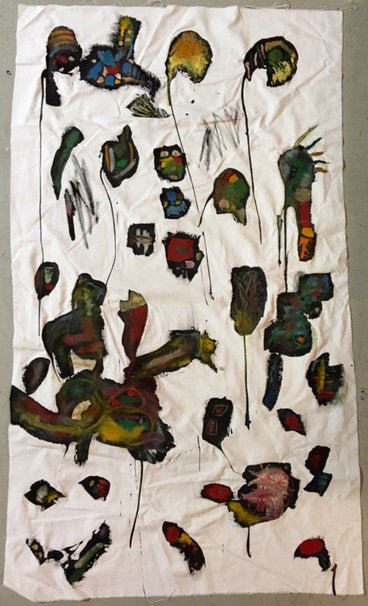 Untitled, 2015, acrylic on cotton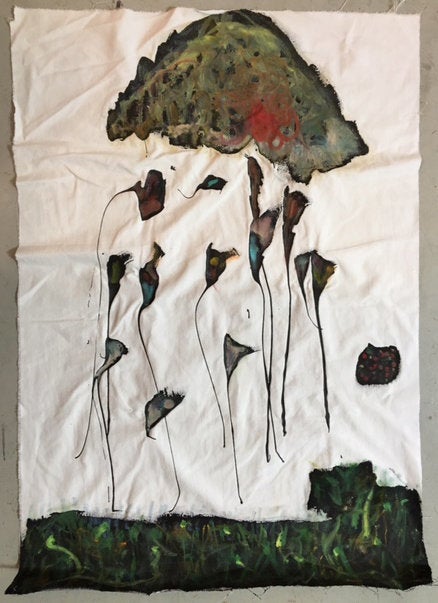 Shelter for the wicked, 2015, acrylic on cotton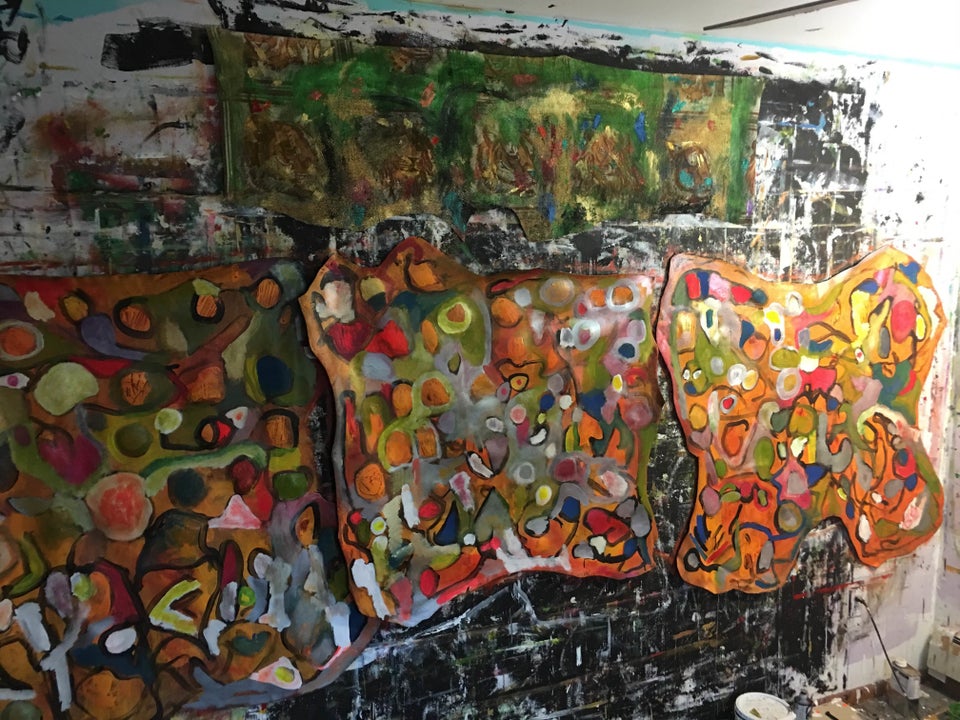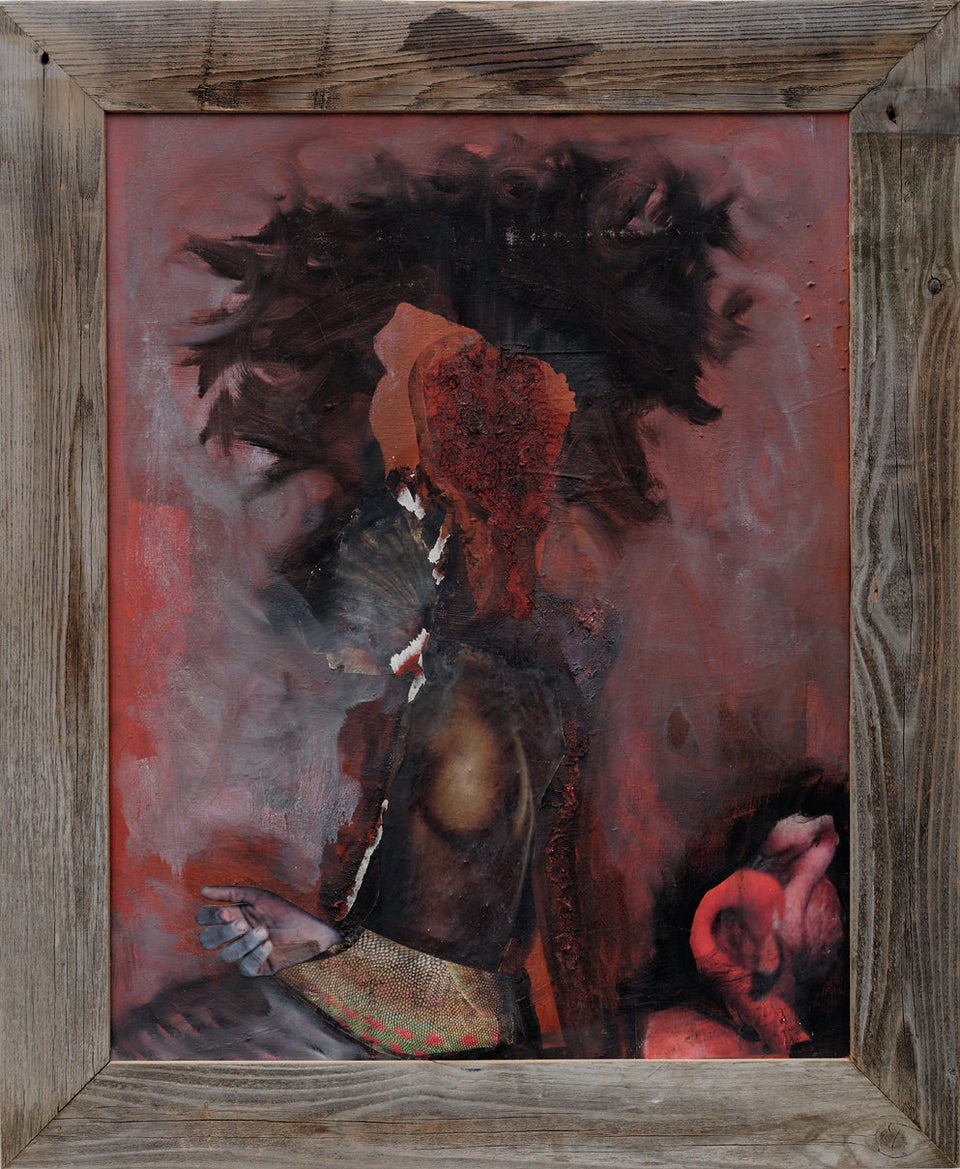 Self Portrait, 2015, Collage and Oil on canvas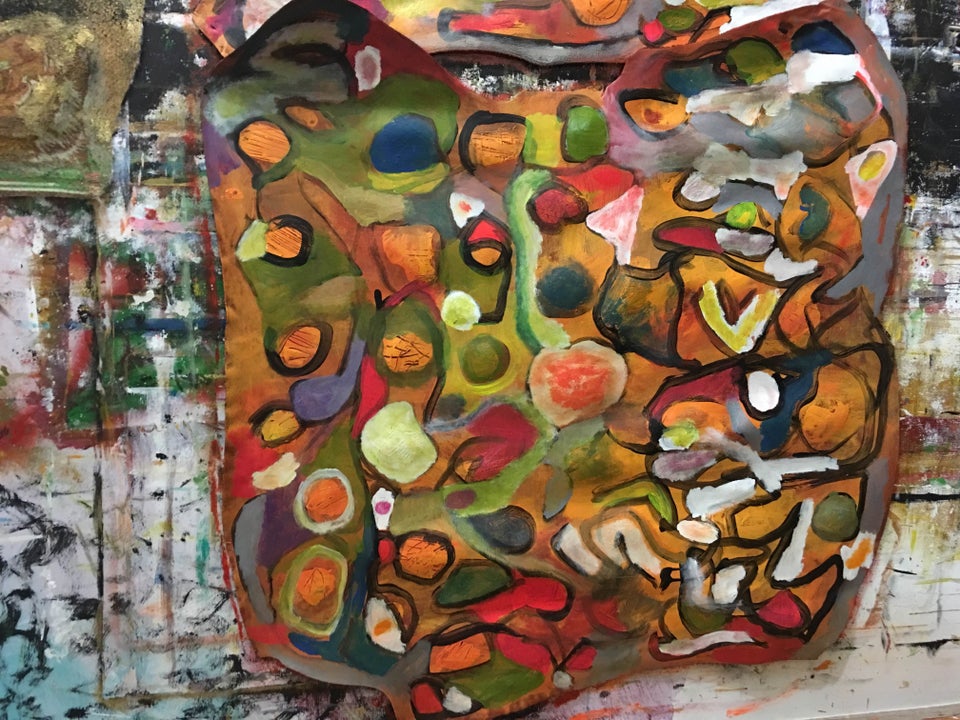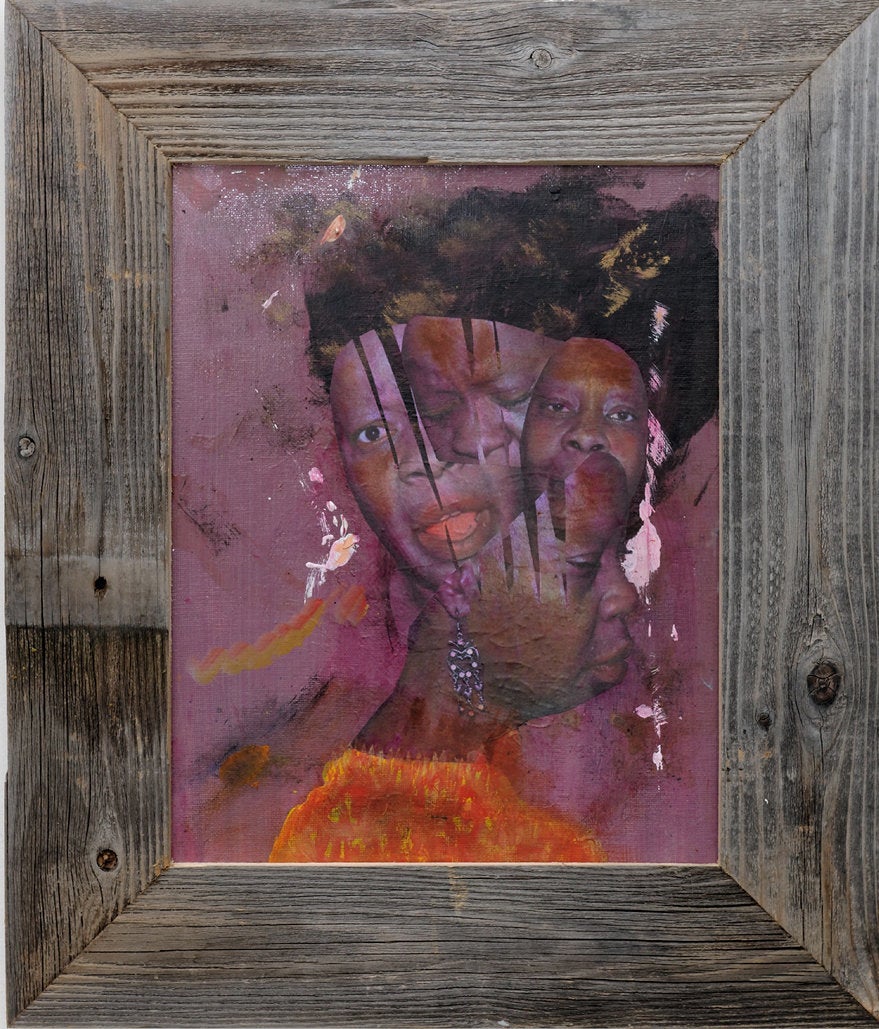 Paula 2015 collage and oil on canvas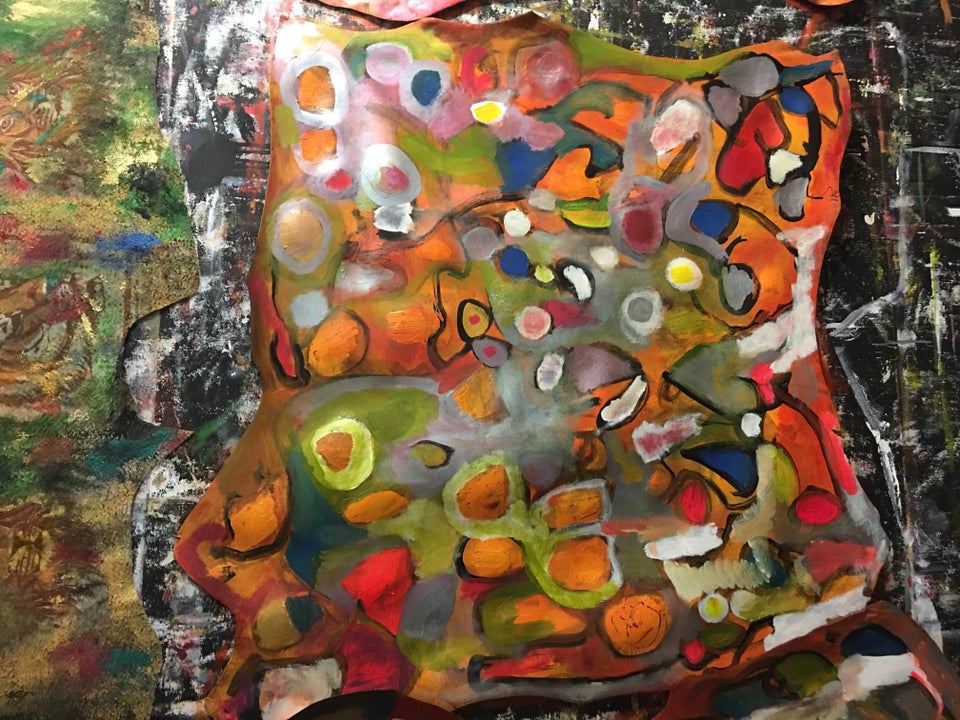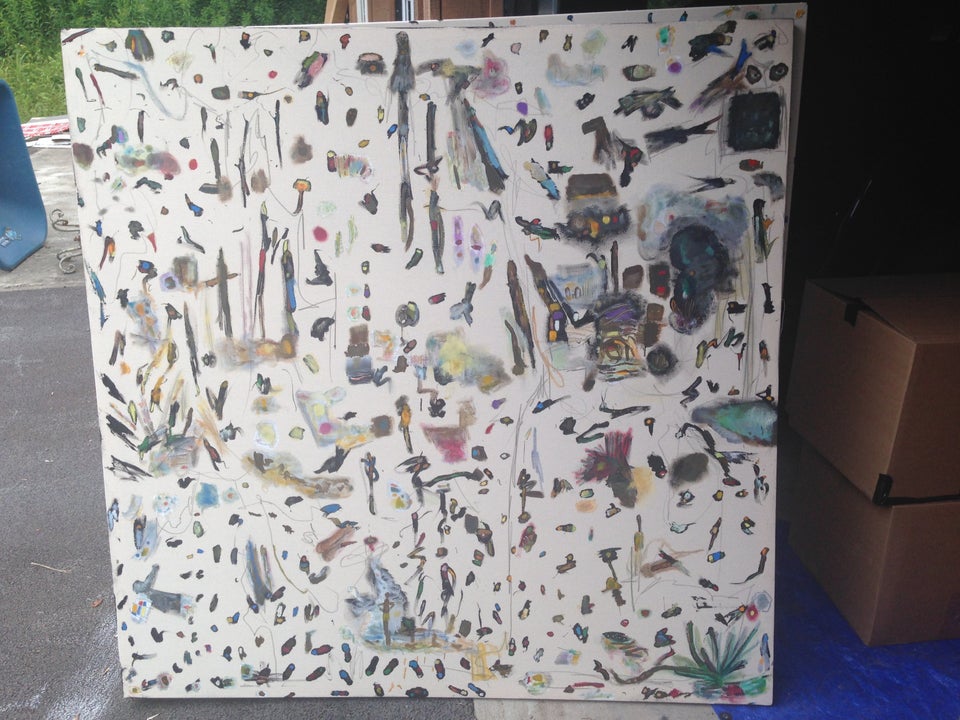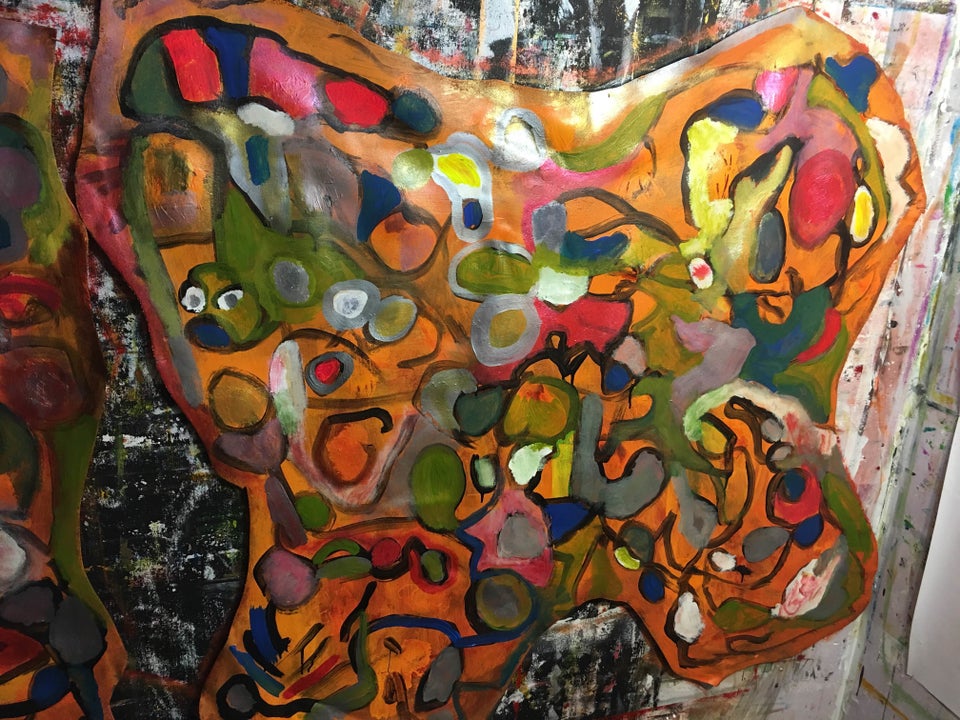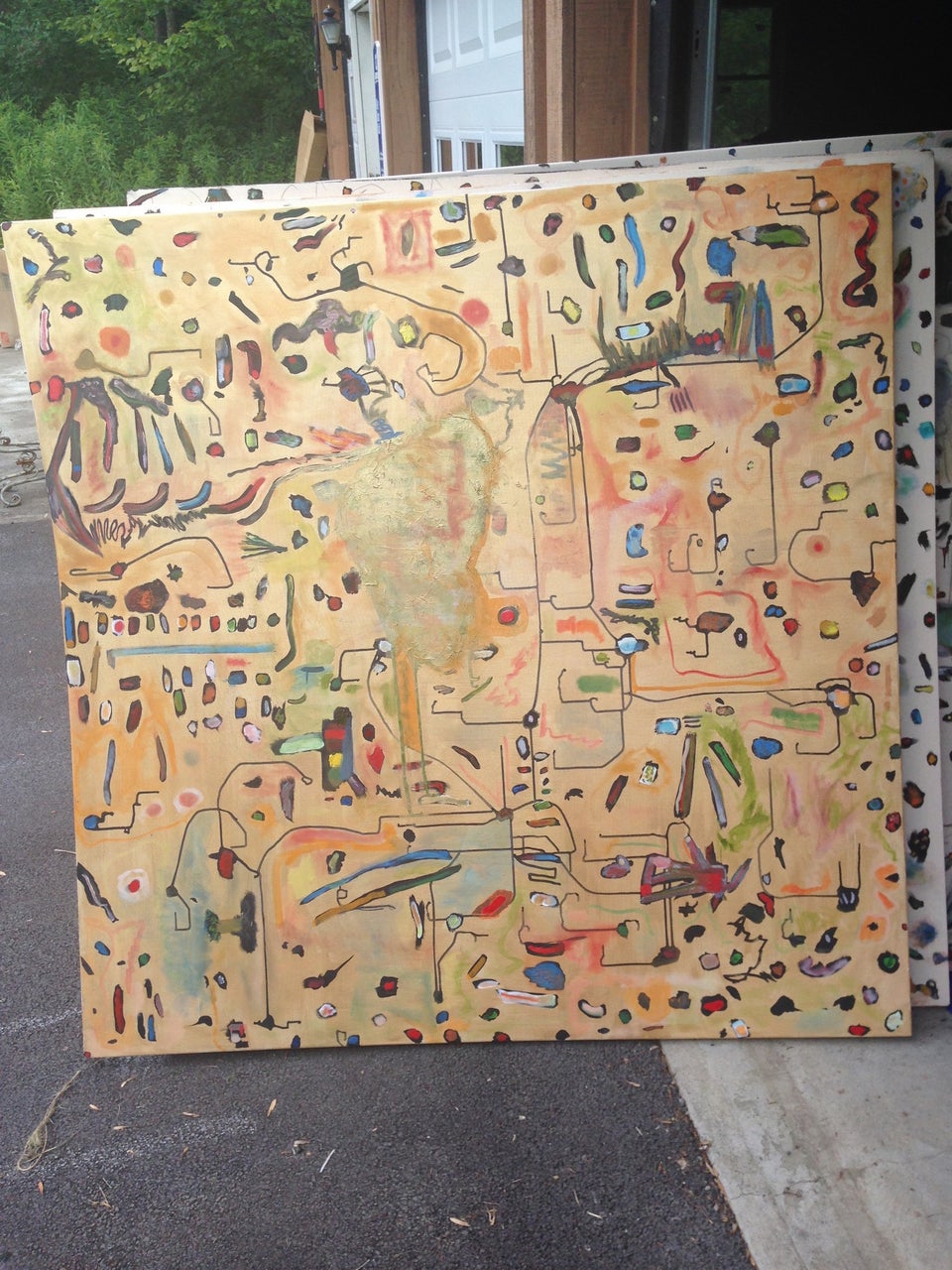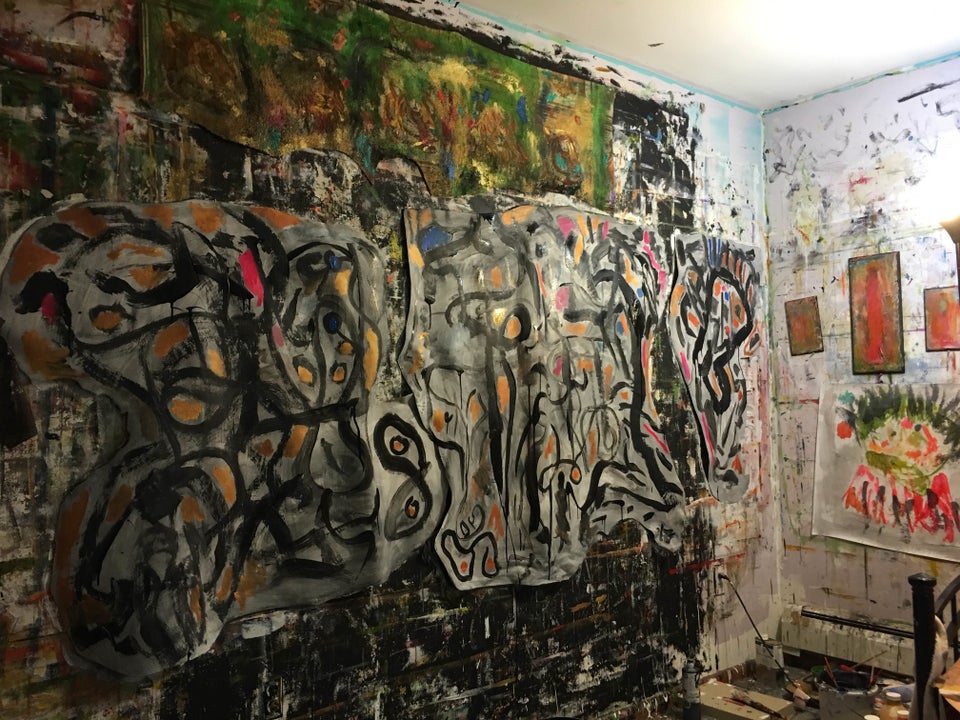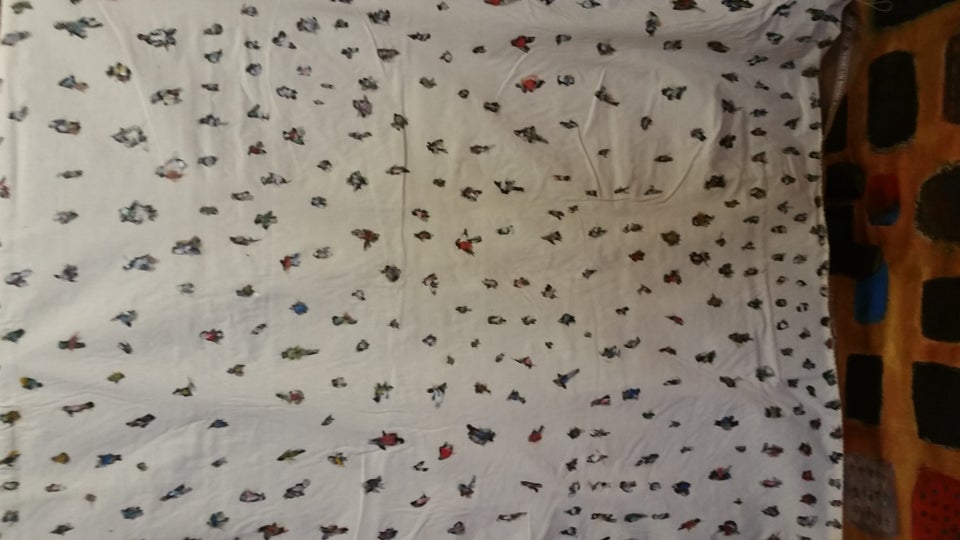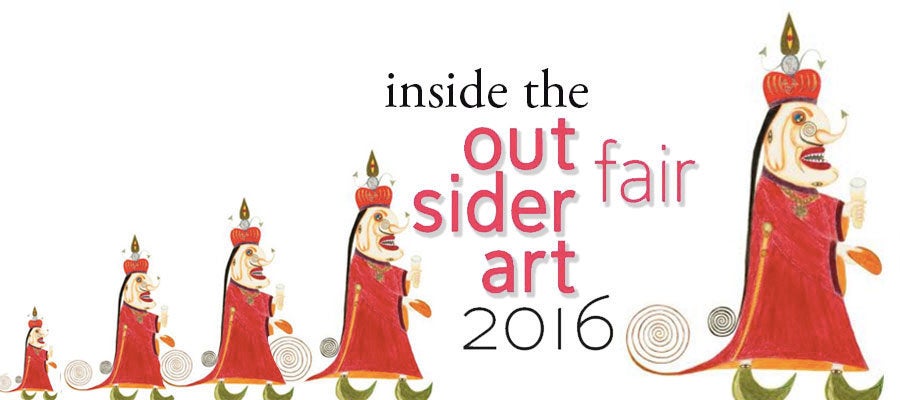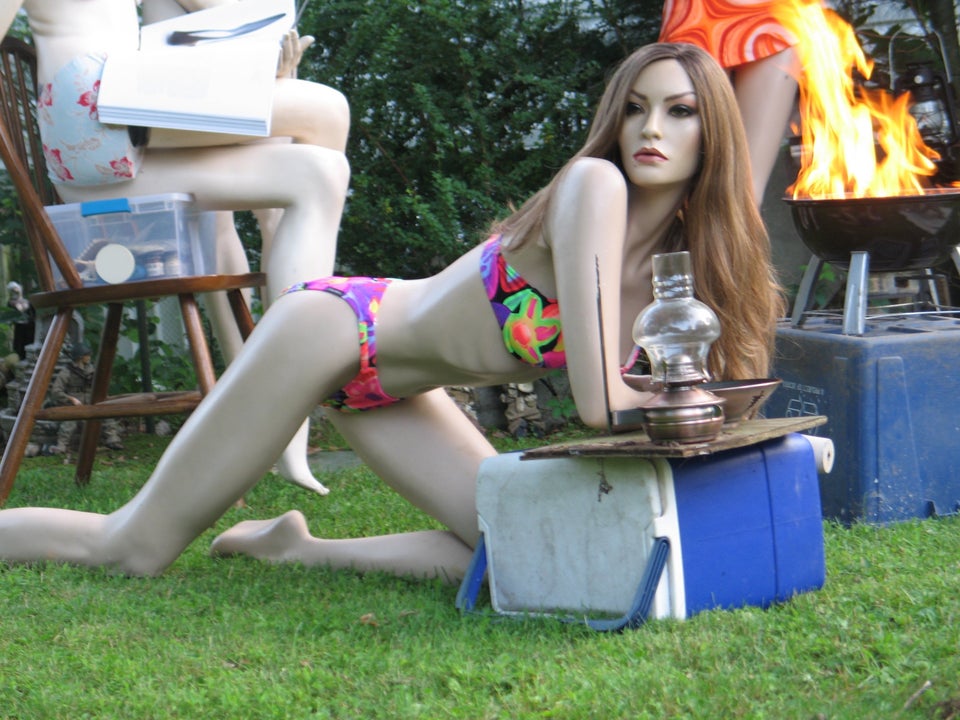 Outsider Art Fair 2016
Support HuffPost
The Stakes Have Never Been Higher
Related
Popular in the Community