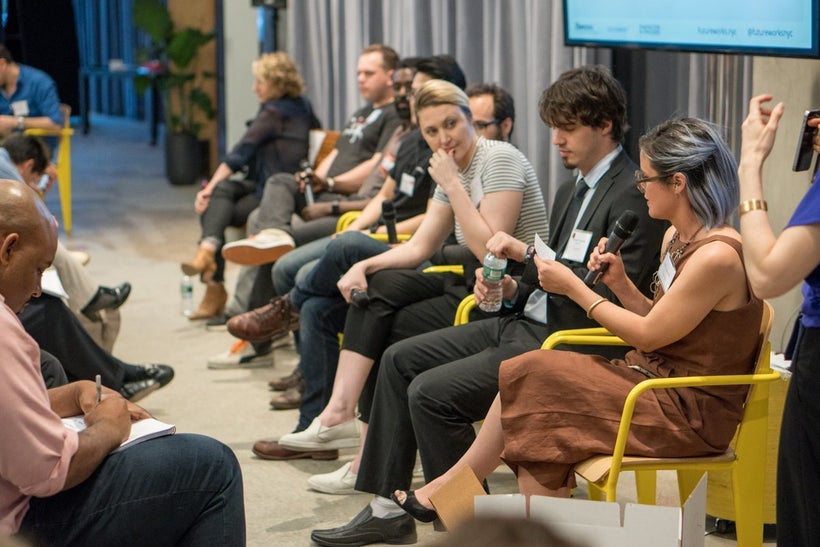 In 2017, urban manufacturing is invigorating cities, with entrepreneurs building market-tested smart technologies and investors seeing the promise, and efficiency, of building locally. Smart technology requires an intimate knowledge of urban culture and the ability to constantly iterate to keep up with change. At the same time, cities are passionate about understanding and updating their infrastructure through data. This makes tight-knit supply chains, production clusters and local talent essential to manufacturing-startup growth. In New York City, the urban manufacturing economy is growing, and the uptick is shared across all five boroughs. 
On Wednesday May 17, the New York City Economic Development Corporation (NYCEDC) and SecondMuse welcomed some 120 entrepreneurs, mentors, and industry leaders at Brooklyn's A/D/O for the kick-off of Futureworks Incubator, a program to bolster local manufacturing and hardware startups. Funded by NYCEDC, the Incubator is part of Futureworks NYC, a key component of the Mayor's Industrial Action Plan, and run in partnership with SecondMuse and Imagination In Space. Futureworks NYC is a network of partnerships, services, and spaces dedicated to increasing local production and supporting advanced manufacturing in all five boroughs of New York City.
"This amazing cohort of hardware startups is forming the base of NYC's rapidly growing advanced manufacturing sector," said NYCEDC's Lara Croushore. "Using technologies like CNC and 3D printing, these companies are changing how and where things are made, while making the sector more accessible and creating opportunities for new kinds of jobs for New Yorkers. We're thrilled to see all of the collaboration – it's a really supportive community that is coming together to share ideas, technologies, and networks to grow their companies and the sector more broadly."
SecondMuse and Imagination In Space have worked with NYCEDC to expand the sector significantly, leveraging relationships with respected federal government institutions and Fortune 500 companies to bring their resources and expertise to the community. The program grew from supporting six companies in 2014 to 70 companies in 2017, and an additional program has focused on supporting fabrication and prototyping facilities across the city.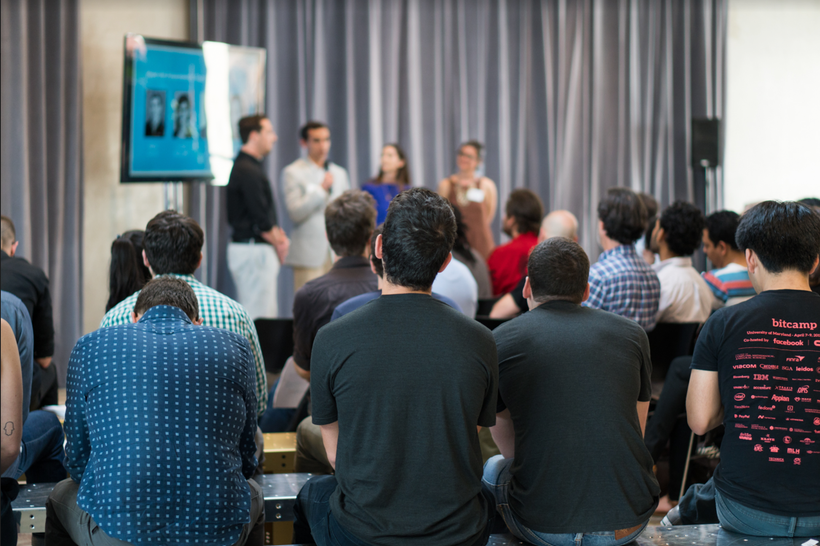 "In 2013, NYCEDC partnered with SecondMuse to develop the initial strategy, and the city has continued to work with us over the last four years to build and grow an ecosystem that supports manufacturing and design-driven entrepreneurship," said Katey Metzroth of SecondMuse who manages the project.
Greg Spielberg leads Imagination In Space and says a second NYCEDC program called Futureworks Shops will also add support to this growing sector. It's designed to network nine advanced production spaces. Hardware startups can receive subsidies to prototype, contract manufacture, and secure studio space. With a growing Incubator community, we want to make sure we're able to help them where it matters most -- creating great companies here in NYC.
Metzroth says at the heart of creating this ecosystem is a deep understanding of the needs and building capacity for public and private institutions, and also facilitating and managing partnerships for action. "The skills we have developed growing the hardware ecosystem of New York City through the Next Top Makers program of the past three years, prepared us to expand Futureworks Incubator and strengthen local and regional supply chains and manufacturing," she added.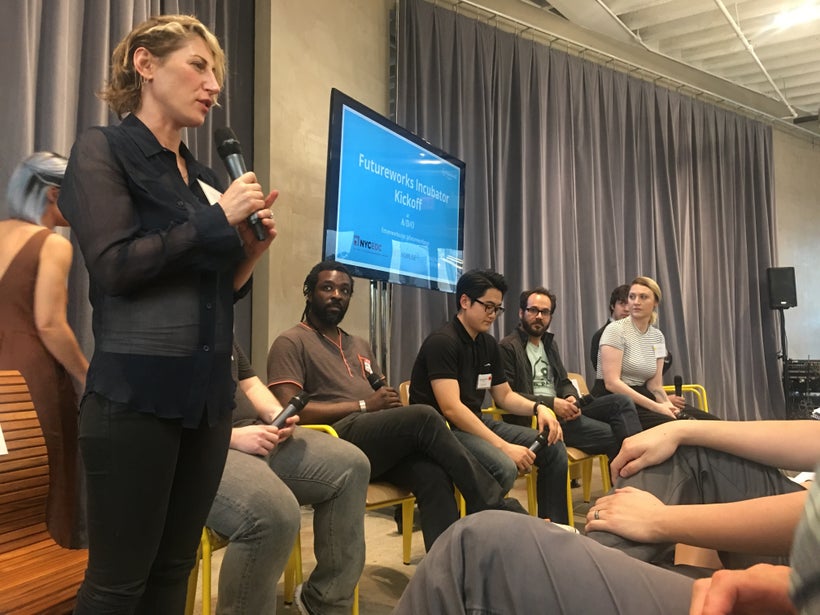 One of the entrepreneurs presenting on the panel that evening was Jessica Banks, the Founder of RockPaperRobot (RPR), which recently closed a successful Kickstarter campaign for their latest project, the shape-shifting Ollie Chair, raising over $300k in a month. Banks, who is also an alumna of the program, points out that many things play a part in the growth of urban manufacturing -- shared and subsidized work places; government investment in innovation, software, and companies aimed at productivity and management; rapid prototyping evolution; and crowdfunding platforms. "Because New York offers such high diversity value and easy market access," Banks added, "it's quite natural that the community would be burgeoning here, despite the high cost of fabrication space."
SecondMuse Partner Todd Khozein says this climate is opening up economic opportunities that simply weren't there before, and people are starting to use technology to solve problems that may have been unsolvable previously -- or even invisible. "We have a brand new landscape of opportunity that all of a sudden is accessible to a broader group of people," Khozein says.
Mentorship and Early Support as the Lifeblood of Futureworks
The process of acceleration over the course of the nine-month program includes connecting startups with over 50 mentors with expertise in manufacturing, business, and design.
Blake Garcia manages the mentorship program for Futureworks Incubator. He says mentors are the lifeblood of a startup's success, working to help them advance in a variety of touchpoints including monthly office hours and all-day summits to workshop their businesses. Many of the mentors are either current or former corporate founders who give back to their communities by sharing their experiences and guiding startups through the journey of building a hardware company in NYC. "Mentors bring a wealth of expertise and knowledge in everything from supply chains to storytelling," Garcia said. "Our 60+-member strong network is broken down into five relevant content areas for hardware startups: business; marketing and storytelling; legal; prototyping and understanding users; and manufacturing."
One unique aspect of the Futureworks Incubator is how the program supports companies at different stages from idea, to prototype, to market and scale.
SecondMuse Experience Designer Elyssa Dole says startups flourish when entrepreneurs believe that they have something valuable to create for the world. "There is a fine balance that entrepreneurs need to strike between pursuing a singular vision and allowing their work to be influenced — directly and indirectly — by the people and resources around them," Dole said. "At Futureworks Incubator we support entrepreneurs at all levels — including the crucial, early stages. It's important not to judge companies too soon; you have to let them grow."
Meet Five 2017 Futureworks Entrepreneurs in their Own Words: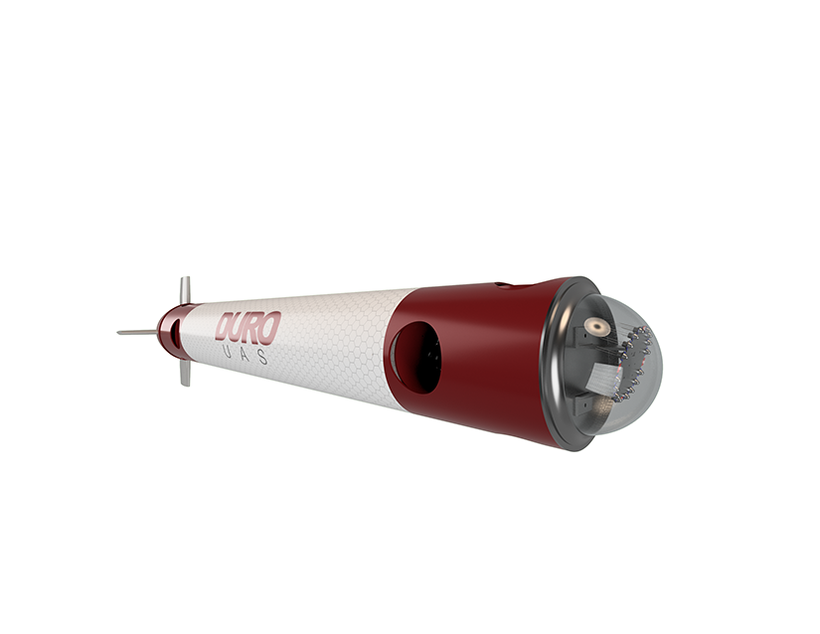 My co-founder Gabriel Foreman and I both grew up by the water -- I'm from the Jersey Shore and he's from San Francisco. We were both really interested in advanced technology and environmental sustainability, so building underwater drones became our way to have a positive impact on the places we love.
Cities are growing – nearly 70% of the planet's population will live in a city by 2050. Fortunately, cities are also becoming smarter. Data is now being used in new ways to understand urban environments and make them safe and livable. We think underwater drones are the next step in this trend, collecting important data for coastal cities to help understand and mitigate climate change, inspect civil infrastructure (the number one cause of bridge failure today is erosion of underwater pylons), respond to emergencies, and much more.
For a startup to compete with huge, well-established companies there is a lot that needs to happen. There actually are some powerful advantages in being a startup, but to scale as quickly as possible you definitely want to work with people who have expertise in advanced manufacturing. Futureworks has a great roster of experienced mentors to help with the myriad things our business deals with, from additive manufacturing processes to IP. With their help Duro has been able to make the South Bronx its home and hire locally, and we're thrilled to partner with them as we push the envelope on this exciting technology.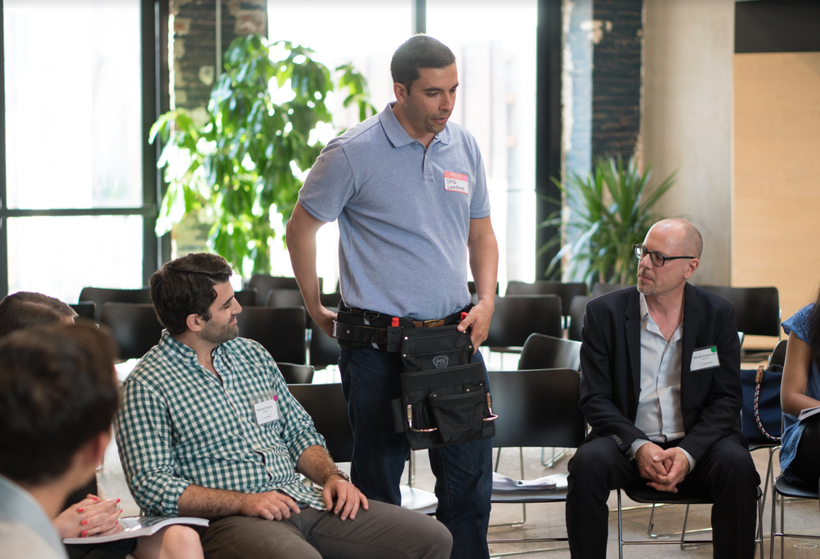 Chris Landano of Trakbelt360
My product, Trakbelt360, is a revolutionary tool belt that allows the user to easily and quickly access all their actual tools and gear in a new way. The idea came from a frightening experience I had while working as a forensic photographer for the Fire Department. During a building collapse with reports of people trapped, I followed the rescue firefighters on my hands and knees into the collapse zone to photograph the rescue. When I started to leave this extremely dangerous area, I got tangled up on debris, and had to unbuckle my tool belt to free myself. As I was crawling out I thought that if I could have rotated my belt, I might have been able to free myself much quicker and easier -- and Trakbelt360 was born. Our patent pending trak rotation system allows the user's gear and tools to rotate on the track a full 360 degrees, so you can have your tools where you need them when you need them. They can move freely or be locked in place. Our trak system works with most third party pouches and can also be incorporated into backpacks and other harness systems.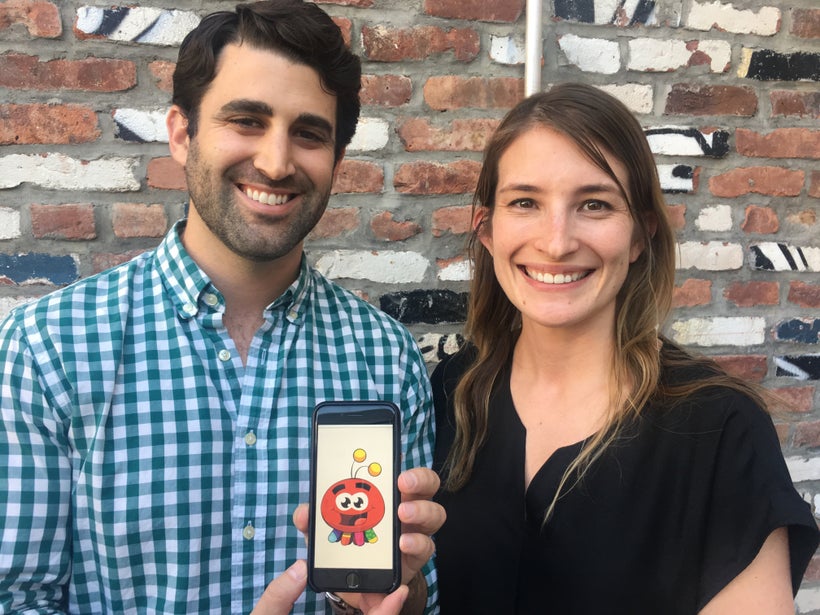 Megan Hughes and Michael Mayer of Lookalu
We met and became friends at a Fintech startup in NYC where we both work. We were texting one weekend when Megan was trying to take cute pictures of her Goldendoodle Lulu, without much luck. She asked me for advice, which I didn't have. Coincidentally, I was experiencing a similar problem that same weekend trying to get good photos of my baby cousins. I had to jump up and down, yell their names, and make goofy noises until they looked up at the camera, and even then I was lucky just to get one cute photo. Megan and I both did some research, talked to our friends who have kids, and realized that our social feeds are littered with mediocre photos and selfies. We wanted to come up with a better and more fun way to easily get good photos of babies/toddlers (and dogs!), and Lookalu was born -- it's a smartphone accessory to help you take better baby photos. Futureworks is an incredible and talented community of innovators, makers, and mentors. Coming from a software/tech background, Megan and I look forward to learning how to build and grow a hardware startup. We are honored to be a part of this network and are excited to leverage the collective expertise to finalize our prototype and launch a successful crowdfunding campaign towards the end of the year.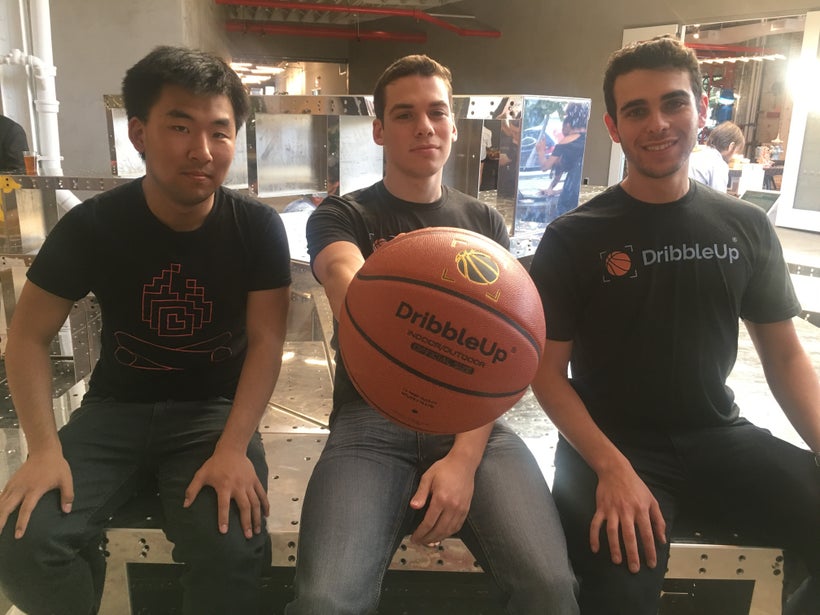 Marc and Eric Forkosh of DribbleUp
In 6th grade, my brother Marc was cut from his basketball team and became determined to improve his skills. But like most kids, we couldn't afford a basketball trainer and it was very difficult to practice alone without getting feedback. Using my experience in robotics, we built DribbleUp -- the smart basketball that is your virtual trainer so you can train effectively anytime, anywhere. At DribbleUp we sell basketballs that teach you to be a better player, using a connected app on your phone. We've sold thousands of basketballs since we started the company last August, to players and coaches all over the world. The DribbleUp basketball is an official size and weight basketball specially designed to be optically tracked by your smartphone/tablet's camera. The connected app grades your performance live and provides live audio feedback, turning training into an augmented reality video game. We received funding from Dorm Room Fund, a student venture arm of First Round capital, and inventory loan financing from an NBA player. We're very excited to partner with Futureworks to scale our marketing and our storytelling, so that every player, coach, and parent knows how DribbleUp can help them achieve their goals. Kids like Marc who've been cut from their basketball teams can build the confidence they need to take their game to the next level.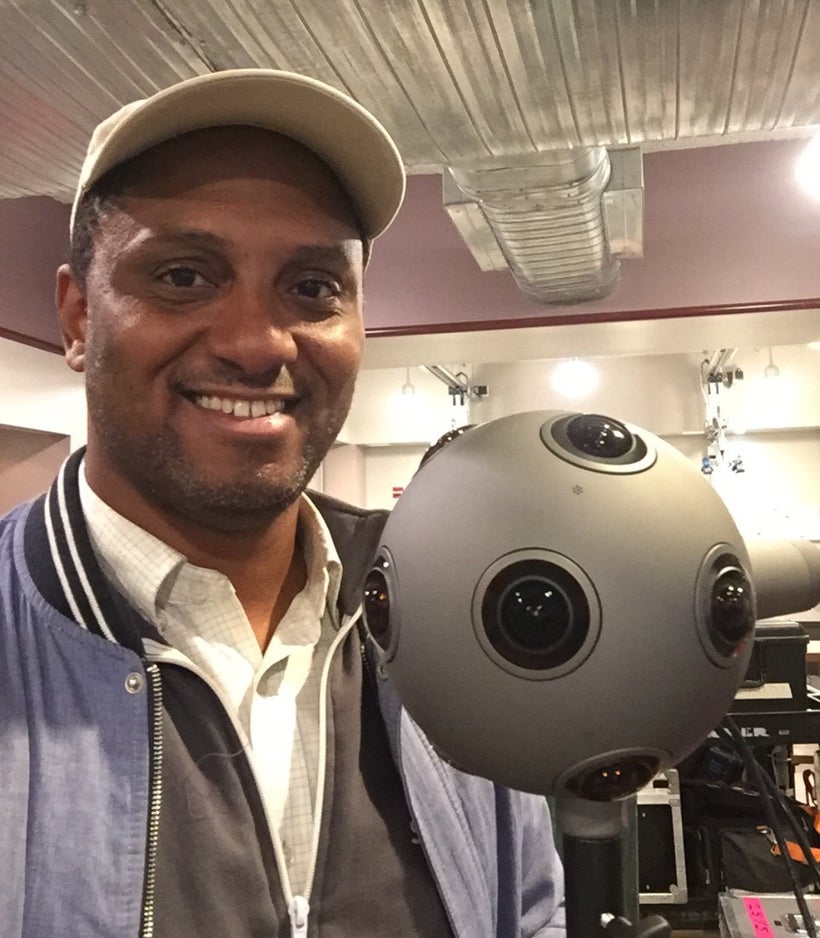 Edwin Rogers of VR Video:
Back in 2014, I was working as a VR filmmaker but one of my biggest challenges was adding movement to 360° Videos. That is when I started working on two projects: The VR Video Rover and the VR Drone. I applied to NextTopMakers, now called Futureworks with the VR drone idea but I didn't get in at the time. Nevertheless, Katey Metzroth encouraged me to keep working not just as a VR app developer but as a maker too. I later built the VR Video rover using a base from a robot developer I met at Maker Faire. Katey invited me to demo at SXSW and Maker Faire; she is committed to helping everyone succeed and I am glad she pushed me to apply this year. Now that I am on Futureworks I want to revisit the working prototype VR Video robot project and add long distance control and stabilization to a redesigned version. Thanks to Futureworks my goal is also to create a breathtaking immersive VR experience that is bigger than anything I have done before. I want to create a huge VR touchscreen display that is controlled by sensor and movement.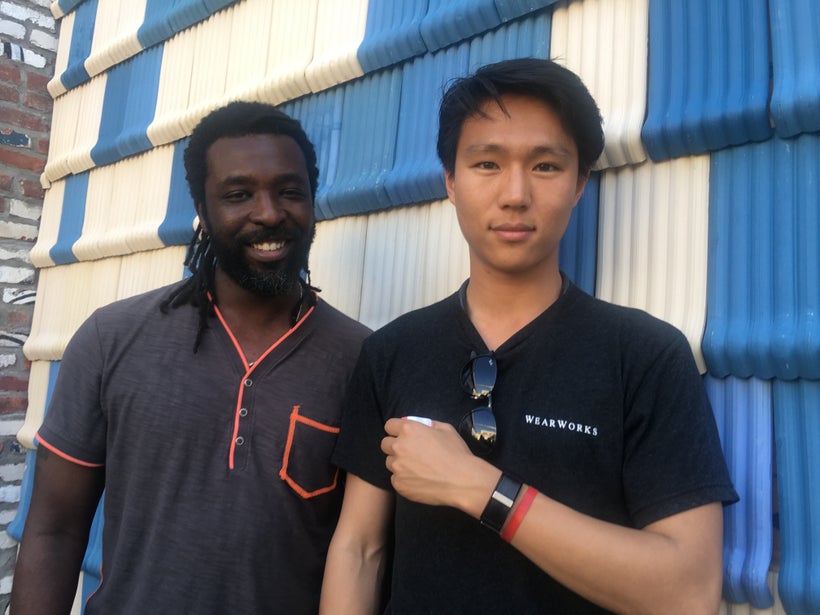 Two of the mentors on hand at the Futureworks event were from WearWorks, makers of Wayband, a wearable navigation device that utilizes haptics to communicate information through the skin. Co-founder Kevin Yoo says when they started their company three years ago, the NextTopMakers experience (previous name for Futureworks Incubator) gave them the support to grow. In November 2018, Yoo plans to run the NYC Marathon with his friend and consultant Simon Wheatcroft, who is blind, using Wayband as the only source for navigation through the race.
"I truly hope and believe that 'Made in NY' will definitely become a thing among hardware and software entrepreneurs. There is so much going on here, in terms of development, R&D, connections, investments, etc. It makes sense to grow the community here, to have the full ecosystem of making a product that is designed and produced in NY become the norm. We are building a company which one day can be at the forefront of 'Designed and Made in NY,'" Yoo says.
Follow the story of urban manufacturing in New York @FutureworksNYC and @SecondMuse.
REAL LIFE. REAL NEWS. REAL VOICES.
Help us tell more of the stories that matter from voices that too often remain unheard.
This post was published on the now-closed HuffPost Contributor platform. Contributors control their own work and posted freely to our site. If you need to flag this entry as abusive,
send us an email
.