Are you a woman impacting the water industry? A female engineer, scientist, construction worker, technician? How did you choose your career? We'd love for you to share your story beginning today and through the month of September using #WomenImpactingWater on social media.
We are soliciting these stories from the 2017 Chesapeake Tri-conference in Ocean City, Maryland where today leading female water industry leaders and engineers took part in the first Women's Networking Breakfast, to discuss their unique challenges and ways to encourage more women to join the water industry.
Guest speakers included Karen Pallansch, CEO for Alexandria Renew Enterprises, previously known as the Alexandria Sanitation Authority. She has served as CEO for eleven years, during which time she led a rebranding effort that incorporated a successful public – developer partnership. Pallansch says she got into the water industry because she knew she could use her creativity to solve simple and complex problems that could make every day life better and keep making it better for her children, "I am an engineer AND I am so much more," Pallansch says, "When we make engineering engaging and fun, when we show what we can and do accomplish, when we make it less about meeting a statistic about numbers in a classroom and more about engaging our multiple intelligences around accomplishments, more girls will be able to visualize themselves as these kinds of creators. They will be able to integrate their already innate skills for relationships, empathy and problem solving into a broader purpose."
Prior to her work with Alexandria Renew in Virginia, Ms. Pallansch worked for the Virginia Department of Environmental Quality as a Senior Engineer and as a General Engineer with the Department of the Army, charged with rehabilitating army ammunition bases and managing associated munitions research. "Water will be the new political capital of the 21st century and beyond," Pallansch says "It is this opportunity that will not just attract but help retain talent in our field for the future."
For the past three years, Marlee Franzen has been the Manager of Water Distribution at DC Water focusing on water main maintenance in the nation's capital. While having bachelor's and master's degrees in Chemical Engineering, she is a licensed Civil Engineer and has worked for four utilities: Goleta Water District, Colorado Springs Utilities, Arlington County, VA and DC Water.
Franzen says to encourage more women to enter the field the target audience shouldn't only be young girls but their parents as well. "Reflecting on my own journey, my mother was highly influential. It would be helpful to target both young women and their parents to share the benefits of working in the water field: good benefits, relative job security, helping people with an essential need, and wide variety of opportunities. In my own experience, retention of women in the field has been strong," Franzen says. In her spare time, she hosts a meet-up 'Books and Wine Club' group, loves to cook and play quick card games, and says she survives most of the Pure Barre classes she attends.
Civil engineer Anna Santino has over nine years of civil engineering experience with a focus on buried infrastructure. She is currently working at Pure Technologies as a Senior Project Manager where she helps clients to implement short and long-term solutions for their buried infrastructure. Santino is on the organizing committee for the Tri-Association Conference and the Women's Networking Event. "The most important aspect that has aided in my growth and development as a young professional engineer has been the mentoring and support that I have received from leadership," Santino says. "It is important that companies do not fall into gender roles with women by separating them from the men in any unfavorable context regarding their intelligence, work ethic, personal commitments, etc. Women will be successful in companies that continue to foster their career advancement and provide support without bias."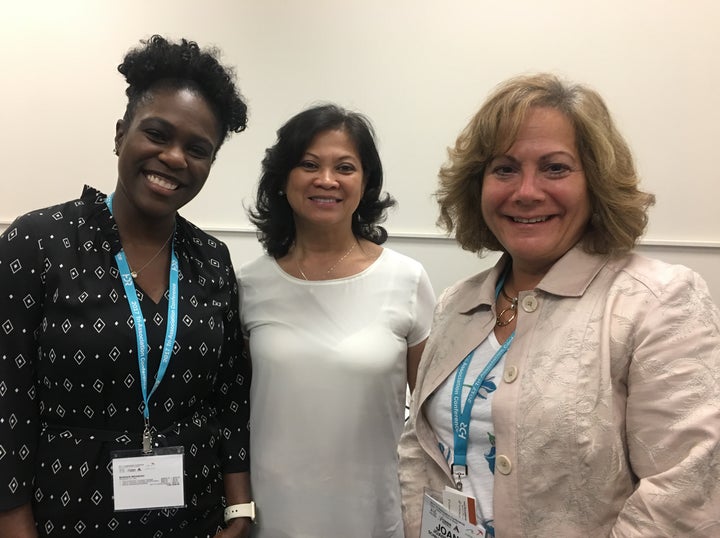 Two of the other networking organizers are Cece Nguyen and Susan Donnally. Nguyen is Vice President at Brown and Caldwell and a professional civil engineer specializing in the planning, evaluation, design, and management of large-scale buried infrastructure projects in the DC Metro area. Nguyen says she's eager to see the day when engineering networking events are just as prolific and impactful for women as they are currently for men in the industry. "With this networking breakfast, we are taking a step forward together. Let's build a thriving and dynamic pipeline of women engineers for our industry." Nguyen says.
Susan Donnally is a Registered Professional Engineer with nearly 20 years' experience working in the Municipal Engineering market. She is a Regional Area Manager at Pure Technologies, where she oversees large scale pressure pipe condition assessment programs for the Northeast region, where she has worked for the past 2 years. She says in order to improve the working environment for female engineers and encourage women to pursue and maintain successful careers, it is important that organizations understand and address the unique challenges associated with being a woman in the Engineering field.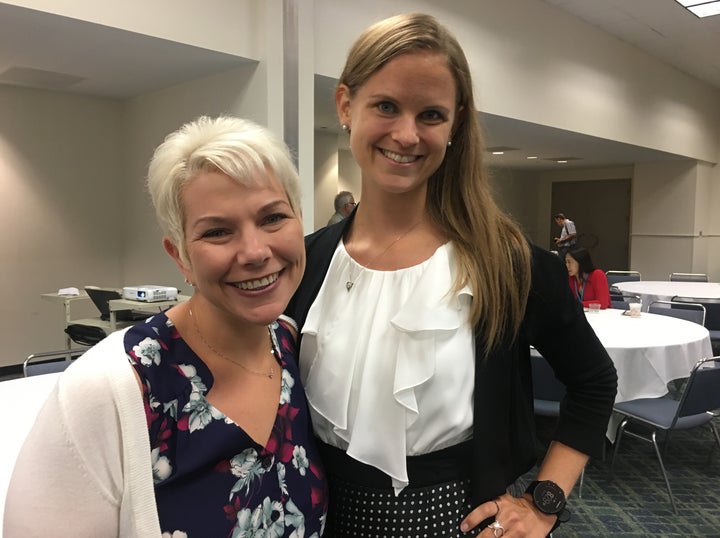 "Women are almost always the minority every step of the way in their careers, particularly as they progress up the management food chain," Donnally says. "This is when the real challenges begin, as most senior management roles are held by men and we all know that top deals are made and relationships are built "on the golf course." This makes it particularly challenging for women to create a peer network to use for support as they reach the pinnacle (and most challenging part) of their careers, as they are often left out of the "golf outings." This can create a sense of isolation and often women become discouraged at this point and decide to pursue non-management (i.e. less competitive) roles or drop out of engineering or the workforce all together. Organizations need to be sure to promote top female talent into leadership roles and create an environment that allows for women to more easily develop and maintain a strong peer network. Organizations that improve the percentage of women in leadership roles and demonstrate that they recognize the increasingly important role women play in the engineering field will then attract the top female talent in the industry!" Donnally adds.
In addition to her experience at Pure Technologies, Donnallly previously worked in the Mid-Atlantic region as an Engineering Design consultant for several large consulting firms where she oversaw design and construction of water conveyance and wastewater collection systems, as well as pumping station and water storage facilities.
John Oliver Smith was a panelist as part of the Women's Networking Breakfast at TriCon, looking ahead at the future of the industry and ways to encourage more women to enter the water industry. Smith is a Registered Professional Engineer with more than 30 years of Environmental Engineering experience. As Vice-President and General Manager of Engineering Design Technologies, Inc. Smith is leading corrosion engineering throughout the Mid-Atlantic as is a big proponent of innovation and inclusivity in the engineering profession. Smith says it's important for the water industry to build a more diverse and inclusive workforce. "We need all perspectives and ideas to drive innovation in our industry. CEO's and top management need to be truly inclusive and fully embrace ways to encourage more women to join our ranks."
Craig Daly is a Senior Program Manager at Pure Technologies and a father of two daughters. He says he's made the decision to step down as the chair of the utility management committee in order to free up time to commit to working with the Girl Scouts of America. "The volunteer opportunity is to help mentor the local robotics team," Daly says. "Having 2 daughters my hope is to inspire girls to achieve their dreams in technical fields."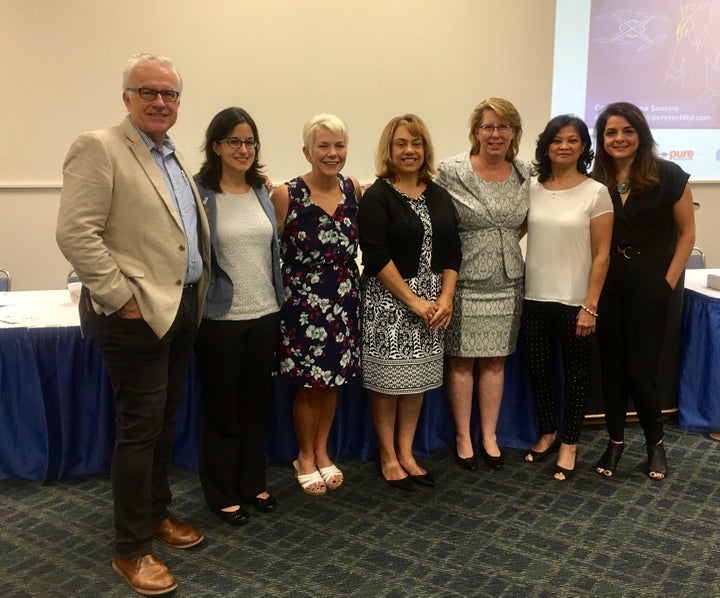 For Safina Singh, this is her second Chesapeake TriCon event. She's a professional civil engineer working for Engineering Design Technologies, Inc, who grew up playing near a river in Kathmandu, Nepal. She says over time the river got dirty due to people dumping trash and sewage in it. This is what drew her attention to water quality issues. "We also had limited access to safe drinking water. Unlike in United States, we did not have running water 24/7," Singh says "Due to all of these water problems that I encountered, I decided to pursue an education in water and focus on water engineering which would allow me to study water/wastewater treatment and water resources. I could not have been happier. I pursued the dual degree program in Civil & Environmental Engineering for my Bachelors degree, and subsequently Environmental Engineering for my Masters degree with primary focus on water."
For those who weren't able to attend today's networking breakfast in person, we look forward to engaging with your stories via social media. Remember to post photos, stories and videos using #WomenImpactingWater.

Editorial Note: Davar Ardalan is the Director of Storytelling at the open innovation company Secondmuse and a thought leader on the roles and intersection of STEM, technology, inclusivity, sustainability and innovation. She is also one of the founding organizers of the Chesapeake TriCon Women's Networking Breakfast. Ardalan leads global storytelling efforts with NASA, USAID, The World Bank, Australian Aid, and IKEA around sustainable cities, food security, ocean health, materials innovation, and big data. As a veteran of NPR News for two decades, Ardalan's digital campaigns around women in tech and engineering in recent years garnered millions of impressions on Twitter using #NPRWIT. Ardalan is married to civil engineer John Oliver Smith. Together they have 8 children and two grandchildren.
Related
Popular in the Community