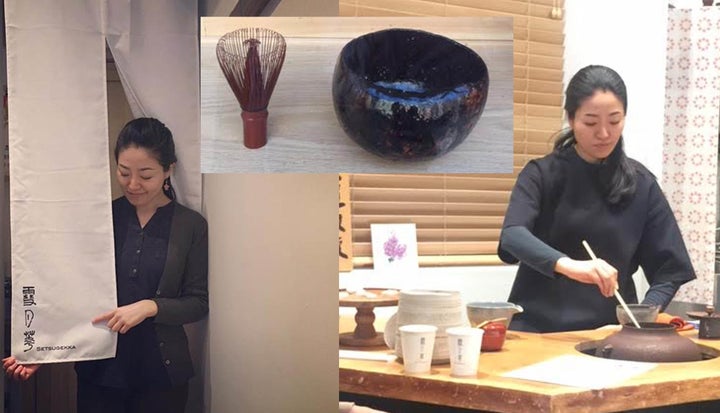 It was almost too good to be true. Following immediately on the heels of my Huff Post piece about matcha tea, comes Setsugekka – a newly opened matcha bar in New York's East Village, where one steps into divine quietude. Whether sitting on a tatami mat or at the diminutive bar, lucky New Yorkers can become connoisseurs of this virtuous and ancestral brew, while de-stressing with every sip.
Owner Junya Mori and his wife, award-winning tea master Souheki Mori, welcomed their first customers only weeks ago. Souheki's grounded, calm presence is a balm to handfuls of visitors who enter this beautiful space. The selection of hand-picked matcha tea, served either hot or cold, comes from premium tea regions of Japan, including Kyoto, Aichi, and Fukukoka.
Unlike standard green tea brewed from loose leaves or from tea bags, matcha is made from highly particular tea leaves that are pulverized into a fine powder. It is an ancient process that has become highly trendy these days. If you've never tasted it, matcha has a mouth-soothing density and bright green color because you're sipping the entire leaf; with standard tea you only get a thin liquid while the used leaved get tossed into the trash.
Eventually the couple plans to sell their own brand of matcha. But for now, they offer freshly ground matcha using a traditional Japanese heavy stone grinder. Occasionally matcha has a bitterness that comes from old leaves, so serving the freshest matcha possible is the key to a nuanced taste experience and may set Setsugekka apart from other tea rooms.
(The name Setsugekka is composed of three characters borrowed from ancient China that individually signify snow, moon and flowers. It represents the sense of beauty that Japanese feel in art and design.)
I was introduced to Setsugekka by Steve Glass, a busy New Yorker who is both a financier and a chaplain specializing in end-of-life care. He and wife Sakura escape to this tiny oasis where, says Mr. Glass. "Not only is one offered an exquisite cup of tea, but also a meditative experience that only a tea master with 20 years of training can provide."
Although both Souheki and Junya had successful careers in the IT industry, they left Japan with a dream, their tea ceremony equipment in tow, and moved to Manhattan. Soon after, the tsunami/earthquake hit northern Japan in 2011. They started to offer tea to raise money for tsunami victims, calling it "ChariT." It was an unplanned act, and they had to spend big portion of their savings for it, this grass root activity increased the numbers of New Yorkers' matcha awareness and enjoyment here.
In New York, matcha tea often is made by workers with no knowledge of traditional tea ceremonies and they casually use stainless steel strainers instead of frothing the tea with a traditional bamboo whisk. That degrades the delicate taste of matcha. But Setsugekka aims for a unique experience of flavor, atmosphere and matcha.
Interestingly, Junya and Souheki occasionally will break with tradition. This summer they are serving matcha shaved ice with or without sweetened milk and sweet red beans. They'll also devise some innovative flavors. And their desserts, tea cakes and such, come from a New York-based Japanese pastry chef
In addition, the shop will become a space for a exhibition and workshop for the artists in various areas such as ceramics, calligraphy, bamboo art, and sweet- making from Japan. See you there soon.
Address : 74 East 7th Street, New York, NY 10003 bet. 1st and 2nd.
Related
Popular in the Community