This Strawberry Margarita Dessert Sauce is the perfect topping for your ice cream, cakes, cookies, cheesecakes. Super easy to make, you will be using this on everything!
Treat Yourself! Subscribe today and receive a FREE E-Cookbook and weekly recipes to your inbox! Sign up here! Follow me on Facebook and Instagram too!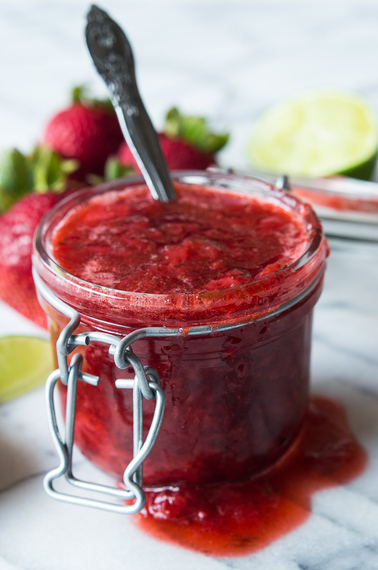 Strawberry Margarita Dessert Sauce. Yep. That's right. Now you can enjoy the flavors of a classic margarita with your dessert! Remember when I taught you How To Make Margaritas using real fruit? Yep. Thought so. I guess it shouldn't come as a surprise when I tell you that a strawberry margarita is possibly one of my favorite drinks. I just love the combination of strawberry and lime. And combine that with a cold, frosty drink? Perfect.
Well, now we can enjoy all of that strawberry, lime goodness and drizzle it all over our ice creams! Or cookies. Or cakes. Or even cheesecakes. Or really whatever you want. You can even pour this all over your breakfast oatmeal if you want!
I got the idea for this from a Better Homes & Garden magazine I have. It's called DIY Recipes. It's one of those specialty food magazines they always have. Anyone else obsessed with food magazines? I just end up staring and drooling over them in the checkout lane. I have an entire collection of food magazines. Anyway..I only tweaked the recipe slightly. The first time I saw it I knew it was meant to be. And by meant to be, I mean that it was meant to be poured all over my ice cream.
There is a splash of tequila in here, but we bring it to a boil, so the alcohol should all be cooked out and we're just left with a slight taste of tequila flavor. Just a hint. And if you're not into the tequila you can definitely leave it out. Won't affect the recipe at all, and it'll still be amazing.
Since we have a strawberry margarita dessert sauce we may as well dress up our dessert right? A little lime sugar on the rim of a cup never hurt anyone. And it's so easy to do. I have more information in the How to Make Margaritas post, and the Champagne Margaritas.
Funny story. Look above in the picture. Do you notice the strawberry down here, bottom right hand side? Does it look like it has a bite or two or even three taken out of it? Remember the Mexican Fried Ice Cream? Where I showed you a picture of that little hand? That little hand that is always just off to the side while these pictures are being taken. Moving things around. Holding things. Well. That little hand took one of the strawberries. I'm sure if you looked through the pictures you will notice the strawberries are re-arranged in all of them. That's not my doing. I don't have the patience to re-arrange strawberries like that for pictures. I kind of just place them and take pictures. But my little helper just couldn't resist the call of that one particular strawberry. And it re-appeared in some of my pictures with bites taken out of it.
Do you love cooking?! Make sure you sign up for the FREE Cooking Basics 101 5 Day E-Course!!
Strawberry Margarita Dessert Sauce
Prep Time: 5 Mins
Cook Time: 15 Mins
1 lb strawberries chopped (approximately 2 cups)
1/2 tablespoons lime zest (approximately 1 lime)
1 teaspoon lime juice
1/2 cup white granulated sugar
1/2 ounce tequila
Add all ingredients to a medium size sauce pan. Stir to combine. Heat over medium heat and bring to a boil. Reduce heat and allow to simmer for about 15 minutes. Strawberries will be tender and sauce will be slightly thickened. Remove from heat.
Mash the strawberries to desired consistency. Cover pot and allow the sauce to cool for about 10 minutes.
Spoon onto dessert or store in refrigerator. Sauce can be poured cold from the fridge or heated up in microwave and poured warm over desserts.
Related