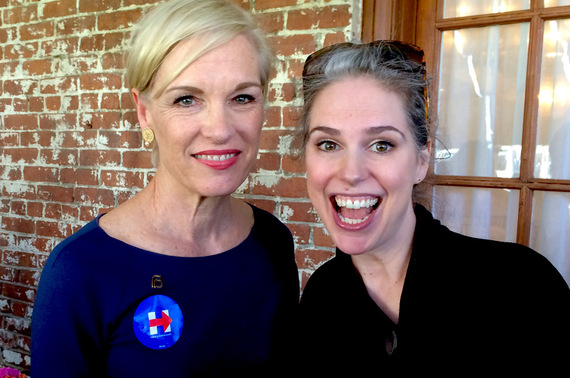 Yesterday, on a quiet, beautiful afternoon in Rhinebeck, New York, I (the Lo of EMandLO.com) squeezed into the greenhouse wing of the historic Beekman Arms (one of the oldest continuously operating inns in America, and also where Chelsea Clinton had her rehearsal dinner) to see Cecile Richards, President of Planned Parenthood Action Fund, speak about the importance of women's reproductive rights and voting for the candidate most equipped to protect them, Hillary Clinton.
My husband Joey, our kids and I had just finished brunch nearby, so while I scored a second row center seat, they ran around outside, making faces at me (and pretty much all the other local Planned Parenthood supporters) through the glass windows while we waited for Richards to arrive (Rhinebeck was the second stop of three in her whirlwind afternoon of Hudson Valley stumping). Joey, the kind of guy to quickly lend a hand, noticed the woman who could only be a stressed-out publicist standing in the street, apparently saving a parking space for the car rushing Richards to this next stop. Joey noticed a black Escalade go around back and told the publicist, who proceeded to run to the back parking lot of the inn. But the car had turned around and was coming back, so Joey jumped into the street to save the space and beckoned the SUV over.
Thus, he and my kids were the first people there to get to meet Richards and shake her hand. As she hurried into the space, Joey told my eight-year-old daughter, "She helps women with their health. And she's on TV." My daughter was starstruck; my five year old son was less impressed, the broken branches he'd found nearby in the inn's front garden commanding his full attention.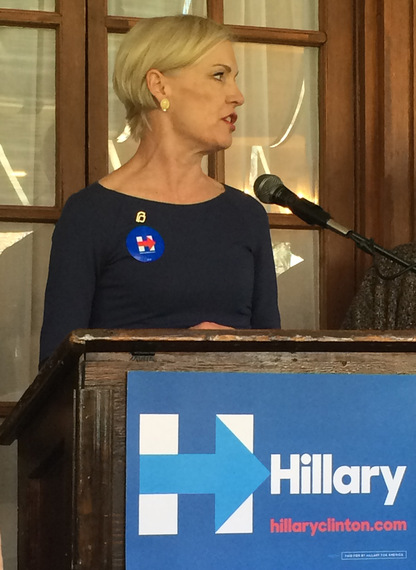 She reminded us of how long Clinton has been fighting this fight for women, even when it wasn't cool or popular to do so. She said while "having ideas is one thing, getting things accomplished is a whole 'nother thing." She spoke of a woman moved to become a Planned Parenthood nurse after the shooting at one of their clinics in Colorado last year that killed three people -- a reminder about how the least we can do is get the word out and vote in this primary season and in the general election to ensure that Planned Parenthood, women's rights, and affordable healthcare are staunchly protected for years to come by the person best able to do so. Inspiring stuff!
After a few Q & As, Richards closed her visit with a story about a woman in Houston who learned a lot from a presidential debate four years ago, hitting home how much elections matter. Our bodies, ourselves are at stake!:
REAL LIFE. REAL NEWS. REAL VOICES.
Help us tell more of the stories that matter from voices that too often remain unheard.