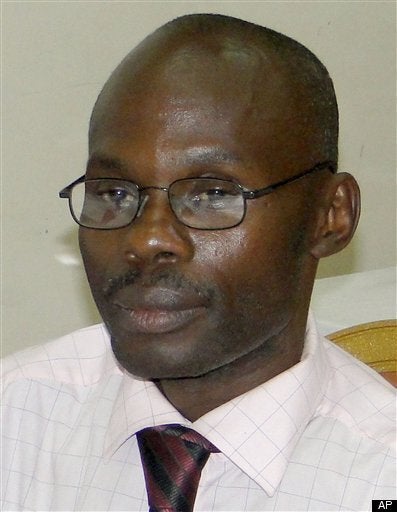 "I live my life openly, not only because I do not want to hide, but because people need to see that there are gay people in Africa, just as there are gay people in every country in this world." - David Kato
Three months after prominent Ugandan LGBT rights activist David Kato's face was pictured in the Ugandan tabloid Rolling Stone under the headline, "Hang Them," he was brutally murdered in his own home. Two weeks ago, we spoke to Kato at length about his advocacy and were struck by his passion and courage in the face of such extreme hatred.
A fast talker with emphatic hand gestures, Kato launched into harrowing stories of a transgender friend who was denied medical care after being gang-raped and a fellow LGBT activist who died from what Kato suspected to be poisoning. In defiance of such tragedies, Kato made himself one of the most visible and outspoken LGBT leaders in Uganda and was unceasing in his efforts.
"There aren't many people now who are willing to stand up and say they support LGBT rights, but I believe we can find those who are open-minded and show them this is a matter of basic human rights," Kato said confidently.
Kato's optimism stood in stark contrast to the hostile environment in which he lived. He was small in stature, but his relentless energy filled the room as he showed us his latest grant proposals, press releases, and advocacy strategies. He was a man of never-ending ideas and someone who managed to find humor in the midst of his struggles.
"Do you know that some of the press claims there is a gay terrorist network that was behind the Kampala bombings this past summer?" he asked us in a fit of laughter as he lead us along a dusty road to the underground headquarters of Sexual Minorities Uganda (SMUG), where he served as Advocacy Director. Upon arriving at the hidden location, Kato pointed with more delighted laughter to a massive rainbow flag on the office wall.
We met with David as part of our research about how the international community, and specifically the U.S. government, can support the work of embattled LGBT advocates in countries like Uganda. David emphasized the important role the U.S. played in derailing legislation proposed in the Ugandan parliament in 2010 that would have imposed the death penalty for same-sex relations.
"Without a doubt, the anti-homosexuality bill would have become law if Hillary Clinton had not called our president personally to express U.S. opposition. Our fear is that, if U.S. pressure declines, even a little, a new version of this bill will pass," he said.
"We need the U.S. and other countries to speak out in times of crisis and to lobby our government behind the scenes, but ultimately this is a struggle for people in Uganda. Still, to make our voices heard, we need to build long-term cooperation with the U.S. and the international community. I cannot say that we have that kind of support now, because LGBT issues are marginalized in the broader field of human rights."
Indeed, despite the widespread media attention surrounding the controversial bill, it was obvious to us that Kato and other LGBT advocates in Uganda were working with extremely limited material and organizational support. It saddened us to see the contrast between the robust international denunciations and the lack of tangible efforts to aid the dedicated men and women advocating for change on the ground.
As we were ending our interview, the otherwise jovial Kato became serious and asked us pointedly, "So, can you promise me you will share what we have talked about today with people in America who will be able to help us?"
This parting request has become all the more salient for us since we learned of Kato's senseless murder on January 26. The truth is that the international community -- and the U.S. government -- has yet to make a sustained effort to tackle persecution of LGBT people. Under President Obama and Secretary Clinton, the U.S. has made some important strides by speaking out about the plight of targeted LGBT people, but breaking long-running U.S. silence on this issue is not enough. Words must translate into action, and effective action requires resources and commitment. We can only hope that our leaders will find some inspiration in David Kato's remarkable courage and finally take concrete steps to protect vulnerable LGBT people around the world.
Richmond Blake and Rafaela Zuidema are Master in Public Policy students at the Harvard Kennedy School of Government. Their Master's thesis project aims to provide a comprehensive LGBT rights-promotion strategy for the U.S. Department of State.
Popular in the Community