"Let us wage a glorious struggle against illiteracy, poverty, and terrorism. Let us pick up our books and our pens. They are our most powerful weapons. One child, one teacher, one book, and one pen can change the world. Education is the only solution. Education first." - Malala Yousafzai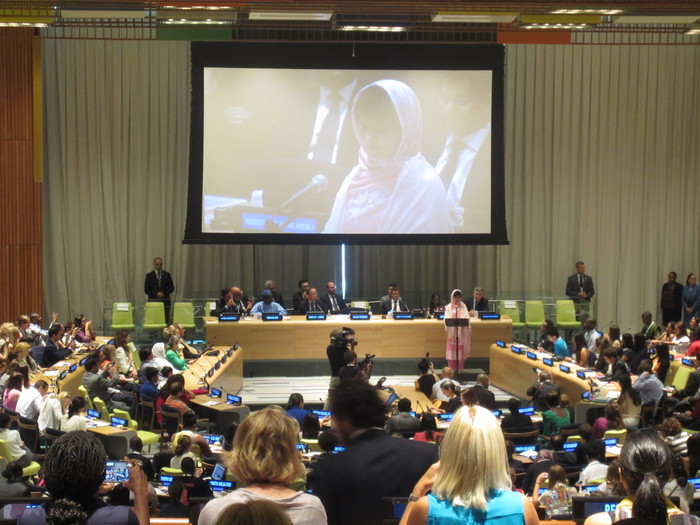 Friday was designated "Malala Day" at the United Nations, and I had the good fortune to not only attend the historic and moving speech where the young Pakistani activist spoke these words, but also to meet her in person afterwards.
As I sat in the youth-filled assembly hall waiting for the program to begin, I wasn't sure what to expect from Malala's speech. This was her first time speaking publicly since being shot by the Taliban at point blank range last October. Her bold and courageous struggle for girls' education leading up to and after that incident cast her into the international spotlight; even UN Secretary General Ban Ki-Moon was in attendance for this historic event. Quite a lot of pressure for a teenager on her 16th birthday.
Following an introduction by the Secretary General, Malala took the podium dressed in a pink, traditional Pakistani shalwar kameez, her head covered by a matching dupatta (head covering). My heart soared as she began with the words Bismillah (in the name of God) and greeted the assembly with the traditional Muslim salutation Assalamu alaikum (peace be upon you). How pleasing to see that even in America, she held on to her Pakistani and Muslim identity.
Malala continued confidently, describing how instead of silencing her, the Taliban's bullets erased her weakness and fear and replaced them with strength, power, and courage. She stated that even if there was a gun in her hand and her attacker was standing in front of her, she would not shoot him. "This is the compassion I have learned from Muhammad, the Prophet of mercy, Jesus Christ and Lord Buddha," she said.
Indeed, Malala referenced her positive view of Islam multiple times throughout her speech, saying that the terrorists were misusing the religion's name for their own personal benefit and that Islam is a faith of "peace, humanity, and brotherhood." She emphasized that Islam said each child had a duty and responsibility to obtain an education. "We cannot all succeed if half of us are held back."
Her attackers, however, did not agree and when asked to explain their actions, Pakistani Taliban spokesman Ehsanullah Ehsan said that the young girl had become a symbol of "Western culture" in the area and was propagating anti-Taliban and "secular" thoughts among the youth there. I cannot help but notice how ironic it is that they believe education is a "Western" concept when the name of their own organization literally means "students" in Arabic.
After the session, my friends and I decided to try to meet the young activist. Malala rose to greet us when we entered the room where she was relaxing with friends and family, and the group of us immediately launched into a friendly conversation in Urdu, Pakistan's national language. In person, she is adorable, sweet, and has hopes and dreams like any other girl her age. (Appropriately, she wishes to study law or political science in college.)
When I expressed how happy I was that she included Islam in her speech, she responded by saying that she had to. "People always think of terrorism or the Taliban when we talk about Islam," she said. Malala wanted to set the record straight that Islam did not condone their violent, politically motivated behavior. After snapping pictures, we wished each other "Ramadan Mubarak" and said our goodbyes.
However, my thoughts remained on Malala long after we exited the room. What a brave soul she was, to literally look at death in the face and still remain committed to her cause. She is now the voice of millions of girls around the world who are also fighting an everyday battle for access to the education we often take for granted. It is a tall responsibility for such a young girl, but Malala Yousafzai seems more than capable.
Related
Popular in the Community