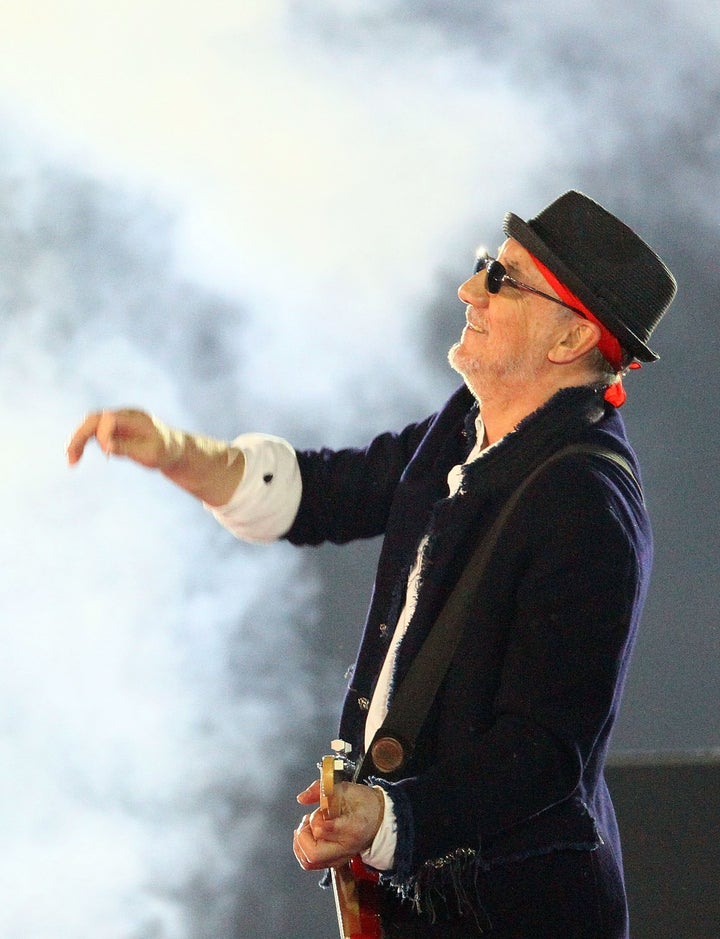 So, I was a 20-year-old rock kid working in a bland-as-beige sterile-as-gauze office, mail-clerking for a company that wrote and proctored civil service exams. Does that sound intriguing enough! The entire office building housed non-profits, most of them Christian organizations. It was a weird outpost/oasis of pure America in the middle of the least American city, New York.
The only fun part was the fact that, out of about 40 employees, I was the only heterosexual male at my company under the age of 60. Flirting was how I made the day go by as I distributed the morning mail, made the in-out box rounds, key-operated the Xerox machine.
But, for the most part it was the artist hell I chose to deal with: day jobs, grocery gigs. The other, starving, was just not for middle-class me. Having recently finally read "Just Kids" by Patti Smith, her memories of sharing one hot dog with Mapplethorpe as their one meal of the day, remind me of why I went the far more bourgeois route.

Anyway, one afternoon, as I pretended to toil away, knowing that The Who were in town all week, doing five shows at Madison Square Garden, (and yes, I had tix for all five shows... worst seat... 5th row... slept out on the sidewalk on 8th Ave to get those seats... another story) and knowing where Pete Townshend was staying, I sat down at my desk in the tiny room they'd designated for mail clerks (along with all the company's office supplies), and impulsively dialed the hotel's number. I asked the operator at the hotel switchboard for Pete... "Who's calling?"
I sat there amongst the reams of paper and staples and ballpoint pens, wondering what the hell I was thinking... and then, about 30 seconds later, to my utter amazement, this English accented voice said, with a distinct note of affection, "Hi, Binky... "
I was on the phone with my hero, Peter Townshend, guitarist of The Who.

Having no idea what to say, having no real reason for calling, and feeling like I was floating in ether, I blurted out...


"Hi, Pete, I was wondering if I could drop by before tonight's show... "


"Sure, Binky... how about 4 o'clock?" Boi-oi-oing!


"Uh... yeah... uh... that would be great, Pete."


"Good, see you then." click

It was now about 2:30pm... Did that just happen?!
Once I'd recovered, I went to my boss and told some kind of believable lie about having to leave early. 90 minutes later, I was standing in the impossibly posh hall of an upper floor at the Hotel Pierre (yeah, that's Peter in French), knocking on Pete's suite door. About 15 seconds later, he opened the door with a big smile and invited me in.
The room was large, set up like a living room. The furniture and decor was Old World elegant and almost dowdy, the Pierre being one of the most expensive and distinguished hotels in America. Roger, Keith, John, and The Who's crew were all staying around the corner, so to speak, at The Navarro on Central Park South (59th St). Pete wanted to avoid the usual Who/hotel nonsense and had booked himself into the Rich Old Lady hotel an 1/8 of a mile away on 5th Ave.
He sat me down in an armchair overlooking the southeast end of Central Park and took an adjacent seat on the couch. Did I want some coffee or tea? No, but, thanks, Pete.
I spent the next hour flip-flopping back and forth between talking freely to a really friendly cool guy who I sorta knew and/or being just agog.
We talked about "Tommy" and how sick of it I was. "God, we are too, Binky."
He told me his all-time favorite review of "Tommy" was Slade's Noddy Holder's comment that Slade didn't play rock operas. "We play cock opera!", Pete got the giggles just telling me that.
We discussed Gretsch guitars. Pete had used an old Gretsch 6120 that Joe Walsh of The Eagles had given him to record all the electric guitar tracks on "Who's Next" back in 1971. Listen to the tone of that guitar. Unique! At the time, even now to a certain extent, Gretsch was a very outre brand of guitars. As I'd done for years with other models Pete demolished, as soon as I'd heard that that was what Pete was using, I just had to get a Gretsch of my own. When I told Pete that I'd just recently scored a 1960 Gretsch Duo-Jet (a lot like George Harrison's), he immediately asked me if it had the original bridge (the contraption the strings sit on). Mine didn't. It had been replaced with a Gibson tune-o-matic (great name, huh!). Pete launched into a wonderfully passionate technical lecture, complete with a ballpoint diagram on a napkin that was laying on the coffee table, as to why it was imperative that I find an original Gretsch bridge for my Duo-Jet...
"Otherwise the strings won't roll properly when you use your Bigsby. Less sustain, Binky!"
Within weeks, I had an original Gretsch bridge on my guitar.
As a huge fan and friend of the band, I was dying to know what Pete thought of the New York Dolls. He wasn't sure. He hadn't seen them live yet and wasn't knocked out by the recordings he'd heard. I opined that they were the new Rolling Stones, even the bad gigs were great. Pete looked at me distinctly askance and replied, in a slightly haughty manner and sniffed...
"The Stones never had a bad gig!"
Spoken like the true fan he was/is.
The fact is, Pete's nose, in person, really was/is a sight to behold. And yet, in person, he was/is somehow really handsome. Surprisingly so. My Mom had said the same thing about him when she met him in the lobby of the Fillmore East a few years earlier.
As we chatted, I would sometimes find myself staring at his nose while he talked to me in that hotel suite. I would suddenly realize who I was sitting with and just kinda find myself feeling spacey and dreamy.
The fact is, both of us were a bit perplexed by the moment. I'd spent that past seven years living the self-designated role of The Biggest Who Fan In The World. But, for reasons I'm not sure I understand, I somehow knew to not be a pest to Pete. I'd waited in the Gorham Hotel lobby once (the dump on W. 55th St they used to stay in when in NYC), I'd bumped into him at the world famous Manny's music store twice, I'd sat in the front row (or once, even on stage!) for more than 20 shows in New York, I'd hung around the exits of the Fillmore at 2:30 in the morning waiting to see The Who as they left the theater, but, I'd always kept a respectable distance. Even after Pete had met my parents, even after he'd thrown me a guitar , I continued to maintain the fan/star dynamic between us, never following him around or trying to get backstage. This made this encounter in Pete's hotel suite that much more disconcerting.
Just as I would space out, staring at his nose, at least once, maybe twice, I saw Pete's eyes get kinda funny and could feel him thinking... It's that crazy kid from the front row!
On the whole, though, it was a wonderfully relaxed visit. But, I had to drop off a pair of tickets to that night's show for a woman who would soon become my older-woman fling and manager of my band, The Planets. When I realized I was late, I stood up and told Pete that I had to run. He seemed surprised, almost shocked. I suddenly instantly realized that as far as he was concerned, we were hanging out, and then going down to Madison Square Garden together for the show.
As I shook his hand in the hallway, I became flustered, and was inwardly in agony, as I saw my chance to hang out with The Who backstage at Madison Square Garden disappearing before me. I blurted out that it was "really great meeting you." Pete withdrew his hand and said, somewhat coldly...
"Really great meeting me, Binky?! I was under the impression that had happened a long time ago."
Like Neil Armstrong, I'd left out one little word. I'd meant to say 'meeting with you'. I got in the Pierre's elevator, crushed.
But, let me end this little tale with one truly special jolly moment...


About a half hour into my visit, Pete suddenly stood up and announced apropos to nothing in particular that, the secret truth was, if he could have just one musical wish, it would be to be able to sing like Andy Williams. He proceeded to stand in the middle of the room, his arms thrown out a la a Vegas lounge-singer dramatically emoting. Looking me in the eye with a huge smile on his face, he loudly sang, "Out here in the fields, I fight for my meals..." as close to Andy Williams' Christmas Special-style as he could manage. Smooth, suave, square. With me, an audience of one, laughing my ass off!

Andy Williams?!?

Calling all HuffPost superfans!
Sign up for membership to become a founding member and help shape HuffPost's next chapter