This week, families, educators, and reform advocates are celebrating National Charter Schools Week. It's an opportunity to showcase how public charter schools are giving more students access to a high-quality education, while also taking stock of the challenges preventing further progress.
First, the good news. With the passage of Alabama's charter school law earlier this year, 43 states and the District of Columbia now welcome public charter schools. More than 6,700 schools serve around 3 million students. And good data continue to pour in. Stanford University's Center for Research on Education Outcomes recently conducted a study of urban charter schools and found that students enrolled in urban charters gain the equivalent of 40 additional days of learning in math and 28 additional days of learning in reading compared to their peers in traditional public schools.
As word of charter schools' success spreads, more parents are trying to enroll their children. That's a positive sign, but also a big challenge, because charter schools can't yet meet this growing demand.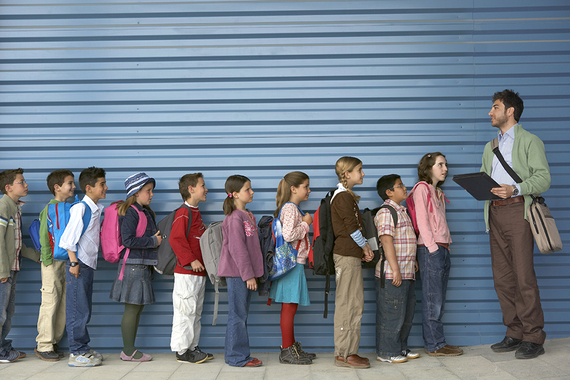 Across the country, there are about 1 million names on charter school wait lists - a figure that's grown 186 percent since 2008. In some cities, there are more student names on wait lists than students actually enrolled in charter schools. According to a new report from the organization I lead, New York has 70,210 charter school students and another 163,000 names on wait lists. In Boston, fewer than 10,000 students attend charter schools, but the wait lists contain 25,700 names. Recently, Boston's Edward Brooke Academies held a lottery for its 240 open seats after 5,750 families applied.
The lists go on and on - 35,000 names on wait lists in Houston; 68,000 in Los Angeles; 18,500 in Washington, D.C. These wait lists don't reflect charter school exclusivity. Nor are they a result of charter schools being new or novel; most of these communities have had charter schools for upwards of 20 years. Rather, the wait lists exist because charter schools have strong reputations for quality, yet are burdened with policies at all levels of government that limit funding and prevent new charter schools from opening and expanding.
Let's start with funding. One of the key factors in creating successful charters is access to capital to launch and to acquire space. Today, the federal Charter Schools Program (CSP) is one of the only sources of public funding for starting new charter schools. This year, Congress appropriated $253 million for the CSP. Charter school leaders are grateful for the support, yet that funding represents less than one percent of the U.S. Department of Education's budget - even as charters have shown an impressive ability to help low-income and minority students close achievement gaps. The Obama Administration has proposed bumping up funding for the Charter Schools Program to $375 million next year, and we hope Congress will agree.
Once launched, charters rely mostly on state and local funds to operate. A report from researchers at the University of Arkansas showed that public charter schools on average receive just 72 percent of the funding provided to traditional public schools. In Indiana, Gov. Mike Pence last week signed legislation to provide higher per-pupil funding for charter schools and low-interest loans to help charter operators pay for facilities (charter schools can't tap bond markets the way school districts can). More states need to follow Indiana's lead.
State policymakers also need to lift caps on charter school growth and ensure that quality standards remain high. Oklahoma just improved its charter law by removing a restriction that limited charter schools mainly to Oklahoma City and Tulsa. Now all communities in the state can open public charter schools.
Oklahoma and Indiana also raised the bar on quality by strengthening their rules for authorizing charter schools. Poor authorizing and oversight practices have allowed some consistently underachieving schools to remain open for too long - hurting students and draining resources from more successful schools. All states should insist that greater autonomy go hand-in-hand with high standards and accountability.
Finally, the charter school community also needs to help parents navigate the complex school choice environment, which can be overwhelming. Colleen Dippel, who taught in a KIPP school and is married to one of KIPP's founders, started the nonprofit Families Empowered to advise parents with children on a charter school wait list. Dippel's group helps parents review all the options and develop a plan to ensure that their children can access a school that best fits their needs. More education entrepreneurs and funders should support this kind of family assistance to help put a dent in these wait lists.
With one million student names on wait lists across America, parents are clearly demanding better educational options. As we celebrate National Charter Schools Week, let's cheer all the ways these schools are bringing hope to students' lives - and also remember how many more children want and deserve the same opportunity.
Nina Rees is president and CEO of the National Alliance for Public Charter Schools.
Support HuffPost
The Stakes Have Never Been Higher
Related
Popular in the Community