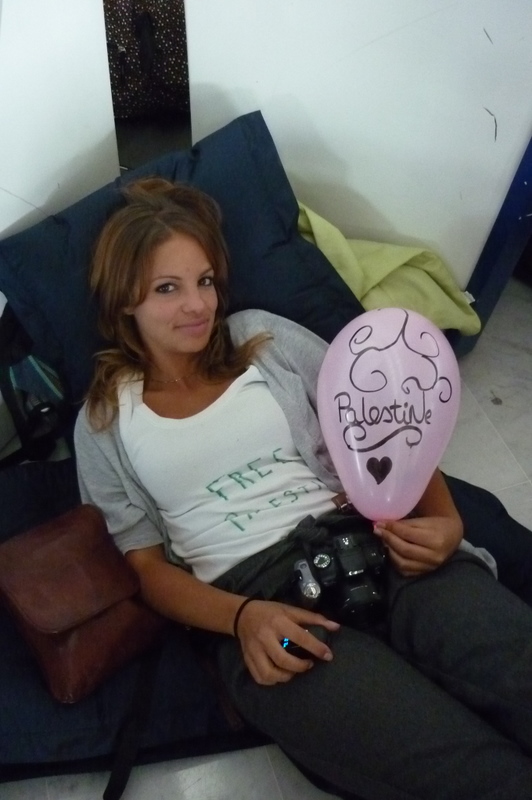 A national security threat?
They are armed with colourful balloons and high spirits. There's a rainbow flag in the midst.
But according to the Israeli government and the airlines that seem to take their orders from it, they are subversive elements and dangerous criminals who should be kept at bay, in what is arguably an international legal precedent.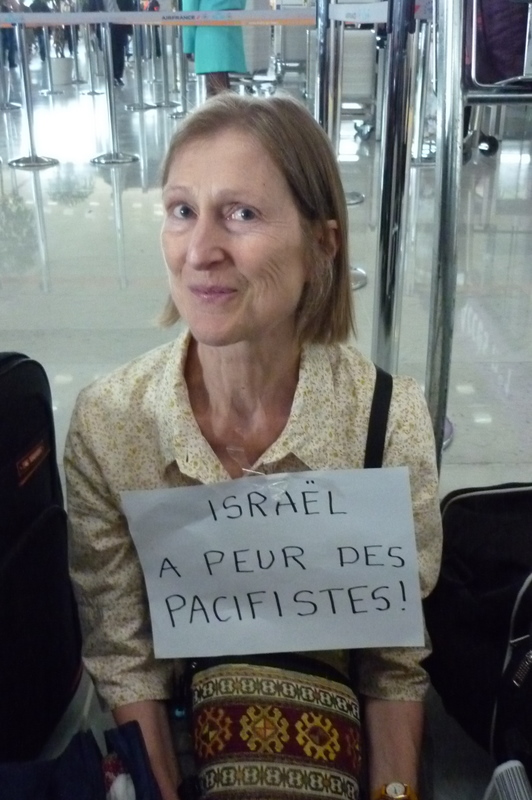 It is a group of 60 people or more. Of all ages, but most are young, seemingly in their twenties. And quite cheerful, despite being stuck at the Parisian Charles de Gaulle airport by orders of the Israeli government which has commanded a number of airlines to not let them on board. Air France, Alitalia, Swiss, Malev, Lufthansa: all have readily obeyed, despite having the choice to refuse.
The group was heading to Palestine via Tel Aviv to express solidarity with the Palestinian people on July 8th, as part of an international campaign to visit Palestine and reside with local families. Their plans have been thwarted by a clearly influential government - and cowardly airlines that have agreed to serve as bouncers for Israel, a sight repeated in a number of European airports.
More than that however, it seems the airlines have decided to add insult to injury by mistreating their passengers. Not a single airline has offered a cup of coffee or a kind word; and now the passengers are struggling just to get their tickets reimbursed.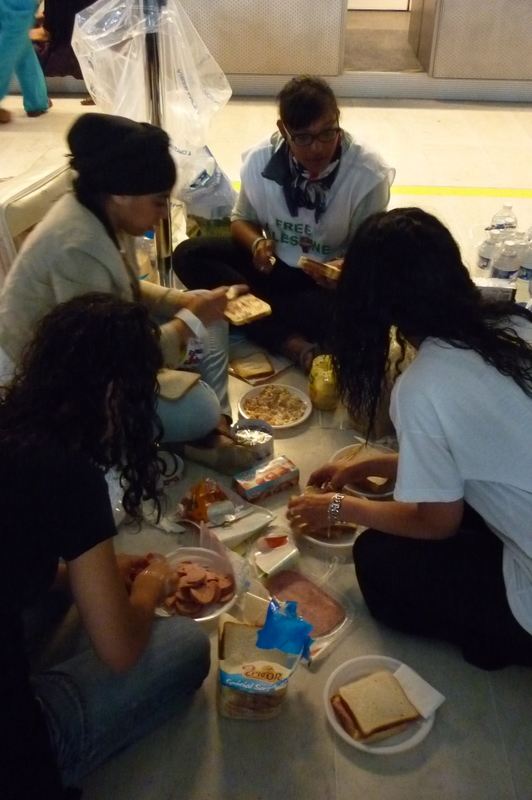 Sofiane, who has been at the airport since 4 am for a 7 AM flight, is adamant. "Israel doesn't just have a long arm - they are bluntly giving the airlines orders and those readily obey. It is unbelievable".
At this moment, a young woman, one of the grounded passengers offers us both sandwiches with a big smile. Some of the group members went out and bought a few basic food items and water. Some had their friends drop by and bring them supplies.
A few minutes later,a youngster comes around with a huge plastic bag, collecting the garbage.

"if you've been refused boarding after checking-in, then you have proof that you came indeed. But if you have no document proving that, what separates you from a no-show?"
The argument, uttered by Isabelle Fleury of the CDG airport authority (left, in the pink and white jacket), is outlandish, but the group is full of praise for her nevertheless. Despite having provided no tangible assistance to the passengers as of yet - again, not a cup of coffee or a blanket - the airport staff are at least present. I ask her colleague Dominique Leblanc why the passengers weren't issued meal coupons or the like - he skips away. Literally. But when a young girl asks him what he really thinks of the entire situation, he has a ready-made response for her: "we are working. We can't have opinions. We must remain neutral".


Some have been there since 4 AM. Some, like Siham, have been at the airport since last night. Siham is in her early twenties. She looks exhausted.
"MALEV (Hungarian Airlines). And we haven't heard from them at all - once we're told they don't even have an office at the airport at all; another that there is an office indeed but that there is no one, at times that there is only someone when a flight is open. Even Air France, we're getting different responses according to which employee we talk to". Siham looks exhausted. "they didn't even bring us a sip of water - we're buying the overpriced water at the airport".
Most striking is the presence of policemen in riot gear. In the airport terminal. They refuse to answer my questions. They do however leave their positions to tell the young passengers to leave the seats reserved for the airline ground personnel; the sight of teenagers laughingly staging a check-in was seemingly too much for them.
"And there were more of them", tells me a passenger. "they must've left when the cameras arrived".