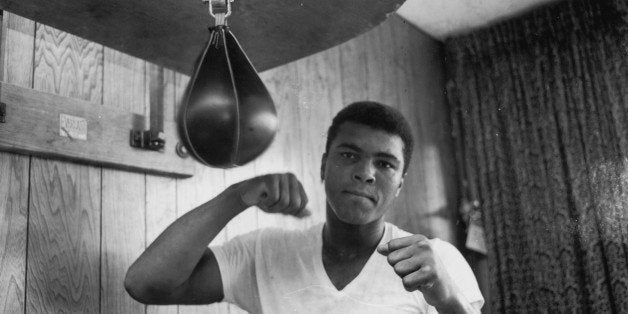 After the New York premiere of Ridley Scott's Hannibal, in February of 2001, I bolted during the credits to dash over to the after-party, which was held in Astor Hall at the New York Public Library. I had come to hug and kiss my friend and idol, Anthony Hopkins. The place was empty, except for the event staff. Within a few minutes, however, some others trickled in. As I glanced into the darkened distance, coming toward me, with a small retinue, was Muhammad Ali.
I approached him, nearly speechless. Tongue-tied as I was upon initially meeting anyone in the entertainment world that I admired on that level (Paul Newman, Gregory Peck, Paul McCartney, Tony Bennett, Julie Andrews) I blurted out "You really are the greatest and it's such an honor to meet you." At the age of 59, only a year older than I am now, Ali spoke softly and moved deliberately, but nonetheless had an unmistakeable twinkle in his eye. In those years before his illness completely muted him, Ali had solved the issue of how to manage the outpouring of adulation that accompanied his most casual appearances by deflecting. "No," he said, "You're the greatest." In his face was a genuine warmth and sweetness.
A brief spin around the Internet shows you a different Ali. Ali the cacophonous, self-promoting man child. Ali the political dilettante, spouting the script of his Muslim tutors. Ali the principled world citizen who refused to buy into the Vietnam death machine insanity and paid a staggering price. Ali the returning challenger, the warrior giving up his body in an effort to demoralize his opponents. Ali summoned them to pummel him. "Give me everything you got," he seemed to advocate. This is on display no more so then the Foreman fight. Foreman's blows, swung like an axe breaking down a stubborn door , eventually gave way to exhaustion and set up Ali's most effective imitation of the fox in the ring. It is the greatest performance of his career and perhaps in boxing history. But to imitate the gods comes with a price. You can rope-a-dope only so long and eventually, the question is who is the dope.
Ali was the greatest showman in sports and entertainment of all time. So when Will Smith, the only actor who could possibly approach Ali on screen in terms of masculinity, cunning and charisma, set out to portray him, his efforts were somewhat doomed from the start. Daniel Day-Lewis can bring Lincoln to life because Lincoln exists outside of our modern media consciousness. He is an old photo, some important words, he is history almost entirely on a page. In the digital world of moving pictures and download-able sounds, Ali's voice, the shifting contours of his body, his expressions, his ideas, his clownishness, his courage, his power and the world's worship of him are everywhere. You knew, and have known for a long time, that when the moment of his death came, immortality would descend. But like very few people in history, he's already been immortal nearly all of his life.
Years after my first encounter with him, he was honored by the Norman Mailer Foundation. Boxing had drawn many great men into his life, like Mailer, who wanted to bask in his integrity and power. My wife, Hilaria, and I attended and while taking a photo with Ali afterward, he sat wax-like and completely still. Behind the camera were members of his family and staff and as the greatest athlete of all time formed a small amount of drool in the corner of his mouth, his sister threw a cloth napkin and hit him square in the offending spot. I quickly tossed the napkin to the floor and click, we had the photo. Ali smiled, a small grin from the champ that caused everyone to laugh. Ali had become the self actualized man, capable of finding and making the positive, generous choice under nearly any circumstances.
It seems that there are so few courageous, tough, humorous, indefatigable, passionate and loving men in American public life right now. The loss of Muhammad Ali is incalculable.
John Cage said that fear in life is the fear of change. If I may add to that: nothing can avoid changing. It's the only thing you can count on. Because life doesn't have any other possibility, everyone can be measured by his adaptability to change.

-Robert Rauschenberg
REAL LIFE. REAL NEWS. REAL VOICES.
Help us tell more of the stories that matter from voices that too often remain unheard.