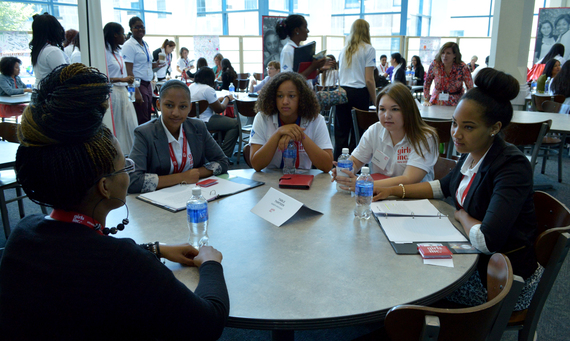 Every day, in communities across the U.S., girls encounter significant obstacles to their well-being and success. They are confronted with messages that their looks determine their worth. They are overlooked in the classroom. They balance school work with supporting parents and caring for siblings. And they experience violations of their personal values, boundaries, and even their bodies.
These real issues coupled with other systematic problems facing girls, particularly girls of color and those from underserved communities, makes growing up a girl a challenge. The Obama administration responded, creating a council right from the start and dedicating significant resources and investment into improving the lives of women and girls.
Yet, too many girls today still do not have the opportunity to be all they want to be - all they can be. We know that powerful mentoring and supportive environments are uniquely able to meet the needs of girls and teens and have a positive impact on their healthy development and long-term well-being. But how do we make a meaningful difference for the 36 million girls living in the U.S.?
That's the question we've been asking ourselves at Girls Inc. The reality is that we have finite resources to address what can seem like infinite needs. What we've decided is to focus on the girls who need us most. Girls facing not only gender barriers but barriers stemming from socio-economics and race as well.
Despite having the largest economy in the world, the United States has the second highest child poverty rate among industrialized nations. A child in the United States has a 1 in 5 chance of being poor. Growing up poor decreases the likelihood a girl will graduate from high school, compromises her health, increases the likelihood she will experience violence, and makes building trusting relationships more difficult.
Girls of color in the United States face additional barriers. They experience higher rates of school suspensions, juvenile arrests, and detention. Black and Latina girls are more than twice as likely to become pregnant as teens. And they face significant opportunity gaps in higher education and the workforce. While there has been improvement, we must be diligent about how we continue to break down barriers and create more opportunities for success.
Philanthropic investment in women and girls is shamefully low. Only about 5 to 7 percent of all philanthropic dollars are invested specifically in programs for girls and women. This is all the more alarming when you consider the power of investing in women and girls. Educating and supporting girls has a ripple effect on their families, their communities, and so the next generation.
As organizations, we must be as effective as we can in developing programs, serving those who need us the most, and leveraging resources to achieve results. And we must work to continue to change the environment in which girls live, advocating for those policies that increase opportunities and remove barriers for girls. This is how we improve conditions for all girls.
On the individual level, each of us can support and empower the girls we know. We can break down limiting stereotypes and help shift a culture that devalues girls to one that truly values them. As family members, friends, teachers, and mentors, we can help girls see and seize the possibilities of their future.
Girls like Shantia from New York City who will be speaking at the United State of Women Summit. Growing up in foster care, Shantia questioned her ability to be successful in life. She was told that "kids like her" don't make it very far. But with the guidance and support of her Girls Inc. mentor Ms. Krystal, today Shantia is a rising senior at Stony Brook University in Long Island, New York, pursuing a degree in business.
When you consider the stakes, empowering and increasing opportunities for girls can feel very daunting. But, together, we can create significant, sustainable change.
Girls across the country today and future generations are counting on us.
Calling all HuffPost superfans!
Sign up for membership to become a founding member and help shape HuffPost's next chapter