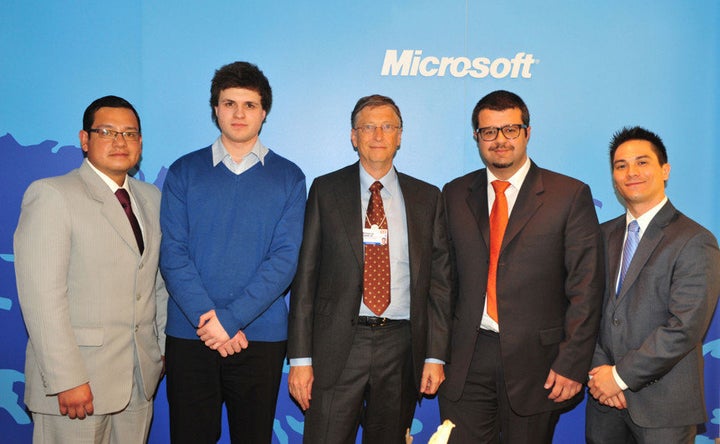 During the World Economic Forum, I had the pleasure of spending time with Dominik Tomičević from Croatia; Jason Wakizaka from the United States; Francisco Perez from Ecuador; and Mohammad Lu'ay Alazzam from Jordan. All four were in Davos for two primary reasons, firstly to participate in a roundtable Microsoft hosted to discuss the challenges and opportunities facing youth around the world, and secondly to meet with Microsoft Chairman, Bill Gates to discuss their projects as the first recipients of the Imagine Cup grants program.
The Imagine Cup Grants program is a three-year, $3 million competitive grant program to help Imagine Cup participants take their ideas and their projects and transform them into a business or nonprofit that can bring the benefit of their technology to the communities that need it most.
The winning teams were chosen from 50 applicants that competed in the Imagine Cup 2011 Worldwide Finals last year in New York City. A judging panel of eminent industry experts from the worlds of technology, venture capitalism, software development, startup culture, and the nonprofit sector ranked each team based on specific criteria including project impact and viability, and team quality and motivation. While the judging process was very difficult, the winning projects are fantastic, and they show the incredible potential of providing young people with the skills and the opportunity to make a difference.
I had the opportunity to spend time with Dominik, Jason, Francisco and Mohammad (pictured above) and it was incredible to hear firsthand how they are using technology to address a range of real world problems from helping children with Cerebral Palsy, to addressing Malaria, making the world more accessible for people with disabilities and opening the world for children with a hearing impairment. With the Imagine Cup grants program, the teams will now be taking the next step in building organizations that can deliver the benefits of their ideas to more people. I'm looking forward to seeing how they progress in the coming months.
Here's some more details about the four winning teams:
Team Apptenders from Croatia: KiDnect
Ivan Antonic, Ivan Borko, Karmela Bresan, Dominik Tomicevic
KiDnect is a Kinect-based solution for on-premise and remote physical therapy for children, especially those born with Cerebral Palsy. This software has the ability to monitor a child's exercises to ensure they are being completed correctly, and then provides statistical analysis to the therapist. Team Apptenders hopes to add multilingual interfaces in order to integrate additional sensors for limb rotation monitoring and advanced data analysis.
Team Falcon Dev from Ecuador: SkillBox
José Vicente Anilema Guadalupe, Gerardo Francisco Pérez Layedra, Henry Javier Paca Quinaluiza, Juan José Morales Ruiz
SkillBox is an affordable solution to help children who are hearing impaired by translating all audio received from a teacher in a classroom into sign language. A wireless headset captures the sound, sends it to the computer and SkillBox then shows the corresponding sign for the word or phrase. Team Falcon Dev hopes to take their first step in making SkillBox available to children by selling their technology solution to public schools in Ecuador.
Team OaSys from Jordan: Horizon
Hani AbuHuwaij, Mohammad Azzam, Monir Abu Hilal, Mohammad Saleh, Yousef Wadi
Horizon is a software and hardware system that allows people who do not have use of their hands/arms to use a computer. Specifically, it tracks head movements and translates these movements into mouse movements. Users get full control of a computer and a cellphone, and can browse the internet, type and connect with ease and at a low cost. Team OaSys hopes to improve the software stack by optimizing and adding features, pilot client lab preparations and hire sub-contractors.
Team LifeLens from the United States: LifeLens
Tristan Gibeau, Cy Khormaee, Wilson To, Jason Wakizaka, Helena Xu
Lifelens is an innovative point-of-care tool to diagnose malaria using an augmented Windows Phone application. The project addresses the unacceptably high child mortality rates caused by the lack of detection and availability of treatment of malarial diseases. Team Lifelens is ready to develop their project for launch. They will use the investment for distribution of their devices, subsidizing the phones and field testing.
What about the next generation of social entrepreneurs?
As the teams get ready to build out their projects, students can now register to be part of Imagine Cup 2012 and can sign up in any of eight different categories. From designing brand new technology in Software Design to building gadgets through the Kinect Fun Labs Challenge, there is something for every student to enjoy. Who knows - your team could be the next group of students Microsoft funds through the Imagine Cup Grants!
Calling all HuffPost superfans!
Sign up for membership to become a founding member and help shape HuffPost's next chapter