Executive Director of Jobs with Justice, Sarita Gupta, was in Honolulu recently to talk about Caring Across Generations, a campaign to empower families and the community to meet the challenges that lie ahead with what some have called the "silver tsunami." The national statistics Gupta cited should give us all pause. By 2040, nearly 30 million people will need some form of direct care in their homes to meet their basic daily needs. According to the Hawaii State Plan on Aging, by 2035, one third of the population here will be over 60 and predominantly female. "Over the next three years, we must add another two million home care jobs to the three million we now have just to keep up with this growing need nationally. "For that to happen we must make sure home care jobs are good quality jobs, " she said.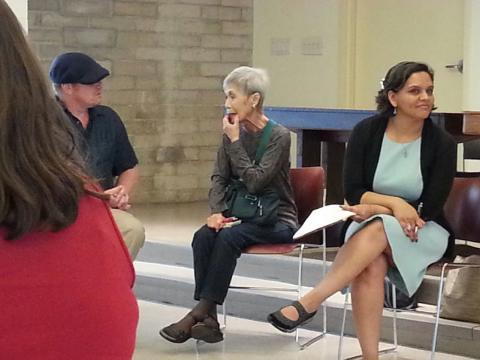 Sarita Gupta (far right), ED of Jobs with Justice, encourages the sharing of personal stories of caring for aging family members before her talk in Honolulu.
One of the most important things caregivers--and policy-makers-- can, and should do, is listen more attentively to what people say they want and need, whether they are family members or constituents. "The rest of the nation is watching what Hawaii is doing about preparing for the needs of its aging population. We need to have fair wages for homecare workers but also give consumers the ability to pay for the care they need. The rest of the nation, Gupta said, is watching what Hawaii is doing. This state is apparently ahead of others in proposing legislation that could help address the economic and social challenges of long term care. Given Hawaii's demographics, the early death of SB 727 and HB 1253, championed by FACE Hawaii is especially disappointing.
"But we are continuing to talk to insurance companies and legislators. We want to help them see that it is in their interest to address this issue sooner rather than later," said Drew Astolfi, outgoing director of FACE Hawaii. Astolfi has worked on a variety of social justice issues from homelessness to public education to payday loans during his ten years with FACE Hawaii.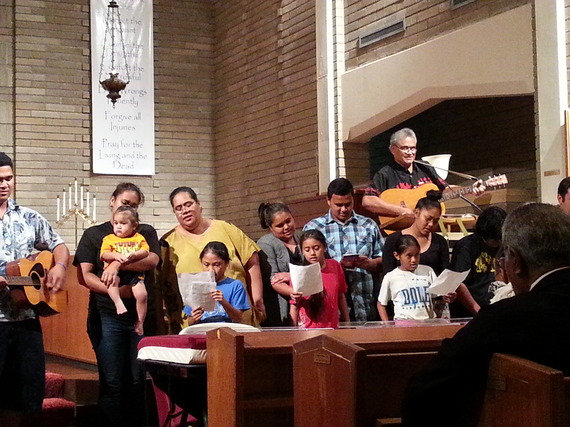 "Proverbs from our Families": At an inter-faith service at St. Elizabeth's Episcopal Church in Oct 2014, FACE Hawaii brought the community together to share wisdom, stories and songs handed down from parents and grandparents.
Caring Across the Generations: Borrow Good Ideas
Clearly, elder care is a multi-generational project. "Baby boomers and millenials, as well as seniors themselves, must join forces to assert publicly that caring for our aging population is a priority," said Gupta. We have more senior citizens than at any other time in America's history--13% of the population versus 3% a hundred years ago. Every eight seconds a person turns 65 in America. That's 10,000 people a day or four million a year!"
Good public policy happened when we made clean water, education, social security--and many other issues--national priorities. It's time to do it again. Women are leaving the workforce prematurely to care for aging parents. "They are forfeiting, not just immediate income, but contributions to Social Security. That raises the specter of millions of women aging into poverty themselves. We cannot let that happen. We have to talk, for instance, about care credits that can be paid into Social Security for the work they do caring for family members," said Gupta.
This is not a problem unique to America and much can be learned by looking abroad. Gupta cited the case of Japan where people who do volunteer tasks for a neighbor can enter their hours into a system that logs their "care currency." That can then be tapped by their parents living elsewhere to get the help they need.
Millennials Are Engaged
The millennial voice was very much present in the discussion with Gupta in the person of April Bautista, co-founder of the Aloha DREAM Team, along with Shingai Misaya and Gabriela Andrade.
The Aloha DREAM Team is a mixed status, multicultural, youth-led group determined to educate, engage, empower and organize immigrant youth in Hawaiʻi.
Bautista had learned the value of caring across generations from the example of her parents and grandparents. "My Lola (Tagalog for grandmother) moved across the country to take care of me when I was younger," she said. So when she graduated from the University of Hawaii, Manoa, she willingly moved back to California to look after her ailing 90 year old grandmother. "It was a no-brainer for me," said Bautista.
"Social media is where we are connecting with young people," said Gupta. But all kinds of innovative projects are springing up too. She mentioned "Thrift Stories" that tries to tap into the love many millennials have for vintage items. They want to work with local thrift stores in New York to place a card in each item in their stores that tells the story of the original owner. "We want young people to look beyond the fads of the day to remember the stories of yesterday and the legacy of love of those who went before them."
"Caring Across Generations is a campaign firmly grounded in values: we nurture the idea that we all have an obligation to do our part to ensure the well-being of those around us. That idea is fundamental to how this country was built. We have to keep building," said Gupta.
As one self-described retiree and FACE Hawaii member at the talk pointed out, it would be both smart and ethical to do as much to protect the public good as we do to protect private wealth.