Nine women are joining ONE this week on a listening and learning tour through Ghana and Sierra Leone. Here is my report from the ground.
These women work hard, and their spirit amazes me. They come here because this farm is the key to a better future for themselves and their families. The transformation that is taking place in Ghana is not unlike the changes we have seen in the States. Women get a job and make money. They are able to invest this money, make small profits, and bit by bit, they gain greater control of their lives.

With greater productivity on these farms, the women are less vulnerable to the whims of the weather, not to mention changes in their government and personal lives. These women prove that they are successful in business, garner respect from their neighbors, and become leaders with the power to make improvements in their communities.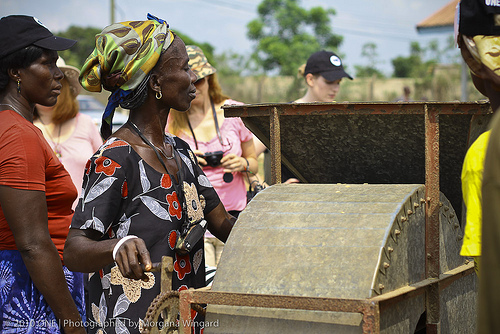 One of the female workers at the TechnoServer Rice Farmers Cooperative in Ghana demonstrates to members of ONE how they mill the rice after it has been harvested from the field.
Interestingly, statistics show that women working on farms like these are likely to invest their profits well. Some studies estimate that women invest up to 90% of their extra income in their families, compared to only 30-40% for men.

On a national scale, women are key drivers of economic growth, particularly in the agricultural sector. The farm we saw today is funded through Technoserve, an organization that focuses on providing people living in poverty with access to productivity-enhancing tools like seed and fertilizer. Technoserve also works with these people to develop entrepreneurs and institute good business practices. Technoserve works with public and private-sector partners, including U.S. Agency for International Development and the Bill and Melinda Gates Foundation.

The rice farm we visited this morning is one of those projects. This partnership is enabling women with greater access to high-quality seeds, fertilizer, and training for their farms. Women actually produce up to 80% of the food produced in the developing world, where agriculture is the backbone of most economies. That means that these women, by showing up to farm every day, are not just feeding their families for the day. They are helping to pull their countries out of poverty and feed entire nations.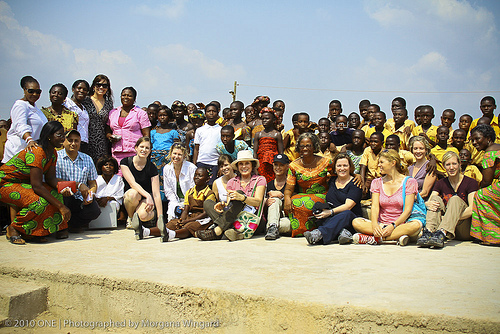 Studies show that if women were just given equal access to agricultural products like seeds, fertilizer, and training, agriculture yields could grow by over 20%. By investing in women in agriculture, the United States is stretching its dollars to fund sustainable development that is giving these people ground to stand on in the long term. With more funding for projects like this one, more women and their children would be going to school, receiving better health care, and, critically, would be helping their local economy grow--possibly the most important pathway out of poverty.

We also visited a school that is being funded by the Millennium Challenge Corporation and USAID in Nyanyano. There we were able to visit a few classrooms and met a wonderful group of committed teachers and administrators who were proud to show off their new facilities. Under very trying circumstances, these men and women are working everyday to ensure that young girls have the same access to education as young boys. In our classroom visits, it was clear that young girls are attentive students and active participants in their lessons.
Before we departed the village, we were treated to memorable performances by the students. First, the children entertained us with a four-act musical drama that told the story of the importance of educating young girls. The story revolves around a mother, father, son and daughter, all played by the children, and narrated by a student choir. The father refuses to allow the mother to pay for education for their daughter and throws the mother and daughter from his home, his decision has long-term consequences. He stays with his son who does not take care of the father in his old age, while his daughter continues her education and goes on to become a doctor. When the father becomes ill as an old man, he goes to the hospital only to be treated by his daughter. When the daughter recognizes it is her father she refuses to treat him and he begs for her forgiveness. It is only when the mother reappears that she brings the family back together again. The ONE delegation was delighted by the creativity and spirit of our young theatre troop and roared our approval!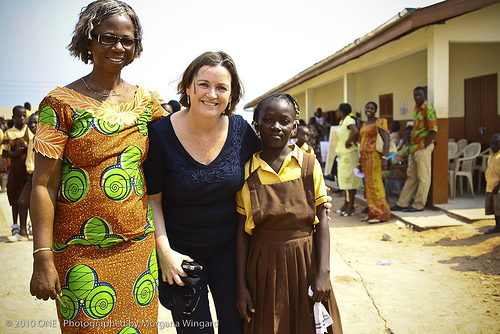 Maura Keefe, Chief of Staff to U.S. Senator Jeanne Shaheen, in Ghana with Joyce, a student at a school funded by Millennium Challenge Corporation and USAID.
An additional part of our send off was a poem read by a young girl names Joyce. Joyce, wrote a poem about the importance of empowering women. And, I have to say, it made me tear up. You cannot help but be inspired by the changes that are happening for women in Africa. I cannot do our young poet justice, but you can see her presentation in this video:
From education to agriculture, women's economic participation is critical to long-term poverty reduction. I'm convinced that if all Americans witnessed what I saw today, they'd be moved to even greater action to make sure that the U.S. continues to invest in the women I met here at the Technoserve Rice Farmers Cooperative and through the Millennium Challenge Corporation.

REAL LIFE. REAL NEWS. REAL VOICES.
Help us tell more of the stories that matter from voices that too often remain unheard.