For the first week of November in New York City, "drinks are on us," says meetMoi, a dating site hoping to lure users to their new location-based savvy iPhone app with rounds of free drinks.
Location-based you say? Yes, they are all the rage these days. But this isn't just any dating app that allows you to play with location based services (LBS). (In case you haven't heard of Grinder, the gay community has been using this type of app for years.) The meetMoi iPhone app uses "persistent location" to passively geo-locate you rather than actively check you in a la Foursquare or Facebook Places. Andrew Weinreich, meetMoi's CEO and the Chairman of Xtify, the geo-notification ASP powering the meetMoi app, explains the difference between active "check-ins" and passive "persistent location" in a recent HuffPost blog post.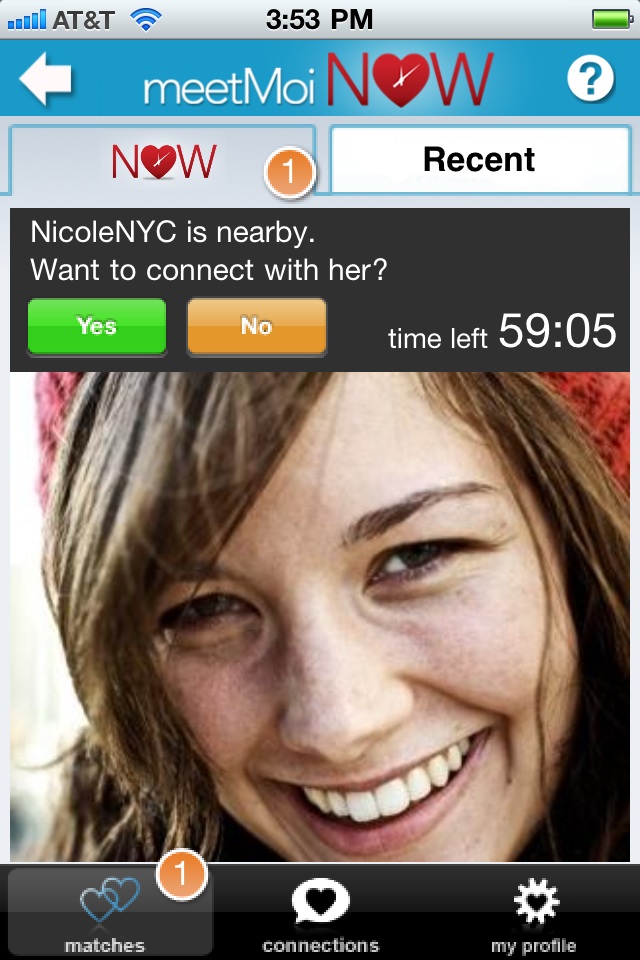 The meetMoi NOW app is free. Download it, enter your basic profile information and throw it in your purse or pocket. On the iPhone, the app runs in the background, processing your location while pairing you up with nearby singles that match your profile preferences. (In contrast to using the phone's GPS, meetMoi grabs user location at the OS level presented by Apple or Android. This process of reverse triangulation causes virtually no diminution in battery life.) Whenever two users with matching preferences are near one another, meetMoi NOW notifies them both, allowing them to begin a conversation like in the images above and below. To encourage face-to-face meetings when people are near one another, connections made through the service expire after 60 minutes.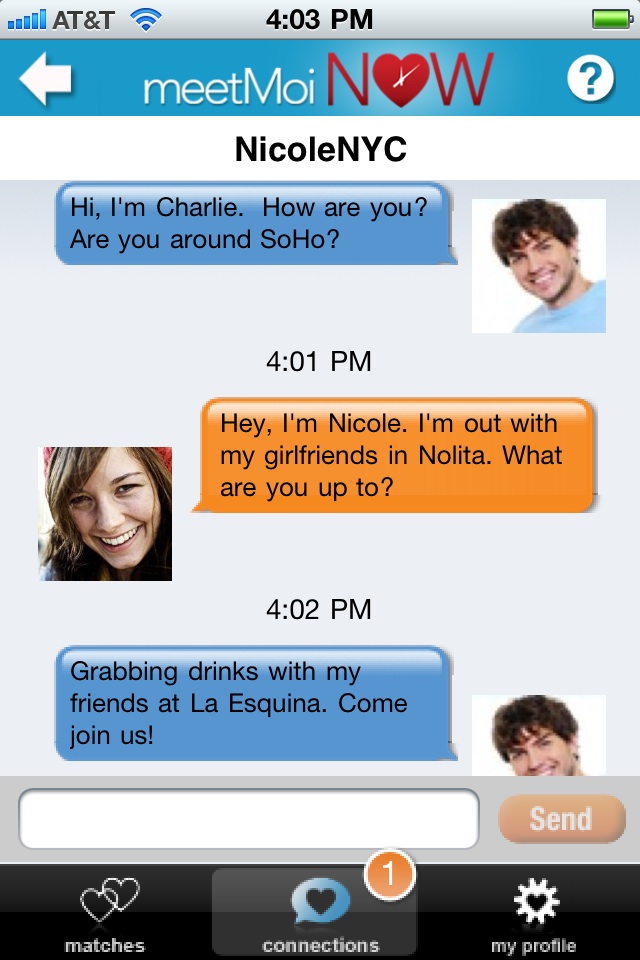 "The iPhone application joins our existing Android app to offer a paradigm shift in interactive dating," said Andrew Weinreich, CEO of meetMoi. "Not only does meetMoi NOW find the people you want to meet in your area, it introduces you by making your profiles appear on each other's phones. It's fun and effortless -- most other dating services require weeks of searching before you actually meet someone in person."
To promote the launch in New York City, meetMoi is hosting a weeklong event called "Drinks On Us" for a select group of 500 single New Yorkers. From Nov. 1 to Nov. 5, users using the meetMoi NOW app will receive a free round of drinks at a suggested nearby establishment when they meet up with another user.
To participate in "Drinks on Us," users may register at www.MeetMoi.com/drinksonus, download the app to their iPhone or Android device and create a profile. Participants must be single (or at least ready to mingle) and 21+ plus.
Here's to romantic spontaneity in the digital age. Cheers.
REAL LIFE. REAL NEWS. REAL VOICES.
Help us tell more of the stories that matter from voices that too often remain unheard.