Meetup founder Scott Heiferman founded his first startup, an ad tech company called i-traffic, in 1994. Five years later he sold it to Agency.com. And Heiferman had what many early stage entrepreneurs with an exit face - a bit of an existential crisis. Heiferman told Chris Dixon of Techcrunch he "went a little bit crazy not knowing what I wanted to do with my life." Heiferman tried a bunch of things, worked at McDonald's, and then did a startup called RocketBoard that he describes as a "colossal failure."
It was then Heiferman got some advice that has driven Meetup.com since it's founding --to create products to help the greater good of society.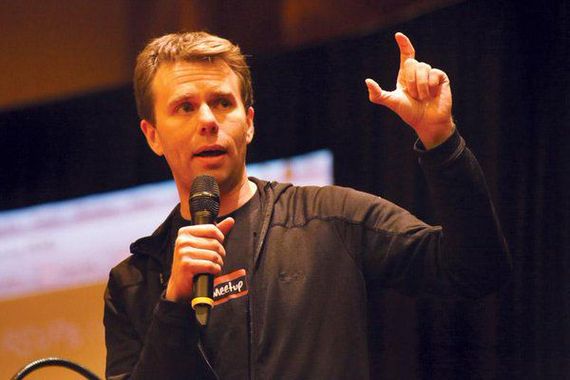 Heiferman was living in lower Manhattan and watched the terrible attacks and aftermath of 9/11. It was in the shadow of 9/11 that he understood the power of person to person connections.
"I never thought I was interested in community," Heiferman told the Observer. "But that experience led me to the basic questions of 'What brings people together? What gets them to talk to each other? How do people form powerful groups that can do good things?'"
Meetup now has over 30 million members who are part of 250,000 different groups. And while Meetup's roots may be in 9/11, and had an early base of political users like Howard Dean supporters, the bulk of the growth in Meetup has been far from political. People run marathons, connecting via running Meetups. They gather at writing Meetups. Meetup facilitates face-to-face human connection. (Disclosure, I'm a Meetup organizer, and run a Meetup in New York called The NY Video Meetup.)
But until February 6th, 2017, Meetup was a platform for individuals and groups to facilitate their passions. "We've never taken a partisan stand," Meetup wrote in a heartfelt post to its users on Medium.
"For almost 15 years, Meetup has served as an organizing platform for a wide range of political parties and movements, welcoming everyone from the Howard Deaniacs to the Tea Party. 'We're vital plumbing for democracy,' we always said. Before today, our company had never taken a partisan stance. It's not a decision we take lightly."
But the NY tech company today finds itself facing a crisis that it is uniquely suited to address.
"We are Meetup, dammit! We needed to act" wrote Meetup. "After Donald Trump's order to block people on the basis of nationality and religion, a line had been crossed."
So Heiferman and his team literally stopped Meetup in its tracks - paused operations - to gather for a hackathon. The effort resulted in 1,000 new Meetup Groups under the hashtag #Resist. It announced the new groups to their 30 million members. And it partnered with organizations including Planned Parenthood, the Anti-Defamation League, Amnesty International, the Human Rights Campaign, the Women's March, and many others who are contributing to a library of ideas for making change.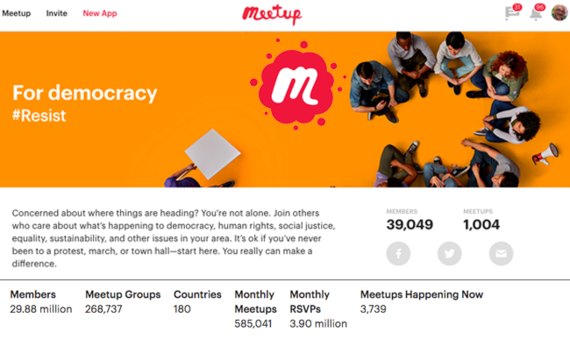 The decision for Meetup to take a stand doesn't come without risks. Without a doubt, some people in Meetup's current user base are supporters of the current administration and its actions. The comment's on the Medium post include things like this - "Liberally Lisa: Bravo! Thank you Meetup!" But there are a number of less positive responses. "Lorene Evans: Why the name Resist? This makes me want to close my Meetup Group." And this: "Kendra Pearsall: Dear Meetup, I'm not a big fan of you organizing your Resist movement to push the Progressive Propaganda. You're alienating all your Conservative members by getting ppl to protest real progress in this country."
No doubt taking a stand isn't a decision that Heiferman or his team takes lightly. "At a time when core democratic ideals felt under attack, We felt a duty to spark more activity and broaden civic participation" posted Meetup. And at 30 million members strong - it's a decision that is certain to spark action, and some controversy.
Calling all HuffPost superfans!
Sign up for membership to become a founding member and help shape HuffPost's next chapter