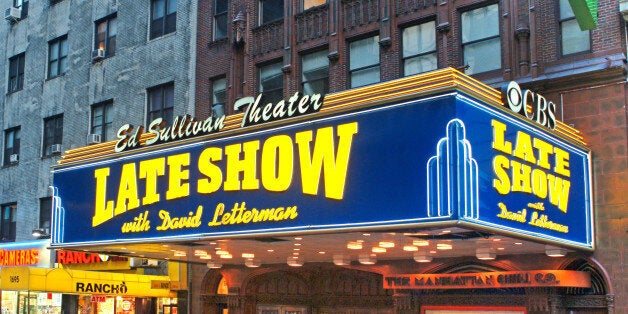 Meg Parsont, an occasional guest star on David Letterman's original NBC program, is momentarily stumped when asked how she'd advise the talk-show host to fill his retirement years after his last late-night show airs on CBS on Wednesday. "I don't know ... get a pair of binoculars and take up bird-watching?" she suggests, laughing.
Perhaps birds sprang to mind because, in 1992, Letterman arranged to have a hawk fly through her window and into Parsont's midtown Manhattan office. By then, Parsont had made cameos on Late Night with David Letterman for two years. As head writer Steve O'Donnell told People Magazine in 1991, while looking for "dumb ways to kill network time," he realized he could see into the offices in the high-rise building across the street from Letterman's studio on West 49th Street. A list of phone numbers was procured and Letterman dialed randomly. The first person to pick up was Parsont, a young publicist for Pocket Books.
"At first, I did assume it was a phony phone call. That's the cynical New Yorker in me," she remembers. "But Dave said, 'Turn around and look out the window and you'll see all our colleagues in the NBC building waving at you,' and there were many, many people waving in their windows."
Parsont estimates that she appeared on the show -- mostly via phone, but occasionally in the studio -- 30 times over three years. "I never knew in advance when they were going to call. It was truly spontaneous," she says. Her colleagues, however, would sometimes be tipped off because Letterman staffers would come over ahead of the call. "They'd be standing outside in the hallway equipped with whatever props were on the ticket for that day and we would start our conversation and next thing I knew, they would come in with bags and bags of Nerf balls" to be thrown out her window, Parsont says. She also tossed beach balls, flower petals and water balloons from the 14th floor for Letterman's cameras... "only soft things."
"They had to let in a live turkey once because, Larry 'Bud' Melman [real name Calvin DeForest] was sent over dressed as a Pilgrim and he was with a farmer who had brought a live turkey. I had the Harlem Boys Choir in my office, I had [actor] Billy Dee Williams in my office," Parsont recalls. "The time that he would call was 5:30. It really didn't cut into the work day," she says with another laugh. "I want make that clear!"
Letterman and Parsont would also chitchat on air. He would inquire about her then-boyfriend Tony, though he insisted on calling him Timmy. On the day of the hawk flight, Letterman suggested that presidential candidate Paul Tsongas was guilty of "weenie behavior," and Parsont exclaimed, "I think they're all guilty of weenie behavior!"
When Letterman moved to CBS and a new studio in 1993 -- and Late Night became Late Show with David Letterman -- the calls and stunts came to an end. Parsont says she didn't miss her bit of fame. "It really was fun, but I never thought, 'Oh my gosh, this is the life for me.'"
Parsont still lives in Manhattan, working as a publicist for publishers including Abrams and Phaidon. She has something of a specialty in coffee-table books. A favorite in recent years was a photo retrospective on the career of another funny man, "Weird" Al Yankovic, whom she describes as "a lovely person, not that weird at all." She's been married to actor/singer/lawyer ("in that order," she specifies) Daniel Katz for nearly 13 years; they met while playing softball. Katz is a great gift-giver, Parsont says, but it's hard to top the time that Letterman got a city permit to stop traffic in order to send a marching band down 49th Street for Parsont's birthday.
"My husband has tried and he's done very well," Parsont says with a certain understatement that endeared her to Letterman and his viewers. "But that was kind of big deal."
Popular in the Community