Meg Ryan, Hollywood's undisputed romantic comedy queen for much of the 1980s and '90s, is ready to reclaim her crown this fall.
Audiences got their first look at "What Happens Later," which Ryan co-wrote and directed, with the release of a new trailer on Wednesday. The movie follows Willa (played by Ryan) and Bill (David Duchovny), a former couple who reconnect after being marooned at an airport during a blizzard.
With their flights delayed indefinitely due to the storm, Willa and Bill catch up on the two decades that have passed since they last saw each other, and reflect on the failure of their past relationship.
In true rom-com fashion, the pair rediscover their long-suppressed feelings for one another, and start to wonder if their reunion is mere coincidence. "I have a good life, but I never again met anybody that made me feel the way you do," Duchovny's character proclaims at one point.
Watch the trailer for "What Happens Later" below.
Due out Oct. 13, "What Happens Later" is based on Steven Dietz's widely-produced 2010 play, "Shooting Star." The film also marks Ryan's return to acting after an eight-year hiatus. Perhaps even more significantly, it's her first romantic comedy role since 2001's "Kate & Leopold."
"Nora Ephron used to say about rom-coms that they were really a secretly incredible delivery system to comment on the times," she told Entertainment Weekly in an interview conducted before the SAG-AFTRA strike, "and we do that in this movie."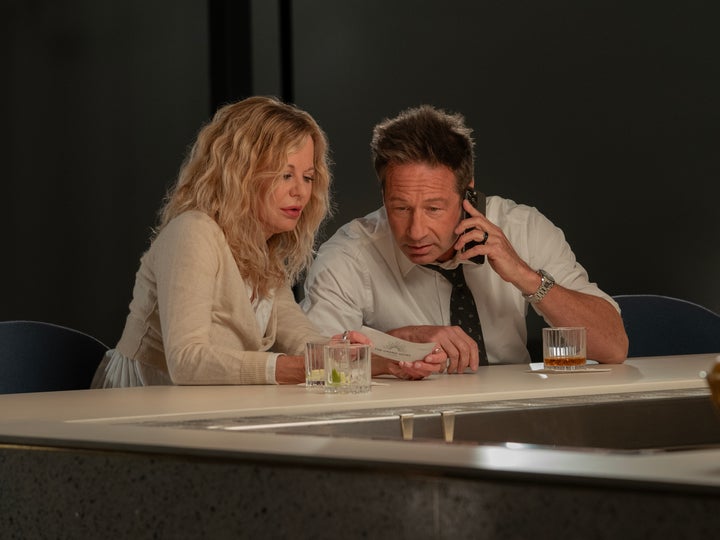 She also praised Duchovny for his "irresistible" performance in the film, noting: "These rom-coms really work when the two characters are somehow opposites and yet have a rhythm of intellect and humor and dialogue and banter that sort of indicates their compatibility. So, it's just been really fun to see David embrace this guy who I don't think is anything really like David."
Ryan, who rivaled Julia Roberts as one of the movie industry's most bankable female actors during her heyday, has been candid about her decision to step away from the spotlight in recent years. And like many women in her demographic, she's also faced an undue amount of scrutiny over her appearance.
"I was burned out," she told The New York Times Magazine in 2019. "I didn't feel like I knew enough anymore about myself or the world to reflect it as an actor. I felt isolated."
At the time, she also hinted that she was actively pursuing more opportunities to direct films after making her directorial debut with 2015's "Ithaca," with an eye toward her preferred genre.
"I'm aware now that romantic comedies are confections, but they have construction," she added. "There's architecture. It's not something I was aware of back then."
Support HuffPost
The Stakes Have Never Been Higher
Popular in the Community