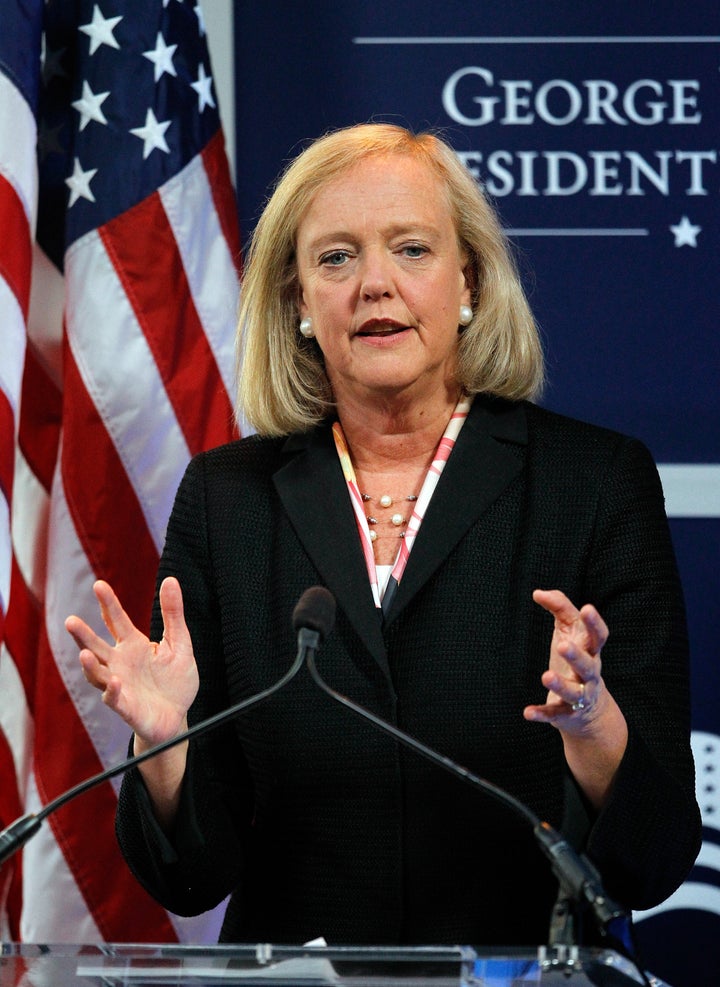 Hewlett-Packard Co named former eBay Inc Chief Executive Meg Whitman as its new president and CEO, replacing unpopular leader Leo Apotheker at the helm of the largest U.S. technology company.
The move, effective immediately, confirmed earlier reports on the impending change.
"We are at a critical moment and we need renewed leadership to successfully implement our strategy and take advantage of the market opportunities ahead,'' said Ray Lane, who has moved from non-executive chairman to executive chairman of HP's board.
Referring to Apotheker, Lane said the board believes "the job of the HP CEO now requires additional attributes.''
The board also plans to appoint an independent director.
But the group was not preparing to make changes to its strategy, one source told Reuters.
This was contrary to Wall Street speculation that Apotheker's departure -- which would make him the third straight HP CEO shown the door -- might presage a backtracking on major decisions taken during his term.
Those included a possible spinoff of its personal computer division -- the world's largest -- and the planned acquisition of British software maker Autonomy Corp Plc, which has some investors worried that HP is overpaying.
HP's board convened again Thursday to thrash out a host of issues, including jettisoning Apotheker, who in less than a year on the job slashed sales forecasts several times, backtracked on promises to integrate mobile software into devices and struggled to halt a 50 percent plunge in the share price.
But Whitman, whose forte is consumer and Internet retailing, might not be an ideal choice, analysts say.
The failed California gubernatorial candidate transformed eBay from a few dozen employees in 1998 into a global Internet retail powerhouse, but the final years of her reign were marked by sputtering growth, intensifying Wall Street criticism and a string of unwise acquisitions, including of Skype.
HP's shares closed down 4.8 percent at $22.80, wiping out much of Wednesday's 6.6 percent gain. Investors' enthusiasm over a change at the top has waned and the Street has turned its attention toward HP's uncertain fundamentals, analysts say.
The storied Silicon Valley computer maker is fighting to restore its crumbling credibility. If Whitman took the reins, she would have to galvanize growth at a company that gets more than a third of its revenue from a slowing European economy, and is struggling to offset sliding PC revenue with services and software.
"Some might be saying maybe Meg Whitman isn't the right person, either. She's not a hardware person,'' said Auriga analyst Kevin Hunt. But HP "just needs someone to set the direction.''
The full HP board had not formally voted on Whitman's appointment as CEO but the process to usher her in was on track, the two sources told Reuters.
Whitman's record at eBay came under scrutiny during her ill-fated campaign for California's governorship. Analysts question whether her stewardship of eBay prepared her to steer a sprawling enterprise and computer giant.
The billionaire is credited with catapulting eBay into the upper echelons of a then-nascent e-commerce arena, and taking it public. But critics note she pushed hard to acquire Internet telephony service Skype, beginning a long and ultimately fruitless attempt to wring value from it. EBay eventually unloaded it, and it ended up with Microsoft Corp.
Her successor, John Donahoe, spent years engineering a turnaround and trying to rekindle stalled growth.
"While we believe she has proven to be a very capable manager helping grow eBay from a start-up into one of the largest Internet companies, we think an ideal candidate for HP should have extensive experience in the enterprise market,'' Stern Agee analyst Shaw Wu said in a client note.
Better choices would include HP enterprise chief Dave Donatelli and PC head Todd Bradley, two names that had also made the rounds in Silicon Valley for the top job after Mark Hurd's ouster in August 2010, he added.
On a more personal level, opponents on the campaign trail last year raised questions about her fierce temper and imperious manner with employees, and even about her integrity after it emerged that the wealthy former CEO had employed an illegal alien maid.
(Writing by Edwin Chan; Editing by Gunna Dickson, Gerald E. McCormick and Richard Chang)
Support HuffPost
The Stakes Have Never Been Higher
Related
Popular in the Community