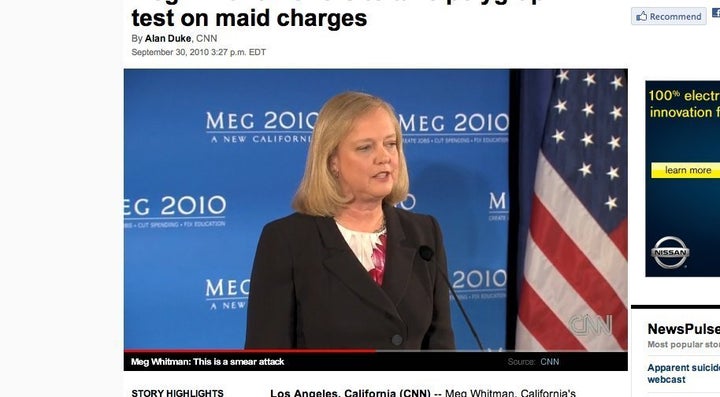 Republican Meg Whitman's gubernatorial campaign in California has been rocked by allegations that she knowingly hired an undocumented worker as a housekeeper.
Whitman has categorically denied that she knew Nicky Diaz Santillan lacked papers. Gloria Allred, Santillan's lawyer, claims Whitman is lying and insists she has the evidence to prove it. Allred told George Stephanopoulous on GMA:
I told the press that there was a 2003 letter that was sent by the Social Security Administration -- what's called a mismatch letter -- indicating to the employer that there was a mismatch in the Social Security number that was provided by the employee.
Whitman denies ever having seen this letter and said she would be willing to take a polygraph test to prove her that she was "really stunned" to discover Santillan's undocumented status just last year: "If it comes to that, I would be delighted to do that." She said it's possible that Santillan hid the letter from her.
Whitman accused her Democratic opponent Jerry Brown of being behind the whole story in an effort to smear her.
The AP reports on how these accusations have become a major distraction for her campaign:
The immigration flap has served as a major headache for Whitman in her tight race against Brown. They are in a dead heat according to the latest polls, despite Whitman having spent nearly $120 million of her fortune so far.

Whitman has called for tougher sanctions against employers who hire illegal workers, and the allegations could undercut her credibility just weeks before Election Day and damage her image, particularly with Hispanics she has pursued for months.

When asked why she didn't turn the former employee into authorities, Whitman said "I was very fond of Nicky and I didn't want to make an example of her." She said her current housekeeper is "absolutely documented to work there."
For more on this race, click here.