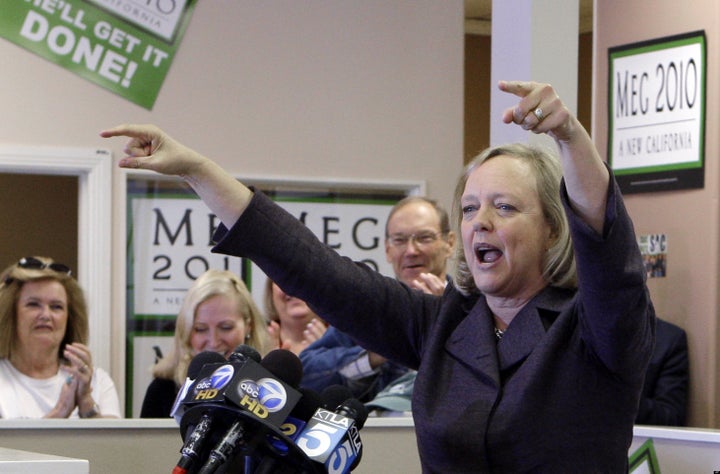 There were the fundraisers at the U.S. Grant Hotel in San Diego (cost to stage: $71,000), the Beverly Hilton in Beverly Hills ($42,900), the Bernardus Lodge & Winery in Carmel Valley ($20,564), and the Princeton and Harvard clubs in New York City ($12,300 combined).
Then there were the private flights aboard ACM Aviation's corporate aircraft ($961,000), the legal bills from the Sacramento firm of Bell, McAndrews & Hiltachk ($845,000), and the donation to the state Republican Party ($248,000).
Tack on $11.6 million for political consultants, $10.5 million for mail and an astonishing $109.7 million for broadcast advertising, and you get an idea of how Meg Whitman spent more than $160 million - most of it her own money - on her campaign for governor of California.
Expenditure reports filed with the secretary of state's office only cover the campaign through Oct. 16, so the final spending numbers will be higher.
But a California Watch review of the candidates' spending underscores the extraordinary amount of money the former eBay CEO spent in an effort to get traction against Attorney General and former governor Jerry Brown.
Overall, Whitman outspent Brown by $6 to $1, the records show, but as voters went to the polls today the veteran Democratic official was leading the Republican political newcomer in most polls.
Whitman's biggest single expense ($106.9 million) was for her barrage of broadcast commercials. It was booked by Virginia-based Smart Media Group.
But she paid more than $1 million apiece to seven other vendors:
* the Majority Strategies direct mail concern ($5.4 million)
* Arena Communications, GOP political mail experts ($5 million)
* Campaign advisor Scott Howell, whose "strategic media firm" touts ties to Karl Rove ($4.5 million)
* Tokoni Inc., a social networking concern that worked for Whitman in the primary ($3.8 million)
* strategist Mike Murphy's Bonaparte Films LLC ($1.1 million)
* SJZ LLC, a Massachusetts fundraising firm founded by Spencer Zwick, an adviser to former Gov. Mitt Romney ($1.1 million)
* Intuitive Technology Solutions, which stages events ($1 Million)
Even though Whitman's campaign was largely self-financed, she also spent heavily on fundraising. Payees included GOP fundraising specialist Jill Huerter ($696,000), the online fundraising concern BlueSwarm LLC ($640,000) and On Target Fundraising of Oregon ($528,000).
Whitman brought in top GOP talent and paid advisers generously. Biggest payouts went to campaign manager Jillian Hasner ($829,000), senior adviser Jeff Randle ($512,000), deputy campaign managers W. Todd Cranney ($350,205) and Tucker Bounds ($273,000), and press secretary Sarah Pompei ($202,000).
For his part, Brown deferred spending until the campaign's home stretch, so the final numbers will be bigger and the ratios reduced. Still, his campaign was extraordinarily bare bones.
Like Whitman, Brown's biggest expense was on broadcast ads. But his $21 million in billings from Luc Media Group was 20 percent of what Whitman spent. Brown had only one other vendor who was paid more than $1 million: Stearns Consulting, which received $2.5 million for handling direct mail - 25 percent of what Whitman spent.
Otherwise, Brown had few consultants, spending $167,000, about 1 percent of what Whitman spent. Most of that went to campaign manager Steve Glazer, who was paid $121,000 - 15 percent of what Whitman's campaign manager was paid. Brown's spending on campaign worker salaries was 2 percent of Whitman's, the records show.
Click HERE for a complete spending breakdown
Related
Popular in the Community