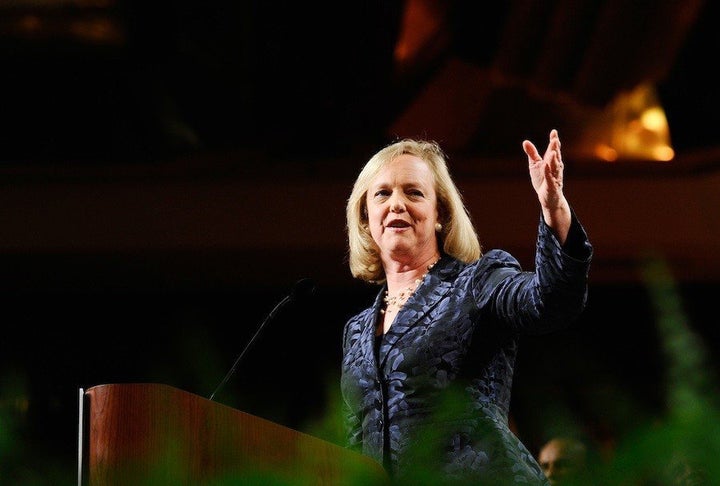 The 2010 Republican nominee for governor of California is back. And apparently out of her leading role in her mentor Mitt Romney's formerly frontrunning campaign for the Republican presidential nomination. She won't be running California, but she will be running a California icon.
Months after losing in a landslide to Governor Jerry Brown, billionaire Meg Whitman is back at the helm of a big Silicon Valley company. The former eBay CEO, who waged the biggest-spending non-presidential campaign in American history last year, only to be crushed by Brown, 54% to 41%, joined the board of Silicon Valley icon Hewlett-Packard in January. And today, with the HP board firing its third CEO in six years -- a spate which began with Carly Fiorina, who also lost in a landslide last year in her bid against Senator Barbara Boxer -- Whitman became the CEO of the Palo Alto-based firm founded by high tech legends David Packard and William Hewlett.
If she's not simply an interim choice, and nothing emanating from HP is indicating that now, Whitman seems an odd choice.
Her entire background is in consumer products, and non-technical consumer products at that. Procter and Gamble, Disney, Stride Rite, FTD, Hasbro, plus her management consultant stint at Bain. Yes, she was head of eBay, but eBay uses technology, or more accurately, a technology platform, to sell stuff, it does not sell technology.
HP, in contrast, was arguably the principal seedbed of Silicon Valley. (Yes, there is an argument about it, but for purposes of this little piece, let's let the point stand that HP is a high tech archetype.)
HP was a very big-time hardware company. It became famed for scientific calculators, for those who needed more than a slide rule. (If you're asking, "what's a slide rule?" we're getting onto a telling tangent.) It produced scientific instruments. It produced large computers, then known as mini-computers. It later produced personal computers and laptops, not to mention very fine printers, and a promising new tablet which it just dumped.
I got one of its great LaserJet printers back in the day, for a godawful amount of money. I have an HP ink jet printer in this office. But I don't use it for much other than photography, and I'm not a big photographer, as I don't print things out very often. Which begins to get at HP's problem.
The world of technology has changed away from HP's core hardware emphasis. So HP, like IBM before it, is trying to transition to becoming a software/business services/enterprise solutions-oriented company.
This is not Meg Whitman's world any more than it's my world. Her entire background is in consumer products.
As I learned in my research during her campaign, several years before Whitman ran for governor of California, the brainstorm of her friend and former boss Mitt Romney, she made a real run at becoming CEO of Disney.
The expertise and skill set of someone who can run Disney and someone who can run Hewlett Packard are very different.
Whitman had appeared to be putting her major commitment of time and effort into Romney's presidential candidacy. She was a national finance co-chair of his 2008 presidential campaign and was supposedly taking on a larger role this time around.
But with the "inevitable" nominee Romney now running second to Rick Perry -- and America not terribly likely to elect a leveraged buyout artist as its president in any event, even against a weakened Barack Obama -- her focus seems to have changed.
Will that hurt Romney? Perhaps.
And perhaps not. The Perry campaign has delighted in quoting Romney's national co-chair Whitman back at the former Massachusetts governor.
Criticizing the formally neutral Arnold Schwarzenegger throughout her ill-fated run for governor of California, which personally cost her more than $150 million, Whitman repeatedly cited Perry's Texas record as the model for what governance in California should be.