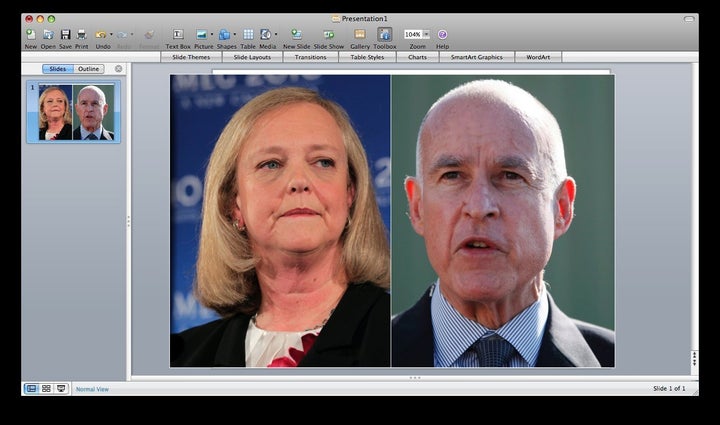 Someone in Democratic California gubernatorial candidate Jerry Brown's campaign was unwittingly recorded calling his GOP rival Meg Whitman a "whore."
Brown made a call in September to the Los Angeles Police Protective League and left a voicemail to talk about netting its support. The intentional portion of the message was apparently tame, until it became clear that the candidate had forgoten to hang up the phone. Here's the conversation between Brown and his staffers that followed:
"Do we want to put an ad out? I have been warned if I crack down on pensions, I will be -- that they'll go to Whitman, and that's where they'll go because they know Whitman will give 'em, will cut them a deal that I won't," Brown says.
"What about saying she's a whore?" an unidentified voice interjects.
"Well, I'm going to use that," Brown says. "It proves you've cut a secret deal to protect the pensions."
The Los Angeles Times puts the discussion in context:
With frustration, Brown discussed the pressure he was under from police unions to pledge not to reduce public safety pensions. Months earlier, Whitman agreed to exempt public safety workers from part of her pension reform plan: the bid to enroll new government workers in 401(k)-style plans instead of pensions

[...]

The situation, in which Whitman was receiving a labor endorsement while supporting the union's position on pensions, is a reversal from the usual position the two candidates have been in. Unions have been a mainstay of Brown's campaign and have spent millions of dollars in a bid to help get him elected. Whitman has repeatedly charged that Brown would be unwilling to confront the rising costs of civil service pensions.
The Whitman campaign responded Friday, taking offense to the slur:
"The use of the term 'whore' is an insult to both Meg Whitman and to the women of California. This is an appalling and unforgivable smear against Meg Whitman. At the very least Mr. Brown tacitly approved this despicable slur and he himself may have used the term at least once on this recording."
The Brown campaign has since released a rather abrupt statement:
"This was a jumbled and often inaudible recording of a private conversation. At times our language was salty. We apologize to Ms. Whitman and anyone who may have been offended."
Though Meg Whitman has spent record-setting expenditures of $140 million on her own campaign, she has also been plagued by allegations of an undocumented Mexican housekeeper, Nicky Diaz, who claims that Whitman was aware of her immigration status throughout her employment. Earlier this week, another former Whitman employee came to Diaz's defense.
HuffPost Pollster's latest analysis of the race shows Jerry Brown with slim leads over Whitman.

Popular in the Community