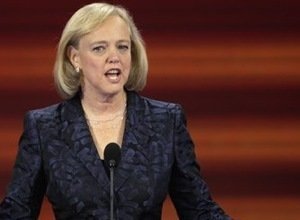 Jill Armstrong, a former full-time nanny for Meg Whitman's family, came to the defense of another onetime member of the GOP gubernatorial candidate's household staff on Tuesday.
Nicky Diaz, who is Mexican and is not a citizen of the United States, recently charged that Whitman employed her as a housekeeper for nearly a decade despite knowing that she was in the country illegally.
While Whitman has strongly denied the allegations and has accused Democratic rival Jerry Brown of facilitating the controversy, Armstrong told the San Francisco Chronicle that she believes Diaz's claim because she "know[s] the family" and "what it was like."
"I set up her apartment. I did the unpacking," and other jobs to get the place ready for the children, Armstrong said.

But she described Whitman as "cheap" and said she was surprised when her boss at first balked at paying the agreed salary - arguing that Armstrong didn't "deserve" it because she wasn't yet working full-time as a nanny.

Armstrong said she was also surprised to hear Whitman's explanation last week that her husband did not recall receiving a letter from the Social Security Administration in 2003 that asked the Whitmans to double-check their information on Diaz because the information on file did not match the agency's records.

"[Whitman's husband Griff] Harsh would not forget something like that," Armstrong said. "He had his thumb on everything."
Armstrong told the Chronicle -- which confirmed she was hired to work for the former eBay CEO during the summer of 1998 -- that she decided to quit her job after just two months because she couldn't take it anymore.
"I had enough," she said in an interview, describing trouble getting paid what she believed she was owed, and challenges in dealing with household chores and in supervising Whitman's two young sons.
Whitman's camp dismissed Armstrong's allegations as baseless and suggested they warranted no merit.
Nevertheless, it didn't take long before California Democrats took aim at the controversy. A statement issued by the Los Angeles County Democratic Party on Tuesday night said:
And what may be the most accurate description by Armstrong is when she told the Chronicle that Whitman viewed domestic help as "disposable." Diaz said last Wednesday in describing her own situation, "I felt like she was throwing me away like a piece of garbage."

"We don't know how many other former Whitman nannies are out there, but what is clear is how poorly Whitman treats her employees and that she refuses to take responsibility for her actions," said Eric C. Bauman, who chairs the local organization. "Whitman has been forced to settle lawsuits for making insider stock deals and for shoving a female employee. With 'Nannygate,' it will be obvious to the majority of Californians that Whitman is unfit as an employer and is unfit to be California's Governor."
Armstrong, a Democrat, said she has had no contact with Brown's campaign. After hearing about Diaz Santillan's story, she said, she contacted the Santa Clara County Democratic Party and asked how she could publicize her story. A party official told her they would "take care of it," and Armstrong was contacted by a reporter from the San Francisco Chronicle, which published her account Tuesday.
Popular in the Community