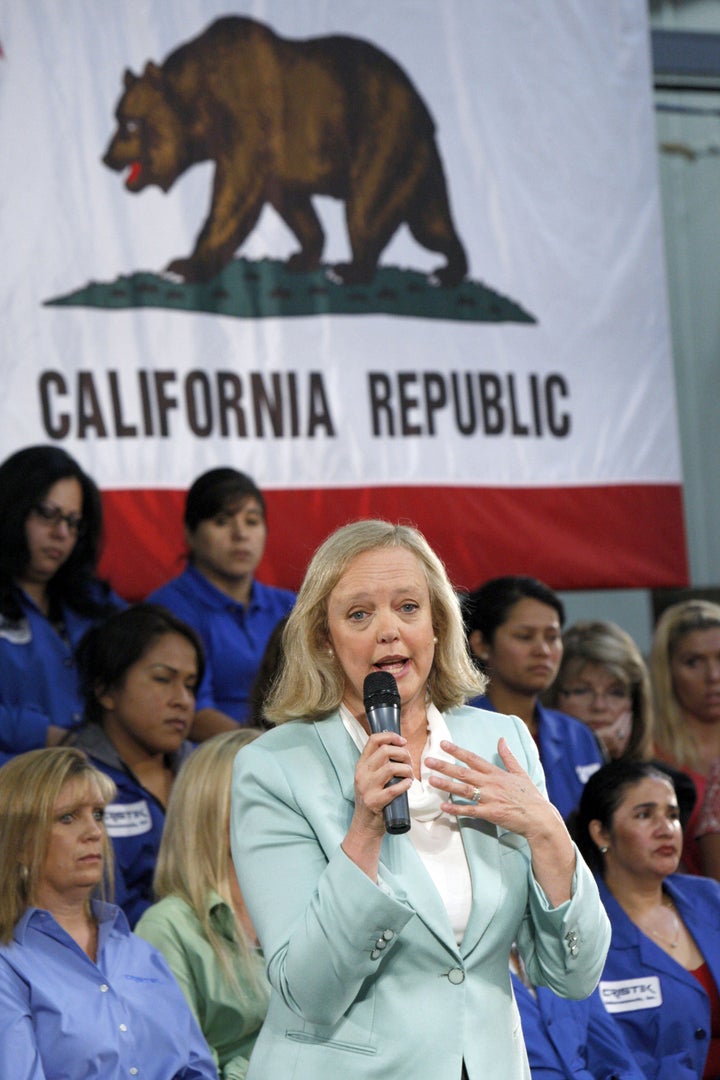 UPDATE: 2:42 p.m. ET -- Meg Whitman knowingly employed an undocumented worker through 2009, according to attorney Gloria Allred.
Nicandra Diaz-Santillan, the employee, sat next to Allred during a press conference Wednesday and tearfully detailed her experience as a housekeeper for Whitman.
Allred told reporters that her client was paid for just 15 hours of work per week, despite working past those hours. Allred claimed that when Whitman hired her client, she never asked if she was in the country legally. She also said that her client had been "exploited, disrespected, humiliated, and emotionally and financially abused."
"Nicki" told reporters that when Whitman let her go, the Republican candidate for governor said, "I don't know you, and you don't know me."
Allred refused to answer a reporter's question about whether her client would face deportation after coming forward.
"I told her I don't have papers to work here and need her help," the worker said at a press conference in attorney Gloria Allred's office. Whitman's husband "was very angry and said, 'I told you, I told you she was going to bring us problems.' Ms. Whitman turned to him and said, 'Calm down, calm down.' " She said Whitman's husband "yelled" at her. "I was crying for fear and intimidation. With a face full of tears, I told them, 'I believe in people. And I believe people deserve a chance. I also told them I don't wish them any harm. I just wanted their help.
Could this be "Maidgate" 2010 for California GOP gubernatorial candidate Meg Whitman?
Gossip site TMZ reports Wednesday that the former housekeeper of the one-time eBay CEO plans to make "explosive" allegations against Whitman in a live news conference coming later at 11 AM PT. The maid is supposedly planning "to tell how she suffered as a long-time, Latina household employee in Meg Whitman's home."
The maid's lawyer? Gloria Allred, the high-profile Hollywood attorney that represented Nicole Brown Simpson's family in the 1990s. More recently, however, Allred represented Amanda J. Eneman, the ex-girlfriend of Illinois lieutenant gubernatorial candidate Scott Lee Cohen, whose comments about the Democratic candidate's behavior helped push him from the race in early 2010.
Meg Whitman's campaign chairman, former California Governor Pete Wilson, reacted to news of the allegations Wednesday, telling TMZ that he is unaware of any claim by Whitman's former housekeeper, but noting that "The timing of this is highly suspect."
"We need to build an 'Economic Fence' with a strong e-verification system that holds employers accountable for following the law, according to her own campaign Website. We are never going to solve the problem of illegal immigration as long as there is strong demand for undocumented labor."
Whitman also supports workplace inspections by state and local law enforcement agencies "modeled after drug seizure raids" -- in which first-time offenders who are found to employ undocumented workers "will be required to pay a fine and have their business license suspended for 10 days."