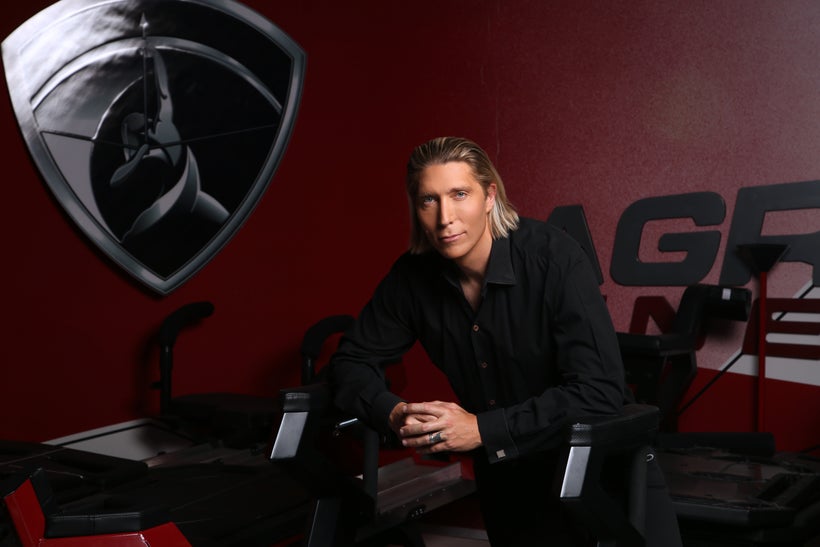 Sebastien Lagree (born July 20, 1973) is a French-born American inventor and fitness innovator, best known as the founder and CEO of Lagree Fitness. Raised in the French countryside, his passion for fitness began at a young age. In his early adult life, Lagree's focus on strength training led him to weightlifting. When he moved to the United States at seventeen, he pursued bodybuilding until he was twenty-four, but never to the point of what the sport is today. Citing, he "was always more interested in the 'natural' look."
From there, Lagree began his career as a personal trainer. At first, operating out of his apartment, Lagree's client list quickly grew to include high-profile celebrities and other notable individuals. In 2001, Lagree opened his first fitness studio in Los Angeles, California. Shortly thereafter, he launched the Lagree Fitness Method and licensing company out of Burbank, California.
Lessons learned in bodybuilding taught Lagree about discipline, commitment, and sticking to your vision. Lagree then applied these tenets to building his business. He has stated, "Whether you want to build a business or muscle, you have to work hard, be consistent, and keep at it no matter what."
The fitness method Lagree invented is a high-intensity, low-impact workout performed very slowly to target multiple muscle groups simultaneously via exercises such as lunges, pushups, squats, and planks. The method strengthens, tightens, and tones the body while developing core strength, cardiovascular health, and overall flexibility in every move.
The American inventor first developed the Proformer to be paired with his method in 2006. Over the next ten years, Lagree created the iconic Megaformer as well as the Supra and the Ultra. The Mega is a patented piece of fitness equipment that uses varying degrees of tension to strengthen, tighten, and tone the body through a series of low impact movements. The Supra is the first digitally-controlled fitness machine that inclines and tilts and can be seen at The Lagree Fitness Studio in West Hollywood.
When used in conjunction with the Lagree Fitness method, Lagree has stated that the Mega builds endurance, balance, core strength, cardiovascular health, and overall flexibility. According to Dr. Mark Greenberg, M.D. Director Pediatric Anesthesiology, Professor of Pediatrics and Anesthesiology, University of California, San Diego, "Since its introduction into the fitness world by creator, Sebastien Lagree, the Lagree Fitness Method™, with its spring-based trainer the Mega, has been a state-of-the-art tool for body sculpting and improving dynamic fitness. Its utility is apparent in clients new to exercise as well as experienced athletes."
In February 2017 Lagree announced the completion of his first full-length, feature documentary entitled "Future of Fitness: How Technology Is Reshaping the Human Body." Lagree crafted a story that examines where science and technology are taking the evolution of health. He is also a creator and executive producer of the documentary-short series "Fitspiration" that examines personal motivation. "Ultimately, in business and in fitness, you have to forge your own path. Everybody is different and every business is different. In the end, when you succeed, you will stand alone. And that's a great feeling," said Lagree.
In addition to his primary business pursuits, Lagree is conducting ongoing scientific research into how the Lagree Fitness Method affects bone density in men and women of all ages. Lagree has also stated that the goals of Lagree Fitness revolve around his vision to study how fitness affects the brain.
Today, Lagree Fitness is licensed to more than three-hundred fitness studios around the world.
Calling all HuffPost superfans!
Sign up for membership to become a founding member and help shape HuffPost's next chapter
This post was published on the now-closed HuffPost Contributor platform. Contributors control their own work and posted freely to our site. If you need to flag this entry as abusive,
send us an email
.