Thousands are lining up today across the country for their chance to win more than half a billion dollars.
That's right, lottery fever is sweeping the nation, as the Mega Millions jackpot is at a world record of $640 million.
Mega Millions increased its jackpot 19 percent to $640 million around 11 a.m. on Friday, Mega Millions spokesperson Carolyn Hapeman told The Huffington Post. In New York, tickets (priced at $1) are selling at the insane rate of 2.0 million per hour, Hapeman said. She said she expects ticket sales to only increase as the drawing approaches.
Forty-two states plus Washington, D.C. and the Virgin Islands participate in the drawing, to be held Friday at 11 p.m. ET.
If you are buying tickets for the Mega Millions lottery, how much are you spending on lottery tickets? E-mail us at money@huffingtonpost.com.

More people have been spending $100 to $200 on lottery tickets per visit, according to Luis Chun, a New Jersey cafe owner. "Usually people buy $1, $2 (worth of tickets)," Chun told the Star-Ledger. "Today, people are buying $100, $200."
Lottery players have been fantasizing about how they would spend the money if they won.
Paula Hart, 47, a messenger manager from New York City, told the New York Daily News that she would buy a mansion: "I would have a whole bunch of TVs through the house with some PlayStations 3, and I'd have my own swimming pool. I'd probably just have a bed filled with money so I could lie on it."
Take a look at lottery lines around the country: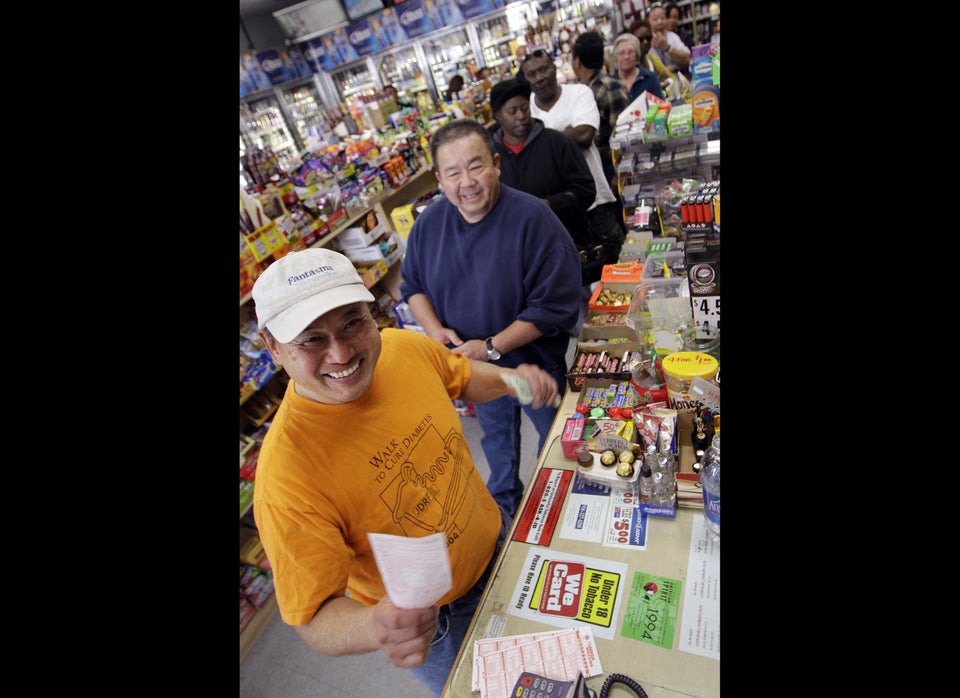 UPDATE: The story has been updated to reflect an increase in Lotto jackpot and with comment from Mega Millions.
Related