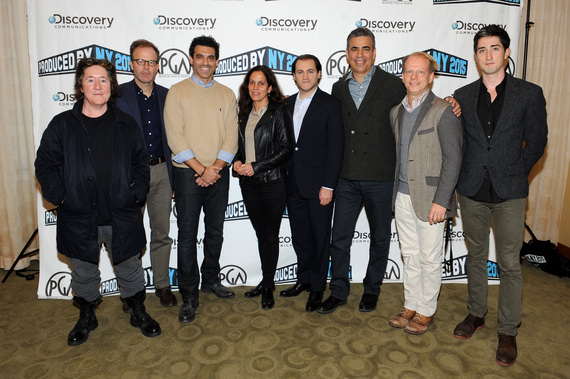 Lenny Abrahamson, Michael Bederman, Elizabeth Karlsen, Michael London, Tom McCarthy, Noah Sacco, Michael Stuhlbarg, Christine Vachon and Bruce Cohen attend the PGA Produced By: New York Conference
The best and the brightest of the entertainment industry gathered for the 2nd annual Produced By: New York (PBNY) conference on Saturday, October 24 hosted by Time Warner and HBO at the Time Warner Center.


Tim Squyres, Jehane Noujamin, Darren Star and Peter Saraf attend the PGA Produced By: New York Conference
The Producers Guild of America (PGA) event roster of lead players in show business shared valuable insights, career advice, expertise and inspiration in all facets of film, television and new media production. "Thanks to our unrivaled locations, state-of-the-art production facilities, and innovative film tax credit programs, New York's film production industry has stolen the spotlight, and we're pleased to welcome Produced By back to the state in celebration of the industry's success," added Gigi Semone, Executive Director of the Governor's Office for Motion Picture and Television Development.


Donna Gigoloti, Meryl Poster, Michael Travers and Paula Weinstein attend the PGA Produced By: New York Conference
The Art of Producing panel moderated by Gary Lucchesi (President, Lakeshore Entertainment; President, Producers Guild of America) lead a lively discussion on feature film production with panelist Donna Gigliotti (Silver Linings Playbook, Revised Fundamentals of Caregiving), Meryl Poster (President and Founder, Superb Entertainment; Project Runway , Girlfriends' Guide to Divorce), Michael J. Travers(Blue Sky Studios; The Peanuts Movie, Epic) and Paula Weinstein(President, Spring Creek Productions; Grace and Frankie, In the Heart of the Sea).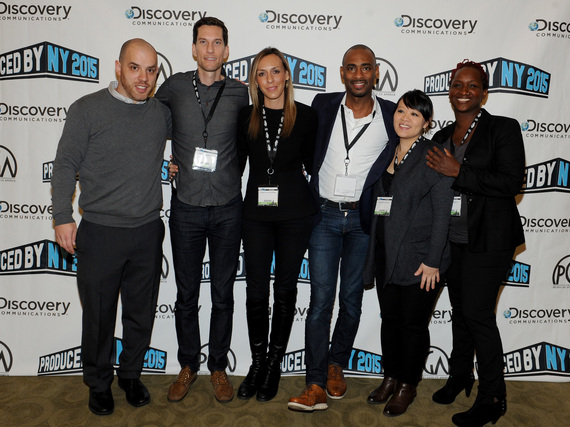 President of Global Grind Civil Rights Organizer Michael Skolnik, Founder, Duly Noted, Inc.; Project Greenlight, Dear White People Effie T. Brown, Founder & CEO of MACRO Charles King, President of Gamechanger Films Mynette Louie, Television writer Pete Nowalk, Founder & President of LTW Lindsey Taylor Wood attend the PGA Produced By: New York Conference
The Art (and Business) of Showrunning covered everything in cable and primetime episodic television production from script delivery, pilot season, pitching, the writing room to craft services. The informative discussion moderated by (PGA president and producer Madame Secretary) Lori Creary included panel guests Barbara Hall(Madam Secretary, Homeland), Robert and Michelle King(The Good Wife, BrainDead, In Justice), Clyde Phillips (Broke, Nurse Jackie, Dexter), Darren Star (Younger, Sex and the City) and Joe Weisberg(The Americans, Falling Skies). Global Grind's Michael Skolnik moderated a panel on Changemakers: Tactics for Equality and Diversity in Film and Television. Panel guests Charles King (Macro Ventures), producers Effie Brown (Duly Noted, Inc.) Mynette Louie( Gamechanger Films), Peter Nowalk (How to Get Away with Murder) and Lindsey Wood(LTW) rose to the occasion and addressed diversity and related topics Project Greenlight, meritocracy, Black Twitter and the Rooney Rule. Producers' Masterclass: An Adventurous Partnership With Alejandro G. Iñárritu featured the Oscar and Producers Guild Award-winning filmmaker of "Birdman" with his producing team -- Mary Parent, Steve Golin, and Brad Weston and discussion of their latest film, "The Revenant". Conversation with Michael Moore ( Fahrenheit 9/11, Capitalism : A Love Story, Bowling for Columbine) featured the Oscar winning documentary director and producer in a Q&A.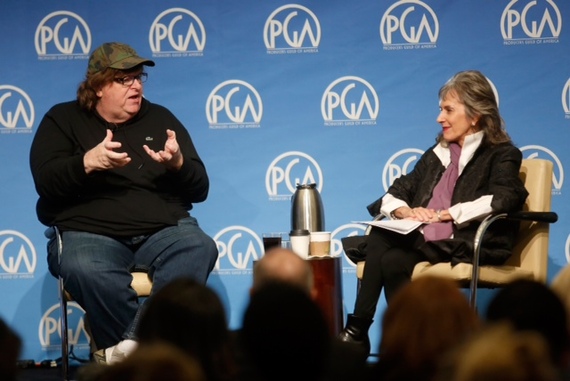 Producer Annette Insdorf (R) speaks with Michael Moore during the PGA Produced By: New York Conference
Lydia Dean Pilcher (The Lunch Box, Cutie and the Boxer, The Darjeeling Limited; Vice President, Motion Pictures Producers Guild of America) lead a lunchtime talk on Tactics for Equality and Diversity in Film. She introduced the Ms. Toolkit the PGA report on women driven film statistics. Lydia sharess, "One of the things that has stood out to me since the release is the importance of a section in the toolkit, "what is female storytelling?" In this section we address and exemplify the power of the storytellers behind the camera. In fact, this theme runs throughout the toolkit as we talk about all platforms for viewing content. Making visual content is a collaborative process, and --beyond directors, writers and producers-- everyone working on a film contributes to the story in often uncredited but defining ways. The Toolkit exposes this very real blind spot in Hollywood in terms of advancing female perspectives."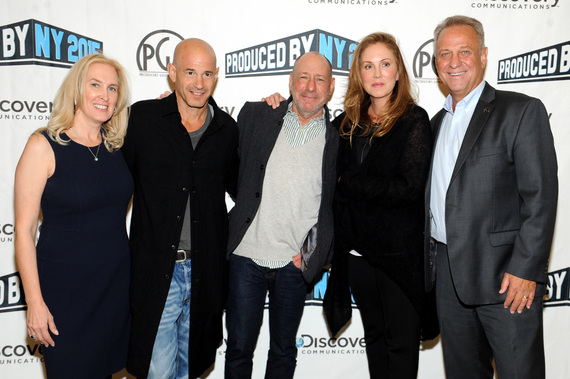 Lori McCreary, Brad Weston, Steve Golin, Mary Parent and Vance Van Petten attend the PGA Produced By: New York Conference
Startups for Producers: Building Your Media Empire from VC Funding to Achieving Your Vision panelist VC Steven Masur said, "I answer a lot of questions in my law practice about venture capital financing deals, and entertainment deals, but there was something special going on in this room. The energy was electric and the questions people had made clear that these producers are really hustling and make their productions happen. It was beautiful to see". Other sessions included The Power of Successful Creative Collaboration, The Truth Sells: New Opportunities in Documentary Features, Tomorrow's Tinsel: The Future of Film Financing, The Rise of Digital Content: Media, Channels, Brands Fix it in.... Prep? and The Value of Post-production Artists Early in the Process.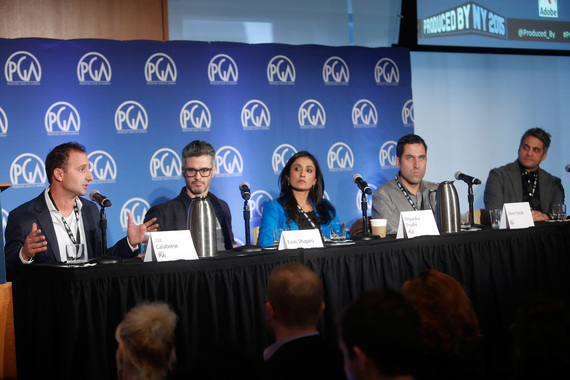 ​ President of Stick Figure Studios Jamie Schutz speaks with Chair of the firm's Entertainment, Sports and Media Practice Joe Calabrese, EVP Digital Enterprises at NBC Universal Evan Shapiro, Senior Producer of Digital Strategy at UNICEF Priyanka Pruthi, Group Product Manager of Digital Video and Audio at Adobe Systems, Inc. Steve Forde and GM and SVP of Video at The Huffington Post Nathan Brown speaks during the PGA Produced By: New York Conference ​
Over 600 people attended the conference sponsored by Discovery Communications which featured 21 sessions, panel discussions, mentoring roundtables, and workshops designed to assist producers in navigating the ever-changing world of producing and provide them with key insights into important industry topics. Breakfast, lunch and a cocktail reception at the Park Café provided attendees, speakers and sponsors for serious networking opportunities.
Luis Castro, Susan Sprung, Lori McCreary, Gary Lucchesi and Vance Van Petten attend the PGA Produced By: New York Conference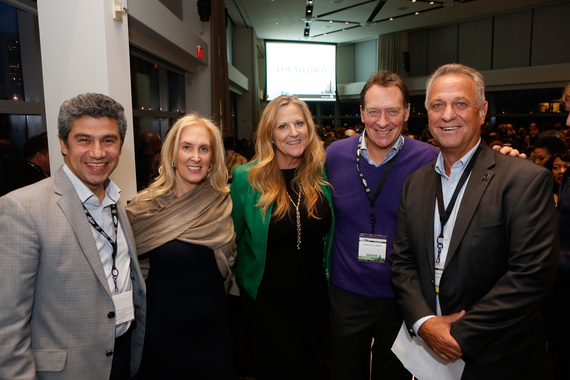 "At the Mayor's Office of Media and Entertainment, we're committed to helping the hundreds of productions that film in New York City and building on the thriving creative industry so we're thrilled to welcome Produced By once again," asserts Cynthia López, Commissioner of the Mayor's Office of Media and Entertainment in New York City and sponsor of the event. "The conversations and connections that take place during this conference are sure to inspire its participants and lead to new understandings and innovative collaborations in order to produce the highest quality content."
Calling all HuffPost superfans!
Sign up for membership to become a founding member and help shape HuffPost's next chapter